One of the stories going into the weekend for Pirelli World Challenge at Utah Motorsports Campus was the looming suspension of Always Evolving Nissan GT-R NISMO GT3 driver James Davison for one race, following an on-track incident at Mid-Ohio.
In truth, the Mid-Ohio incident with Colin Thompson was not Davison's most egregious mistake this year – far from it – but the decision by WC Vision officials to enforce a suspension was much a legacy act as anything else stemming from other incidents occurring earlier this season.
Luckily for both Always Evolving and Nissan, coming out of the weekend at Utah the story and headlines were much happier as past Nissan GT Academy winner Bryan Heitkotter completed a weekend sweep at the track formerly known as Miller Motorsports Park.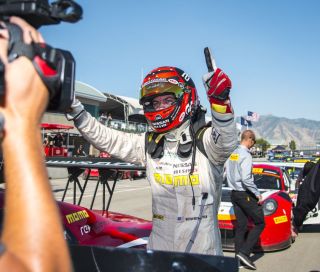 Heitkotter, driving the N0. 05 Nissan GT-R NISMO GT3, took command in both races of the weekend en route to his first two overall wins in the series. Heitkotter won several GTA category races in 2015 before being promoted into the GT class.
He seized the momentum on Saturday following a clash between Alvaro Parente (K-PAX Racing McLaren 650S GT3) and Michael Cooper (Cadillac Racing Cadillac ATS-V.R), with Parente knocked out of the race and the Portuguese driver taking a significant hit in the championship.
Sunday's win was far more straightforward, as Heitkotter got the launch around polesitter Michael Lewis in the Calvert Dynamics Porsche 911 GT3 R and never looking back from there.
Heitkotter's weekend sweep is the fifth of the year for a GT driver in World Challenge in nine race weekends (17 races) this year. Others were turned in by Lewis, then of EFFORT Racing, at St. Petersburg, Patrick Long (Wright Motorsports Porsche) at Canadian Tire Motorsport Park, Parente in Lime Rock Park and Ryan Eversley (RealTime Racing Acura) at Road America.
"This weekend is what I've dreamed for my whole life," said the 35-year-old native of Fresno, Calif. "Since I was a little kid I always dreamed of being a racing driver and winning races. It took a while but here I am now and I'm racing with some of the best in the world. It's a world class racing series with a lot of top teams and drivers, so to be up front in both races, get P1 and close the deal, two in a row – it feels really good."
Heitkotter beat Adderly Fong (Bentley Team Absolute Bentley Continental GT3) and Long for the podium in both races; the Hong Kong driver secured his third and fourth podium finishes this season, while Long has now moved into the points lead over Parente with just three races remaining this season.
Of note, Parente only finished 11th in the second race at Utah – progress stalled out after gaining six spots in the opening lap. Craig Dolby, who filled in for Davison in the No. 33 Nissan, finished 10th and eighth, respectively.
OTHER CLASSES
Frankie Montecalvo (DIME Racing Mercedes-Benz SLS AMG GT3) and Martin Fuentes (Scuderia Corsa Ferrari 458 Italia GT3) split the GTA class wins, Fuentes setting a class win record with his ninth of the season but first since Lime Rock in May after winning the first seven in a row to open the year.
Sloan Urry and Alec Udell meanwhile split the GT Cup class wins, with Udell delivering an impressive pass in the second race of the weekend to pass erstwhile leader McKay Snow, who had an impressive debut weekend in the series.
—
Anthony Mantella scored his first professional win in the first of two GTS races in his Mantella Autosport KTM X-BOW GT4, with Scott Heckert adding another win for a new GT4 car in the Racers Edge Motorsports SIN R1 GT4 in the second GTS race. This was Heckert's first win.
—
Calvert Dynamics won both of the SprintX races with Preston Calvert and Michael Lewis, a feat made more remarkable following the team's primary car for SprintX sustaining a fire earlier in the weekend. Lewis' Sprint car was pressed into action and courtesy of a last-lap pass in the first 60-minute race Saturday, the pair had their first win together. Calvert then finished the second race. TRG-AMR won GTS in both SprintX races, splitting the wins between Derek DeBoer/Jason Alexandridis (Saturday) and Max Riddle/Kris Wilson (Sunday).
—
The Touring Car classes also had their latest pair of races. Adam Poland (Mazda, TC), Jason Wolfe (Kia, TCA) and Tom O'Gorman (Honda, TCB) won the first race with John Weisberg (Mazda, TC), Wolfe (TCA) and O'Gorman (TCB) winning the second race.
—
The GT and GTS classes resume at Sonoma Raceway with the Verizon IndyCar Series season finale in September, while the TC classes are off until the overall Pirelli World Challenge season finale weekend at Mazda Raceway Laguna Seca in October.