If there ever was a word that best describes drag racer Larry Dixon, it's "resilient."
Example No. 1: Last season, the three-time NHRA Top Fuel champion and second-winningest driver in Top Fuel history (62 wins) returned to full-time racing and finished fourth in the overall standings.
That, in spite of fighting throat cancer throughout the season – a battle he has since won – as well as a horrific wreck in the Gatornationals (photo below) where he had an impact of 109g and broke his T-4 and T-5 vertebrae.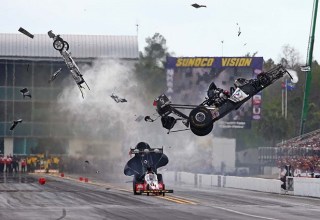 Still, despite season-long pain, Dixon mustered on in the afore-mentioned resilient fashion.
Example No. 2: Once last season ended, Dixon lost his financial backing despite his lofty fourth-place showing. For the second time, it appeared his career had hit a brick wall once again.
Not so. Dixon didn't let adversity get the best of him. Rather, he started from scratch, building a new Top Fuel organization.
He knew it was going to take time and every penny he could raise – lots of both, that is – not to mention money out of his own pocket, but Larry Dixon Racing was born.
While he's still working on returning to the NHRA circuit – eyeing 2017 for a hoped-for full-time comeback – Dixon proved in June that he hasn't lost a split-second of drive, determination and, yes, resiliency.
Dixon took his Rapisarda-sponsored Top Fuel dragster on the road – all the way to Australia and the Ipswich Australian Winternationals (remember, June is winter down under) near Brisbane.
Even though Willowbank Raceway is a quarter-mile – compared to the 1,000-foot drag strips NHRA Top Fuelers and Funny Cars race upon in the United States and Canada – Dixon drove like he did in his prime.
Not only did he ultimately wind up winning the race, he also set the Australian National Elapsed Time Record to go along with the National Speed Record he had already earned (and continues to own) in a previous visit to the country.
"For the last year of my life, with cancer, a broken back and then losing my ride; everything that's happened, winning races like we did in Australia makes all that pain go away," Dixon said in a media release.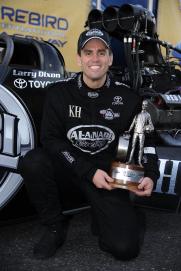 Eight races remain on the NHRA schedule this season. The legendary U.S. Nationals are in two weeks, right in Dixon's Brownsburg, Indiana backyard. But because he's still searching for sponsorship, it's uncertain whether he'll still make any NHRA events as a competitor before the end of the season.
But that's not stopping Dixon from amassing dragster frames, engines, trailers, superchargers and other equipment for his Top Fuel operation. If and when he gets the funding he needs, he wants to be ready to go from a performance standpoint.
"I'm finally 100 percent healthy now and I'm excited to go racing again," Dixon said. "I'm so anxious to get in a car and get after it!
"We have put together the equipment which could be very competitive right out of the gate. There is a lot of excitement being generated in the drag racing world, especially in Top Fuel.
"With the great TV packages in place and sellout crowds, I don't think the timing could be any better than now to show that right marketing partner what we can do on and off the track."
Dixon, who turns 50 in October, is essentially a lifer in the drag racing world. His father was a local Top Fuel driver of renown in Southern California and won the 1970 NHRA Winternationals.
Larry started his own career first by helping his father's racing operation, and then became a mechanic for Larry Minor and Don "Snake" Prudhomme. He excelled so much that when Prudhomme stepped out of a race car for the final time at the end of the 1994 season, he didn't have far to look for his hand-picked successor: his protégé, Dixon.
Dixon didn't disappoint, earning NHRA Rookie of the Year honors in 1995 and would eventually not only become a multi-champion, he'd also wind up winning the U.S. Nationals four times.
While he'd love to be racing in this year's U.S. Nationals in two weeks, there's always next year. But you can bet Dixon will be there as a spectator. It's in his blood, his genes. That's resiliency for you.
"I've have spent my entire life in this sport and I'm not ready to walk away just yet," admitted Dixon. "I feel like I'm just getting started!"
Follow @JerryBonkowski