Milestones just seem to keep coming Del Worsham's way.
At the most recent NHRA national event in Seattle nearly two weeks ago, the defending Funny Car champion broke the national elapsed time record in his class, covering the 1,000-foot drag strip in a blistering 3.832 seconds.
"Setting the national record was really cool," Worsham told NBCSports.com. "It is exciting for Kalitta Motorsports and the entire DHL Toyota team to have the success that we are having."
But Worsham isn't resting on the laurels of his new record – he wants to reset it yet again.
"There is more and the record will be reset soon by someone, hopefully us," he said.
Now, Worsham is set for his next major milestone. When he lines up for the first round of eliminations Sunday at the Lucas Oil NHRA Nationals at Brainerd Raceway in Brainerd, Minnesota, Worsham will make the 500th start of his drag racing career (combined between Funny Car and Top Fuel).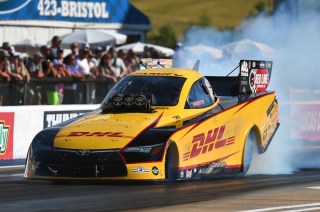 "It's feels good," Worsham said. "When I started, it never entered my mind or was a thought that I could be able to hit 500 career starts."
When Worsham won the Funny Car championship last season, he moved into very exclusive company, becoming only the third driver in NHRA history to win both a Funny Car and Top Fuel championship (Worsham won the latter in 2011).
The only other two drivers to achieve that rare feat are now-retired drag racing heavyweights: Kenny Bernstein and Gary Scelzi.
Worsham has done and seen a lot in his lengthy drag racing career. Since earning NHRA Rookie of the Year honors in 1991, he's amassed an impressive resume:
* 38 wins (30 in Funny Car, which ranks him in the top-10 all-time; he also has eight Top Fuel wins)
* Has reached 63 final rounds (52 in Funny Car, 11 in Top Fuel)
* Final round winning percentage: 60.3 percent overall, 57.7 percent in Funny Car
* Has qualified No. 1 20 times (13 Funny Car, 7 Top Fuel)
* 545 round wins (13th all-time)
* Still holds the record as the youngest driver to win a Funny Car race (21 years, 2 months – 1991 Atlanta)
Now, Worsham is ready to chase yet another milestone: his second straight Funny Car title and third championship overall. It all starts with the six-race Countdown to the Championship after the upcoming U.S. Nationals in Indianapolis.
Speaking of which, Worsham is looking to repeat, if not surpass, yet another milestone he set in last year's Countdown: winning four of the playoffs' six races to win the championship.
"Being two races out from the Countdown, I feel like our team is starting to get a pretty good handle on the current setup," Worsham said. "I feel like we have a shot at the title.
"There is also a lot of racing to be done and we learned last year: getting hot in September, October and November is where the Mello Yello Championship is won."
Follow @JerryBonkowski