NHRA Funny Car driver Alexis DeJoria will miss this weekend's Lucas Oil NHRA Nationals in Brainerd, Minnesota.
DeJoria is still recovering from an accident July 31 at Sonoma, California, when she suffered a fractured left pelvis after her Funny Car crashed into a retaining wall.
"I was hoping and planning on being at Brainerd," the four-time Funny Car winner said in a statement released Thursday morning. "Unfortunately, that's not going to happen.
"With it being a fracture, the healing time is six-to- eight weeks and as much as I wanted it, the harsh reality is there just wasn't enough time between Sonoma and Brainerd for that area to be healed properly.
"Even though I feel better, and yes, I'm physically able to return to the seat, the fact of the matter is, I have a cracked pelvis. Any slightly concussive movements could make that fracture develop into a full-blown crack, and if that were to happen, that would cost me and my team the whole season.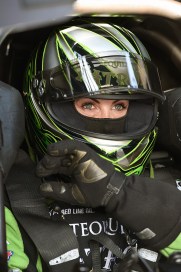 "It's a tough pill to swallow but it was a decision that had to be made. My doctor, my crew chief and I assessed the situation and determined that the risk right now for further injury is too great. When you weigh it out, missing one more race is better than missing the entire season, and the reality is, if I were to go out there and shake or have any intense movements, that could very well be the final straw."
With two additional weeks of healing now ahead of her, DeJoria has hopes that she'll be medically cleared to race again in the U.S. Nationals in suburban Indianapolis, which runs from Sept. 2-5. That race is pivotal as it is the final event to qualify for the six-race Countdown to the Championship playoff.
DeJoria is still in the running to be one of the 10 Funny Car drivers to reach the Countdown. She's currently scored 10th in the Mello Yello NHRA Drag Racing Series Funny Car point standings.
"I'm getting better every day (and) my sights are set on Indy," she said. "By then, that'll be five weeks of healing time and I should be at 90 percent and pretty healed and ready to go. I'm working hard to ensure I achieve that goal.
"Not only does this decision give me more time to heal and recover, but it also gives my team sufficient time to get my chassis and Camry bodies to 110 percent performance ready. We're all chomping at the bit. It's hard to miss one race, and even harder to miss two, but it's something that comes with the territory.
"I can't let my ego dictate my recovery. I'm extremely grateful it wasn't worse and I came out of it able to race another day."
Follow @JerryBonkowski