An updated website has been launched for the Wilson Children's Fund, as the one-year anniversary of Justin Wilson's passing occurs next week. This weekend, the Verizon IndyCar Series returns to Pocono Raceway for the ABC Supply 500, where Wilson lost his life last year.
A release and more details are below:
—
With the one-year anniversary of Justin Wilson's loss approaching on Aug. 24, work has been completed on a brand-new WilsonChildrensFund.com website to facilitate donations to aid his daughters in his absence.
A simple, single-page site went live this week that features images from Ashleigh Mower, and provides a secure platform for visitors to make contributions via PayPal.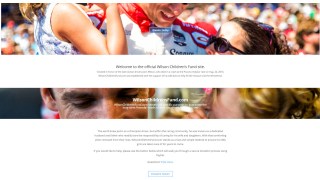 Established with the support of his wife Julia, WilsonChildrensFund.com serves one specific purpose: to guarantee the long-term financial needs of their daughters, Jane and Jess.
The world knew Justin as a champion driver. But within the racing community, he was known as a dedicated husband and father who readily bore the responsibility of caring for his wife and daughters. With that comforting pillar removed from their lives, WilsonChildrensFund.com stands as a fast and easy method to ensure his little girls are taken care of for years to come.