Will Power made a huge statement and impact on the Verizon IndyCar Series point standings, storming to the lead and then holding on to win Monday's rain-postponed ABC Supply 500 at Pocono Raceway.
With Team Penske teammate Simon Pagenaud having crashed earlier, Power roared to the lead, held off runner-up Mikhail Aleshin, and third through fifth Ryan Hunter-Reay, Josef Newgarden and Sebastien Bourdais to capture his fourth win of the season.
"It was so hard to follow in traffic because we were started very light on downforce," Power told NBCSN in victory lane. "We just kept adding and adding and adjusted on the car and it was just awesome in the end. It was very good in traffic.
"It's a very good comeback, very happy to win here. I love winning 500 miles. This is one of the toughest ovals we race on, so I'm real happy for Verizon and our team."
With the win, Power closes from 58 to just 20 points behind Pagenaud in the series standings with three races remaining. Pagenaud has 497 points, Power is second with 477, followed by Josef Newgarden (397), Scott Dixon (386), Helio Castroneves (384) and Tony Kanaan (380).
"That's good, we're chipping away at it but obviously there's still a lot to go," Power said. "Now, we're giving everything to win this championship. It was a rough start to the year … but we're really coming back strong."
It was the 29th career IndyCar win for Power, who started Monday's race from the eighth position. It also was the ninth Indy car win for Team Penske at Pocono.
When he missed the season opening race at St. Petersburg, Florida due to an inner-ear infection, Power feared his season may have been lost before it even began. But he has been the hottest driver in the series over the last six races with now four wins and two runner-up finishes.
"I felt like this place owed us," Power said of Pocono. "We've led a lot of laps here (86 over the last three races there, not including Monday). … Mikhail (Aleshin) was giving me a lot of heat there at the end. I was like, 'Man is he going to get me?'  He was close … very strong.  That is as good as it gets. No mistakes. Great stops. As an overall team effort, that was as good of a day you could possible get. Thanks to my team!"
Aleshin, who started from the pole, dominated much of the first half of the race — he led a career-high 87 laps (coming into the race, Aleshin had led just 37 laps in total in his entire IndyCar career) — and was seeking his first career IndyCar win. Still, he equalled his best IndyCar finish ever (was also second at Houston in 2014).
"The team did an amazing job on all the pit stops, the car was good," Aleshin said. "Unfortunately, in the end, I just couldn't get to Will. He was just too fast. Seriously, I was on the edge. I almost crashed a couple times when I was behind him. I had the wiggles, I was losing front, but I just couldn't get to him."
Sixth through 10th were defending series champ Scott Dixon, Carlos Munoz, Juan Pablo Montoya, Tony Kanaan and James Hinchcliffe.
Eleventh through 20th were Graham Rahal, Marco Andretti, Max Chilton, Jack Hawksworth, Charlie Kimball, Conor Daly, Pippa Mann, Simon Pagenaud, Helio Castroneves, and Alexander Rossi. Rounding out the field in the final two positions were Ed Carpenter and Takuma Sato.
Three major incidents occurred in the event:
* In an incident that could have significant implications on the championship battle, points leader Simon Pagenaud suffered a DNF when he was involved in a single-car wreck into the Turn 1 wall on Lap 158. Pagenaud, who has a series-high four wins this season, came into the race with a 58-point lead on Team Penske teammate Will Power.
MORE: Pagenaud wreck could have big championship battle implications
* On Lap 64, Alexander Rossi, Charlie Kimball and Helio Castroneves were involved in a wreck on pit road. Rossi's car vaulted across the cockpit of Castroneves' car, but the latter was uninjured, save for being struck slightly on his right hand.
MORE: Rossi, Kimball tangle on pit road, sending Rossi over Castroneves' cockpit
* On the opening lap, Takuma Sato crashed hard but was uninjured.
The next Verizon IndyCar Series race will be this Saturday at Texas Motor Speedway, when the rain-postponed Firestone 600 resumes. The race will be televised at 9 p.m. ET on NBCSN.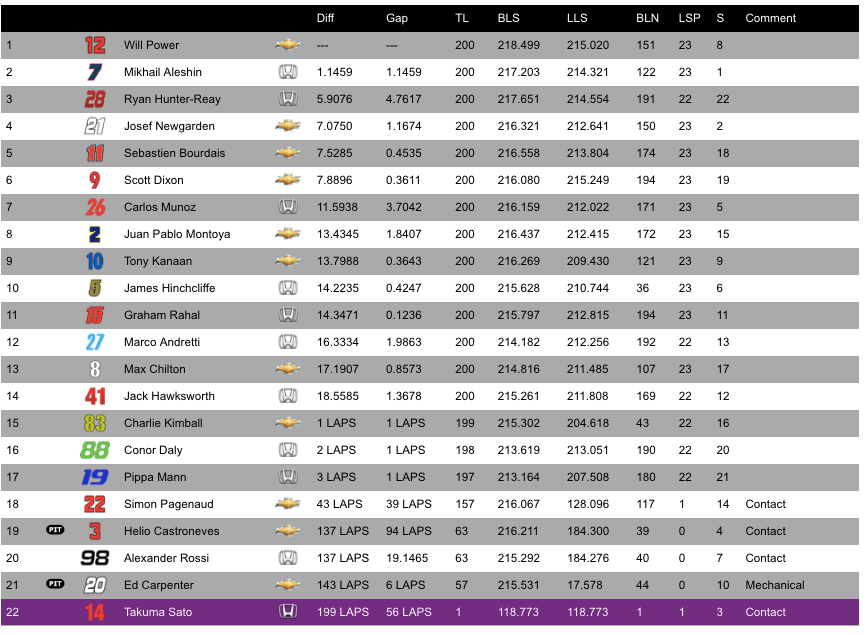 Follow @JerryBonkowski