In Major League Baseball, the 4-5-6 batters are typically the meat of the batting order. It's those three players that play one of the biggest parts in determining which team becomes the ultimate champion each season.
Now, 4-5-6 in the standings of the Verizon IndyCar Series is a bit of a different matter.
Sure, fourth-ranked Scott Dixon is a four-time IndyCar champ and Indianapolis 500 winner, fifth-ranked Helio Castroneves is a three-time Indy 500 winner, and sixth-ranked Tony Kanaan is both a series champion and Indy 500 winner.
That sounds like an IndyCar equivalent of baseball's Murderer's Row, right?
But following Monday's weather-rescheduled ABC Supply 500 at Pocono Raceway, the 4-5-6 drivers in the IndyCar Series rankings have three races left to hit nothing but home runs if they hope to throw a curveball into Simon Pagenaud's and Will Power's championship plans.
Six points separate the trio: Dixon has 386 points, 111 points short of Pagenaud (497 points, with Power a close second at 477 points). Castroneves has 384 (-113) and Kanaan has 380 (-117).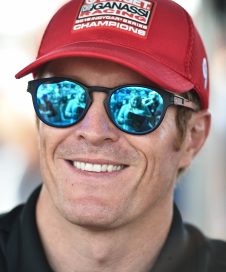 And let's not forget about Josef Newgarden, sitting third at 397 points, exactly 100 markers behind Pagenaud and 80 points in arrears to Power. But Newgarden will almost certainly drop out of realistic contention with a last-place finish looming at Texas Motor Speedway after he crashed out in June, and won't be able to restart.
The respective finishes of Dixon (sixth), Kanaan (ninth) and Castroneves (19th) at Pocono also didn't help their championship chances, because Power won. Pagenaud failed to finish but still looms far ahead.
Right now, a maximum of 211 points is up for grabs in the remaining three races. That breaks down to 50 points each to the winner at Texas and Watkins Glen, and double points (100) to the winner of the season finale at Sonoma.
There's also one point for the pole winner in each of the final three races, although Carlos Munoz will get that point at Texas since he got the pole there back in June.
In addition, each of the three remaining races – as all others – awards one point if a driver leads at least one lap and two points to the driver who leads the most laps.
With his win Monday, Power earned almost the maximum amount of points at Pocono, capturing 51 of a possible 54. Pagenaud, who finished 18th, earned just 13 points, allowing Power to cut Pagenaud's lead in the standings by 38 points, more than half of what it was coming into the race (58 points).
Dixon climbed one position, from fifth to fourth, with his Pocono finish. But he knows time is running to defend last year's championship – particularly with this being the last year for him with Target sponsorship.
Here's what Dixon had to say after Pocono:
"We started in the rear of the field and that didn't help our cause with the Target team. We got held up in the second to last restart and some lapped cars didn't go when they should have and that really cost us in terms of track position for sure. We clawed our way back into the mix but with so many good cars out there it was hard to get all the way to the front to contend."
Kanaan slipped slightly in the standings from fifth to sixth after his Pocono finish.
Here's what Kanaan had to say afterwards:
"We just couldn't catch a break during the race. Every time we'd make a run toward the front, something would go wrong. We had a mechanical issue that was affecting the fuel system and that caused a lot of problems for us. Then we lost a piece of our rear bumper pod that caused that last yellow. It just wasn't our day."
Lastly, Castroneves had a performance Monday that he'd rather forget. While he started strong (fourth), he was involved in a scary pit road crash not of his doing when Alexander Rossi and Charlie Kimball made contact.
Rossi, this year's Indianapolis 500 winner, bounced off Kimball's car and ran over the top of Castroneves' car as he was trying to leave his pit stall.
The tires on Rossi's car made visible marks on the top of the cockpit of Castroneves' car and then the car continued until it had climbed over and landed back on the pavement on all four wheels. Castroneves suffered a slight bruise to his right hand but was otherwise uninjured in the scary mishap.
But his hand isn't the thing that really hurt. Castroneves' resulting 19th place finish saw him drop from third to fifth in the standings. Given that he's 117 points behind Pagenaud and 97 behind Power, his Team Penske teammate, Castroneves' hopes for his elusive first career IndyCar championship are slim, indeed – unless perhaps he wins each of the next three races.
And that still may not be enough to win it all if Pagenaud and/or Power have strong finishes in at least two of those last three.
One thing's for certain: neither Castroneves nor Dixon or Kanaan are giving up.
Here's what Castroneves had to say about Monday's race, the pit road incident, as well as moving on to Texas: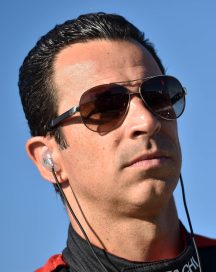 "Inside the car, I was actually more protected than what it looked like. Sometime people don't realize the Verizon IndyCar Series are so much about safety and today is the proof of that.
"Very glad that nobody got hurt. It's just a shame. The Hitachi Chevy was really having a good day and we just had another good pit stop when I was coming out of the pits.
"All of a sudden there was a car on top of me. It was a little strange to be honest. The Team Penske guys worked really hard to try and fix the car but there was a lot of damage.
"It's certainly unfortunate because this will hurt us in the championship battle but our team will never give up. We'll move on to Texas where, fortunately, we've had a lot of success."
Follow @JerryBonkowski