It seems to change by the race, doesn't it?
If you start strong in the Verizon IndyCar Series, but are unable to sustain that momentum entirely over the course of a season, you are often unable to capture the championship as a result.
Just look at some of those who've led early in the past seven or eight years since the North American open-wheel merger… Ryan Briscoe in 2009, Will Power in 2010, 2011 and 2012, Helio Castroneves in 2013 and Juan Pablo Montoya in 2015 are among those who rolled out to early season wins but hit speed bumps too late in the game to recover for the title.
By contrast, really only Scott Dixon (2008) and Power (2014) have parlayed enough season-long consistency to maintain a championship lead, and then secured crucial late season wins to position themselves as the title favorite.
Right now Simon Pagenaud, who's led the points standings since Phoenix in April, is closer to that latter category, but he risks moving into the former following a nightmare weekend in Pocono.
Barring a miracle, Dixon won't be able to retain his crown, and so the 2016 season has shaped up as a Power vs. Pagenaud duel for the title. Until Pocono, Pagenaud had been in the Dixon/Power consistency camp with almost no mistakes.
Just three weeks ago at the Mid-Ohio Sports Car Course, the narrative centered on Pagenaud's aggression, and how that move on Power at Turns 12 and 13 would prove pivotal in the championship race.
Indeed it has, because after Pagenaud's debacle of a Pocono weekend culminating with his Lap 158 accident, that move is the singular gap between he and Power with just three races remaining in the 2016 season.
A 20-point gap is the result of Power gaining 38 points on Pagenaud on Monday in Pocono. That 38-point margin is what it would have been had Pagenaud not pulled the trigger on the Mid-Ohio move; instead, that move single-handedly swung it 20 points back to 58 entering Pocono.
Putting aside Pagenaud's Pocono weekend, where he qualified a season-worst 14th and finished a season-worst 18th at the worst possible time, this is the point in the year where you think about where and how both drivers have left points on the table this year.
Granted, this is with hindsight, but it is still fascinating to look at where we are now as a result of how we got here:
At St. Petersburg, Team Penske made the, in hindsight, interesting decision to substitute Oriol Servia for Will Power for the race. Power had qualified on the pole and netted one point, but by moving Servia into the car rather than establishing the car as a DNS with Power listed, Team Penske gave up four points for Power. Where does the four come from, you ask? A 22nd place (last place) finish would have netted eight and per Rule 10.3.5 of the 2016 INDYCAR Rulebook, half points. Add the pole point and Power would have achieved five points in St. Petersburg, rather than the one he walked away with.
A spin at the Angie's List Grand Prix of Indianapolis, a race Pagenaud won, left Power playing catch-up and in a hole after finishing 19th. After that race – Race 5 of 16 this season – Power stood 10th in points, and 137 back of Pagenaud (242-105).
Iowa and Toronto may now loom larger in Pagenaud's rear view mirror as lost opportunities from a bigger picture standpoint. Running second at Iowa until the closing laps, Pagenaud faded to fourth there, while Power charged to second. Meanwhile in Toronto, like Dixon ahead of him, Pagenaud's team mistimed when he needed to pit for his final stop upon the last yellow, and he fell to ninth – one spot behind Dixon. Power gained six extra points on Pagenaud in Iowa but a fuller 28 points on him in Toronto. It's also worth noting that while Jack Hawksworth alleged Pagenaud hit him in Toronto, there was no penalty assessed to the Frenchman by Race Control owing to a lack of suitable video evidence; that might be a case where Pagenaud lucks out down the road.
Mechanicals have impacted both drivers, but Pagenaud more so.
THE MECHANICAL FACTOR
It's also worth noting that both drivers have been hamstrung by mechanical gremlins this year, and that's cost them both – but Pagenaud has been hit harder by mechanical woes than has Power.
Power's reeled off a run of four wins and two second-place finishes since Detroit race one, when a wheel came off after a pit stop and he was parked off course at Turn 3, done for the day. He then won Detroit race two to restart his charge.
Pagenaud? There's been a bunch of points left on the table owing to mechanical woes. The 19th at the Indianapolis 500, 13th at Detroit race one and 13th at Road America all were potential top-five to top-seven runs, at least, and you could probably estimate a good 65 to 75 points were lost as a result of those finishes.
SO WHAT HAPPENS FROM HERE?
Pagenaud, who told me going into the weekend he actually loves the pressure, must respond now from the most pressure he'll have faced all season. His 20-point lead is the smallest he's had since Long Beach, back in April (seems an eternity ago), when it was just 14 over Scott Dixon (134 to 120)… and Power sat eighth in points (72 back with 62).
Every race since, it's been 47 points or more – that's over a span of nine races and four months since Barber in April.
If Pagenaud loses the title, Pocono is his "Briscoe at Motegi pit out" moment… the one single mistake that you can't afford to make in your first attempt at trying to secure an IndyCar championship.
And this is where Power, who has a title in 2014 plus the experience gained from having lost three in a row in heartbreaking fashion before winning that elusive first title, may have a mental edge. Now 35, Power has morphed almost into the sage that Team Penske has on its payroll – Rick Mears – or the sage that was his longtime title rival and sparring partner a few years ago in Dario Franchitti.
He's let the points come to him, all the while seizing his moments over the last six races with a torrid streak of four wins and two seconds. He's gained 104 points on Pagenaud in that time, moving from 12th to second in points.
It's crazy how Pagenaud's three wins and two seconds in the first five races seemed impossible to beat.
Yet Power has just done so over his last six races.
It's game on from here between the Team Penske teammates as the pendulum in the title bout has swung once again.
HERE'S HOW THIS LOOKS IN DATA AND PICTURE FORM
Take a look at how the pendulum has swung between Pagenaud and Power in the points, in the below table and below line graph:
| | PHX | LB | BAR | IGP | I 500 | DET 1 | DET 2 | RD AM | IA | TOR | MID | POC |
| --- | --- | --- | --- | --- | --- | --- | --- | --- | --- | --- | --- | --- |
| Pagenaud | 83 | 134 | 188 | 242 | 292 | 313 | 357 | 375 | 409 | 432 | 484 | 497 |
| Power | 36 | 62 | 94 | 105 | 178 | 189 | 240 | 294 | 334 | 385 | 426 | 477 |
| Gap | 47 | 72 | 94 | 137 | 114 | 124 | 117 | 81 | 75 | 47 | 58 | 20 |
| Power Pos | 12 | 8 | 7 | 10 | 11 | 12 | 7 | 3 | 3 | 2 | 2 | 2 |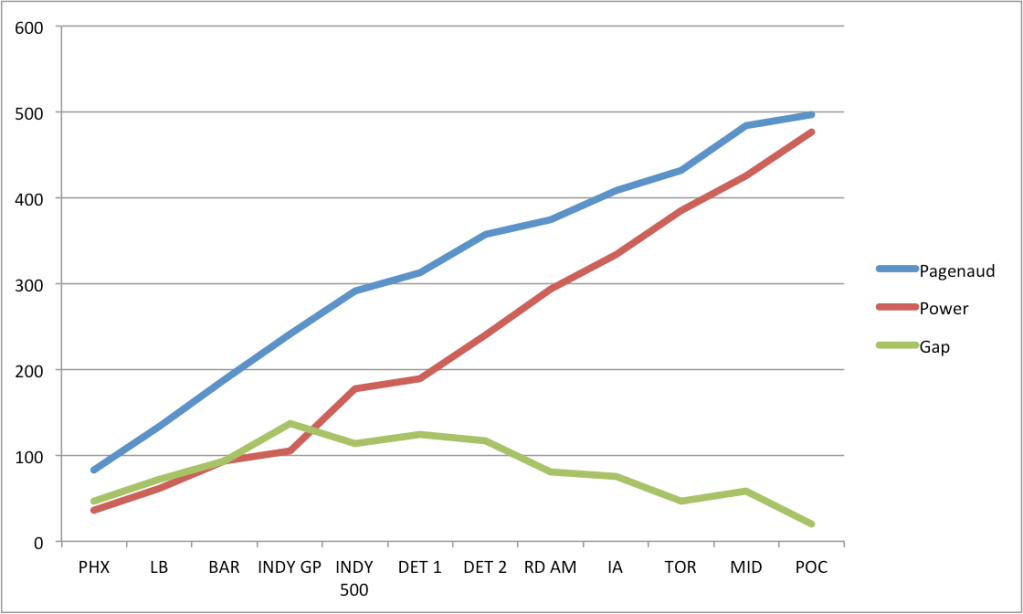 Additionally, here's the breakout of Pagenaud's gap to second place since Phoenix, site of Power's first actual race start this year, and Power's progress in the races since.
| | PHX | LB | BAR | IGP | I 500 | DET 1 | DET 2 | RD AM | IA | TOR | MID | POC |
| --- | --- | --- | --- | --- | --- | --- | --- | --- | --- | --- | --- | --- |
| First | 83 | 134 | 188 | 242 | 292 | 313 | 357 | 375 | 409 | 432 | 484 | 497 |
| Second | 79 | 120 | 140 | 166 | 235 | 254 | 277 | 301 | 336 | 385 | 426 | 477 |
| Gap | 4 | 14 | 48 | 76 | 57 | 59 | 80 | 74 | 73 | 47 | 58 | 20 |
| 2nd is | SD | SD | SD | SD | SD | HCN | SD | HCN | JN | WP | WP | WP |
| | | | | | | | | | | | | |
| Power | 36 | 62 | 94 | 105 | 178 | 189 | 240 | 294 | 334 | 385 | 426 | 477 |
| Gap | 47 | 72 | 94 | 137 | 114 | 124 | 117 | 81 | 75 | 47 | 58 | 20 |
| Pos | 12 | 8 | 7 | 10 | 11 | 12 | 7 | 3 | 3 | 2 | 2 | 2 |