We already touched on the IMSA WeatherTech SportsCar Championship and Continental Tire SportsCar Challenge races from VIRginia International Raceway but this weekend featured quite a bit more sports car and touring car racing action from around the globe.
Here's some very quick recaps and race winners in events of note:
—
Also at VIR, the Battery Tender Mazda MX-5 Cup ran a pair of races. The second one, Sunday morning, was the highlight of the weekend.
In a crazy five-car deep finish featuring the new Global MX-5 Cup car, series veteran Nathanael Sparks finally secured his first career victory to extend his championship points lead.  The margin of victory from Sparks to Chris Stone was 0.017 seconds, while the margin from first to fifth was just 0.15 seconds. You can watch the finish below, with commentary via the Radio Show Limited team of Shea Adam and past MX-5 Cup series champion Kenton Koch.
Sparks finished runner-up in the first race of the weekend on Saturday to Dean Copeland, with Nikko Reger in third. Sparks, Stone and John Dean II were the podium on Sunday. Sparks leads Ara Malkhassian, 501-432, in the championship with Copeland third on 423.
The $200,000 Mazda Road to 24 scholarship is on the line entering the finale at Road Atlanta next month, although a trip out to Mazda's spiritual home track, Mazda Raceway Laguna Seca, beckons next Sept. 9-11 for the non-points Global Mazda MX-5 Cup Invitational.
—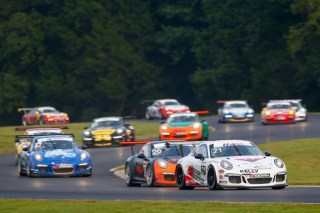 The Porsche GT3 Cup USA Challenge by Yokohama ran a pair of races at VIR as well. Well, "races" in the academic sense – Montreal's Jesse Lazare continued his domination at the front of the field in the No. 21 Kelly-Moss Road and Race Porsche. Lazare swept to his eighth and ninth wins of the year in 12 races.
On Saturday, Lazare beat Andrew Longe by 1.296 seconds while on Sunday, he beat Lucas Catania to the finish by 13.761 seconds, a season-high. Lazare padded his points lead over Longe to 213-178. Catania is third with 173.
Saturday's race included a red flag period of 21 minutes due to a single-car accident involving Platinum Masters competitor Bill Peluchiwski in the No. 74 Kelly-Moss Road and Race Porsche. Peluchiwski is awake and alert and has been admitted to an area hospital for evaluation. Further updates will follow at a later date.
This series heads next to Circuit of The Americas (Sept. 14-17) and finishes at Road Atlanta (Sept. 28-Oct. 1).
—
The Lamborghini Blancpain Super Trofeo North America series joined others in the doubleheader at VIR. And like in Porsche, there was only one overall winner. Shinya Michimi of Prestige Performance (representing Lamborghini Paramus) won his fifth and sixth races in eight overall this year.
Of note, Indianapolis 500 rookie Stefan Wilson scored his first series podium in race two, coming third in the Pro-Am category with co-driver David Seabrooke for Prestige.  Additionally, full-time Cooper Tires USF2000 Championship Powered by Mazda competitor Yufeng Luo made his series debut and in race one, finishing third overall and first in Pro-Am with teammate Richard Antinucci for Shane Senaviratne's US RaceTronics team.
Lamborghini's last U.S. round of the year takes place at Circuit of The Americas (Sept. 14-17) before the World Final in Valencia, Spain in December.
—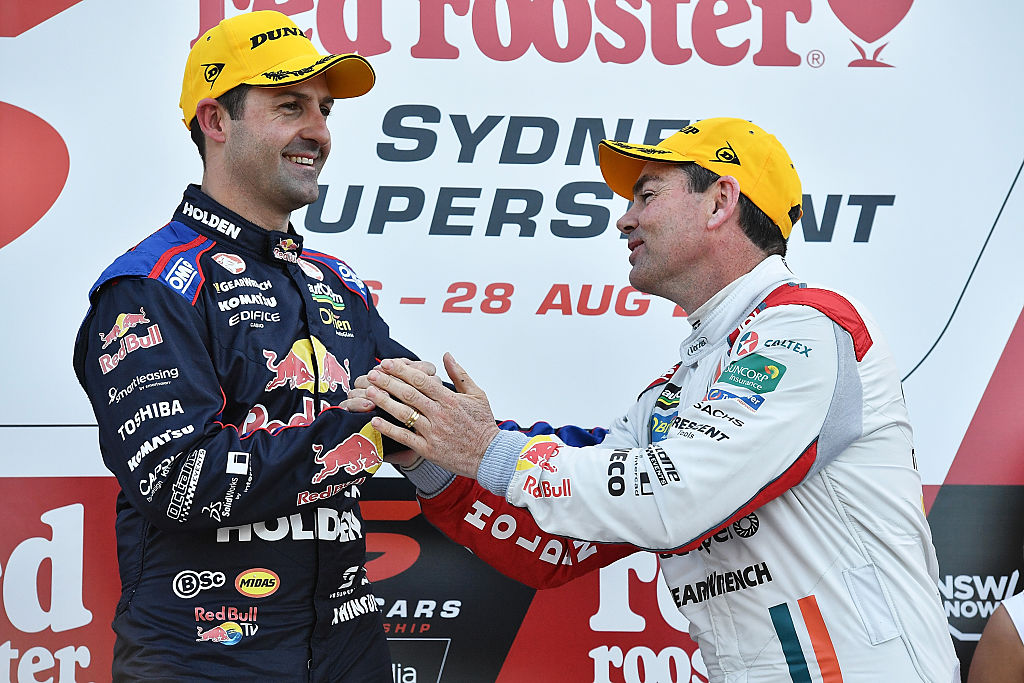 Australia's Virgin Australia Supercars Championship ran two races at Sydney Motorsport Park this weekend, with Shane van Gisbergen (No. 97 Red Bull Racing Australia Holden Commodore VF) and Jamie Whincup (No. 88 Red Bull Holden) winning the two races. But it milestones for Whincup and Craig Lowndes took over in the spotlight.
Whincup's win was particularly important; it was his 100th of his career. A fuller breakdown is linked here via the Supercars official website, as is a tribute from series chief James Warburton.
Longtime teammate Lowndes, a legend in his own right and the only other driver to have 100 races, celebrated a milestone of his own by hitting the 600-start mark. Fuller stories on that is linked here and here as well, while it appears a new deal for him to stay with Triple Eight boss Roland Dane is looming on the horizon. This year, Lowndes drives the TeamVortex Holden Commodore VF.
Supercars is next up at Sandown Sept. 16-18 and then runs its premier race of the year, the Supercheap Auto Bathurst 1000, Oct. 7-9.
—
Toyota Gazoo Racing FIA WEC driver and past IndyCar race winner Mike Conway made a cameo in the Thiriet by TDS Racing Oreca 05 Nissan and helped that team's No. 46 entry with co-drivers Pierre Thiriet and Mathias Beche to its third win in a row at the European Le Mans Series' race in Paul Ricard (LMP2 class). Conway filled in for Ryo Hirakawa, who was on Super GT duty.
Others of note… ex-IndyCar and GP2 veteran Stefano Coletti was second in the SMP car he shares with Julian Leal and Andreas Wirth, Elton Julian's DragonSpeed entry was third, Graff won LMP3 with its No. 9 car but the No. 10 car that features Americans Sean Rayhall and John Falb failed to finish, and Mike Hedlund's Proton Competition Porsche he shared with Wolf Henzler and Marco Seefried was sixth in GTE, a class won by JMW Motorsport.
ELMS is next up at Spa on Sept. 25, with the season finale at Estoril on Oct. 23.
—
The Japanese Autobacs Super GT Series was in Suzuka this weekend for a 1000 km race. Yuji Tachikawa and Hiroaki Ishiura won overall in the GT500 class in the No. 38 Zent Cerumo Lexus RC F. Hirakawa and James Rossiter failed to finish. Takuto Iguchi and Hideki Yamauchi won in GT300 in the No. 61 Subaru BRZ R&D Sport Subaru BRZ GT300.
Next up for them is Thailand Oct. 8-9.