Fans heading to Indianapolis this weekend for the NHRA's biggest race of the year, the Chevrolet Performance U.S. Nationals at Lucas Oil Raceway, will get a very pleasant surprise.
Funny Car driver and fan favorite Alexis DeJoria, who has missed the last two races recuperating from a fractured left pelvis suffered in a race crash a month ago in Sonoma, California (see video above), will be back behind the wheel of her Tequila Patron Toyota Camry.
The Sonoma wreck was the worst of her career and the first time she has been injured in a drag racing wreck. She had a hard wreck in 2009 at Englishtown, New Jersey, but was uninjured.
DeJoria, who won the Funny Car class in the U.S. Nationals in 2014, comes into this weekend not only looking forward to returning to the Funny Car wars, but also to hopefully lock herself into the six-race Countdown to the Championship.
Even with missing the last two races at Seattle and Brainerd, Minnesota, DeJoria still has a 87-point lead over Chad Head, her closest rival for the 10th and final Countdown spot, which will be determined this weekend.
But Head isn't the only competitor DeJoria has to worry about. Former two-time Funny Car champ Cruz Pedregon is 115 points behind DeJoria, and is a four-time winner at the U.S. Nationals.
MotorSportsTalk spoke with DeJoria recently about how she's feeling, her return behind the wheel and her hopes to make the Countdown.
Here are excerpts from that interview:
Q.) How do you feel physically?
DEJORIA: "I feel really good. It's been about five weeks now and I've done all the physical therapy I could possibly do and all the treatments they have for fractured bones and what not, lots of rest and healing in general.
"I've let my family take care of me. My husband (noted motorcycle builder Jesse James) took real good care of me while I was home. He works from home, so it's easy to do that. So, just everything combined, I feel really good. I've missed two races so I'm eager to get back out there."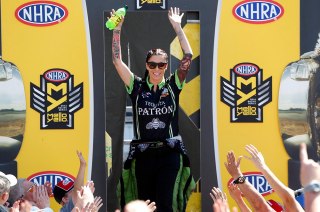 Q) Even with such a bad injury, what makes you eager to climb back into the race car?
DEJORIA: "You have to understand that this is part of what you do, part of your job, you're racing cars that are over 10,000 horsepower. They're very fast, very powerful and can be very evil at the same time. You always have to know that (crashing) is a possibility. And if you don't think that way, then you're absolutely crazy.
"Some people are just real lucky. I've been in a lot of accidents and have never got hurt. From the outside, you'd think she definitely has to be hurt, look at the car. But I've come out unscathed up to now. This was a little different.
"So for me personally, and I can only speak for myself but I'm sure a lot of professional athletes and drivers feel the same way, it's that drive and that sheer tenacity and the ability to keep fighting in the face of adversity or that challenge that you constantly have.
"We're all going to make mistakes at some point, we're all going to fall at some point, but what makes us different is we're the ones that keep getting up and keep fighting. Those are the ones that really succeed in life in these professional jobs we have.
"You have to be able to do that, to get back up and fight again. That's the kind of person I was raised to be and that's one of the reasons why I chose NHRA drag racing. It's a very humbling sport. Not every day is going to be a good day. You're not always going to make it down the track. There's so many variables that can take you out. But I love the challenge. I love that. I love the ability to charge ahead no matter what the circumstances are, I absolutely love it."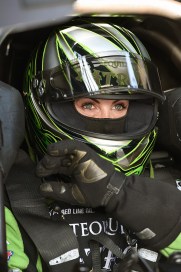 Q) You want to win a championship and if you do that, you would become the first female Funny Car champion in NHRA. How important are both those aspects for you?
DEJORIA: "They're both very important in a very unique way. For me, coming into the sport, I want to succeed. I'm a very competitive person and I didn't come here just to make some quick passes down a track in a race car. I came here for the big picture, the big win, the ultimate win of winning a championship, and not just as a competitor but also because there are so few female women out there in the NHRA professional categories.
"Obviously, we want to be this the first this or first that, and being one of only two females, it is kind of a unique thing. It's like a relay race. Courtney and I just pass the baton back and forth. This week, you're the faster female and maybe next week I'll be the fastest female. There's only two of us, it's kind of crazy, we kind of laugh at it when they make a big deal of the fastest female, when there's only two of us. It's not that big of a deal.
"But ultimately the championship, overall, that speaks volumes. It's not just me and Courtney, it's every woman that's ever competed in Nitro Funny Car. And that's something unique. A woman has done it in Top Fuel, Pro Stock and Pro Stock Motorcycle, but that hasn't happened yet in Funny Car. My ultimate goal would be to win a championship."
Q) You're in 10th place and are trying to clinch a berth in the Countdown to the Championship. Can you talk about the pressure to not only make the Countdown but also the pressure to win the championship?
DEJORIA: "There's a lot of pressure coming back. Obviously, it's my first race back after an accident, I haven't been in the car for a long time and Indy is the biggest race of the year. It's a fight to get to stay in the Countdown to the Championship.
"So, there's a lot on the table, but for me, I just have to keep it simple. I'm just so thrilled to just get back there and see my team, who I miss incredibly so much, because they're my family away from home. We have a special bond. We're on the road together so much, we see each other more than we see our own families at times. It's a special bond. I miss my teammates and I also miss my competitors, too. I know that sounds crazy, but I just miss the whole circus out there.
"I'm just thrilled to get back there. I've won Indy before, so there's a little bit of pressure off my shoulders – it's like an I did it before, we can do it again kind of thing. I'm going to have my friends and family there, my dad's coming out, my daughter will have her birthday on Sunday of the race. So, there's a lot of good, positive things and I'm just going to focus on that, keep it simple and hopefully we can get some very consistent runs under our belt, qualify well and get some bonus points.
"We're in the Traxxas Shootout (a special exhibition race held during the U.S. Nationals for Funny Car and Top Fuel teams) because we won early on in the season (Las Vegas). So that'll be nice, too.
"There's lots of good things to look forward to. Those pressures are going to be there, but I'm going to choose not to focus on them and focus on the positives and am just grateful to be in this position and that I get to race another day."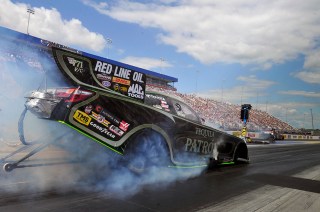 Q) Your friend, fellow Funny Car driver Courtney Force, had her own wreck one week after yours, but did not suffer as severe an injury as you did. You immediately took to Twitter to offer your support for Force. How hard was it to watch her wreck so soon after your own wreck?
DEJORIA: "I was resting in bed, my husband were watching the race live on television, and it was absolutely surreal watching her go through very similar circumstances. And when she didn't get out of the car right away, I started getting teared up. It was like watching my own accident from a different perspective.
"She came out and was hurt as well, couldn't put weight on her right foot and it was just so difficult to watch. It was incredible, I just couldn't believe it happened again in the race right after mine, and the only other female in the class. All that tied together, I was like, 'Oh my God, I can't believe it.' I'm very glad, though, that she didn't have any bone damage. She had some soft tissue damage around her knees when they hit the steering wheel like mine did."
Q) What changes will you make to your Funny Car to improve its safety and help reduce any chance of reinjury to you?
DEJORIA: "We'll be having a lot more padding around me inside the seat of my race car at Indy where we obviously didn't have it before. If I had it, maybe I wouldn't have had a fracture, then again, maybe I would have. I had a very hard lateral hit into the retaining wall, and the barrier walls I hit didn't move, so I think that added to the excessive damage I had vs. what Courtney went through.
"The barrier wall at Seattle actually moved three or four feet when she hit it, so I think it absorbed some of the blow. I'm very glad she's okay. She's my buddy and I hate to see anybody go through that, be it a friend or competitor. At the end of the day, we're all a family. We're all very close, we're a traveling circus. We all want the same thing at the end of the day (to win) but we also don't want to see each other get hurt."
Q) Where are you at percentage-wise physically?
DEJORIA: "Physically, I feel good. No crutches, I actually worked out at the gym tbe other day. I'm slowly getting back into my normal routine. A fracture usually takes about six to eight weeks to completely heal.
"So, Indy, when I make my first run on Friday, will be about five weeks. I should be about 85 to 90 percent healed. But again, we're changing the whole interior of the cockpit and with padding and so much more that I didn't have before, so I should be fine. My doctors are giving me the okay to go."
Q) How do you not think about the accident when you climb back behind the wheel for the first time since your crash on Friday?
DEJORIA: "I've been through a couple other wrecks. This wasn't my first time. If it was the first time, I think I might be a little bit more concerned, but this is not my first rodeo."
Follow @JerryBonkowski