Given its pace and pedigree of drivers, it seemed only a matter of time before the Lamborghini Huracán GT3 would win its first race in the IMSA WeatherTech SportsCar Championship.
But "only a matter of time" took until Round 9 of 11 this season following a number of unexpected surprises and growing pains that come with the step up into the series and GT Daytona category.
Lamborghini has worked to grow its North American race presence the last few years, particularly with the implementation and rapid growth of the one-make Lamborghini Blancpain Super Trofeo North America series. Drivers like Kevin Conway, a past NASCAR Sprint Cup rookie-of-the-year, Justin Marks, Corey Lewis, Madison Snow, Andrew Palmer, Richard Antinucci, Edoardo Piscopo and others have passed through that series' halls along with a number of gentlemen drivers. This year, Trent Hindman and Stefan Wilson have become some of the more known notables, while Shinya Michimi has dominated as the top pro in the primarily pro-am series.
While the Super Trofeo one-make series has been a hit, the Huracán GT3 program debuted this year at Daytona with a big splash.
Yet the splash of talent assembled though drove down a tortuous road to get to Sunday at VIRginia International Raceway.
Lamborghini began the year with three full-time cars: the No. 11 O'Gara Motorsport entry for defending GTD class champions Townsend Bell and Bill Sweedler, the No. 16 Change Racing entry for sports car ace Spencer Pumpelly and up-and-comer Corey Lewis, and the No. 48 Paul Miller Racing car for Bryan Sellers and Madison Snow.
Of those three, only Miller had top-level IMSA experience as a team, but by switching cars (from the Audi R8 LMS) and drivers (Sellers and Snow), they faced a steep learning curve with their new elements. O'Gara and Change, meanwhile, stepped up from Super Trofeo into the significantly deeper series.
Add in two other Konrad Motorsport entries for one-off starts in the opening two rounds of the Tequila Patron North American Endurance Cup – plus all the extra third and fourth drivers – and on paper, the odds for Lamborghini to start strongly looked good.
The problem, of course, was that Lamborghini started too strongly.
The Rolex 24 at Daytona was an exercise in eyebrow-raising once the Lamborghinis showed their full hand in race pace, running significantly faster lap times from most of its drivers throughout the race. A final charge from Fabio Babini in one of the Konrad cars nearly saw that car win before a late splash of fuel was needed and it dropped to fifth.
It caught the eyes of IMSA, the sanctioning body, which imposed the following penalties on February 22:
—
Following observed performance during Round 1 of the 2016 Championship, IMSA has levied penalties under Sporting Regulation Attachment 2, Paragraph 2.9 against the following GT Daytona (GTD) teams 11, 16, 21, 28 and 48, as well as to the manufacturer, Lamborghini.
Each team was assessed a post-race penalty of a stop plus five (5) minutes which was added to each car's finishing time.
The manufacturer penalty was assessed as a loss of Championship and North American Endurance Cup points and a $25,000 fine.
—
The sanctions from IMSA were not the only speed bump Lamborghini hit in this time frame.
O'Gara's team dissolved in the blink of an eye after one race owing to other unexpected financial straits that hit team principal Tom O'Gara's other businesses.
It left Sweedler and Bell without a home – let alone the crew – and produced a bit of a domino effect.
O'Gara team manager Shane Senaviratne restarted his US RaceTronics team – originally founded in 2005 – for Super Trofeo in early March. Meanwhile Sweedler and Bell found a last-minute home with Robby Benton's Change team in a second car, albeit only on a race-by-race basis.
Bell told me in April after the O'Gara effort collapsed, "It's been a weird first quarter of the year. Last December I would have told you I'd never had a more solid stable situation. Things got out of our hands a bit quickly. It took a while to get things back on track, but now we have."
—
Things didn't get particularly better at Sebring. There were six Lamborghinis – the five from Daytona with the Bell/Sweedler car now under the Change umbrella – plus the debut of the Dream Racing Huracán. Lawrence DeGeorge had a heavy testing accident in Dream's Huracán debut but the car was repaired in time for Sebring.
The Bell/Sweedler debut saw the car run out of fuel once, then stay out in the rain once the conditions turned miserable and Bell lost control at Sebring's notorious Turn 17, having aquaplaned. In the second Change car, Lewis got a penalty in-race for an improper pass-around of the pace car. Even though that car led, it triggered a penalty that cost them nearly two laps and took them out of contention.
So two races, one race full of post-race penalties, the second with in-race penalties, and a best finish of sixth (Miller).
—
Two top-10s followed in the next round at Mazda Raceway Laguna Seca with the Miller car seventh and the No. 16 Change car 10th. After a 15th-place finish, the Bell/Sweedler car was withdrawn, with Bell resuming to focus on his Indianapolis 500 effort with Andretti Autosport and his NBCSN TV commitments, while both he and Sweedler would focus on their 24 Hours of Le Mans encore effort with Scuderia Corsa.
Bell nearly won Indy, and Bell, Sweedler and Jeff Segal did win Le Mans in the GTE-Am class following an incredible effort.
Lamborghini's plight continued, meanwhile, in GTD. Sellers delivered the manufacturer's first pole at Detroit, but in an abnormal strategic move, it meant he – and Change, who'd opted to qualify Pumpelly – would be starting their lead pro drivers and finish their lesser experienced pro drivers, Snow and Lewis. Eighth and sixth in the race was hardly what either was looking for.
It took until Canadian Tire Motorsport Park for Lamborghini to get its first podium and top-five results. The Miller car was third, the Change car fifth. Dream Racing came eighth for its best result to date.
Despite a pole at Lime Rock for Change, Pumpelly saw the strategy go awry again and that car ended eighth. Miller was fourth. Road America failed to produce any top-fives on a track with long straightaways.
—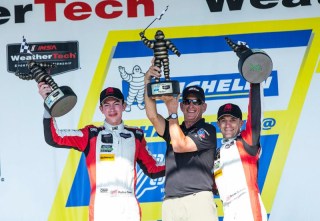 At VIR this weekend though it all came good – finally – for Miller and Lamborghini.The class of the field all weekend having led every session, Snow never put a wheel wrong while Sellers survived a brief off-course excursion and a last lap restart to secure the manufacturer's first win in GTD.
Given the number of speed bumps it took to get there, it seemed the victory meant a lot to the Miller team, to Sellers and Snow and to Lamborghini directly.
"As far as Lamborghini's first win, it's a huge honor," Sellers said. "When you think about being a young kid growing up, I think all of us dreamed about driving a Lamborghini. Being able to deliver their first win in IMSA is something pretty special. I'm glad that we at Paul Miller Racing could be the ones to do that for them, and I hope it builds our relationship and makes that stronger."
"Our relationship with Lamborghini is very strong," added team owner Paul Miller. "They really appreciate what we've done, our level of professionalism, the caliber of drivers in Madison and Bryan. Everything about our team is top drawer, and I think they are starting to recognize that even though we've lagged in the championship points. I think they realize we're delivering a first class effort and finally showing the results that, frankly, should have been here all along."
For Lamborghini itself, it means it's finally arrived as a winner along with the other manufacturers in a stacked GTD class.
"We are absolutely thrilled with the Squadra Corse Lamborghini's first win in the IMSA WeatherTech Sportscar Championship," said Lamborghini Squadra Corse's Chris Ward. "The Paul Miller Racing team has done an outstanding job all season long.
"This has been our foundation year for a good springboard into what we hope will be a really successful 2017 campaign. We've formed a fantastic relationship not only with Paul Miller Racing but with all of our Squadra Corse supported teams."
The best may be yet to come from here, if Lamborghini has ironed out all the first-year challenges that come with such a big step up.