Whoever coined the phrase "Behind every good man is a better woman" could very easily have been thinking of Laurie Force.
As Laurie and her husband, 16-time NHRA Funny Car champion John Force, close in on their 35th wedding anniversary next month (Sept. 26), life together has been a drag – a perpetual drag race, that is – but it's never been boring.
Laurie is the yin to John's yang. While her oftentimes hyperkinetic husband rolls through every day and everything he does at 330 mph – even when he's not in his famed race car – it's been Laurie who has been the steadying influence, the one who has been a sea of calm and leadership and voice of reason.
As John Force prepares for the sport's biggest race of the year, the Chevrolet Performance U.S. Nationals this weekend in Indianapolis, Laurie will once again be there by his side, keeping steady a ship that can sometimes become rocky due to John's quest for excellence and winning.
* * * * * * * * * * * * * * * * * * * * * * * * * * * * * * * * * * * 
HE FLIPPED A CAR RIGHT AFTER FLIPPING FOR HER
John and Laurie first met at a wedding of mutual friends in 1972, where John was best man and Laurie was maid of honor. They dated off and on for nearly 10 years before getting married in 1981.
Early on in their courtship, John wanted to impress his new love by showing how fast his car was. On a quiet, nondescript street in Southern California, John got behind the wheel while Laurie watched from the sidelines.
Before you could say "one-day 16-time NHRA Funny Car champ," John hit a curb, flipped the car and it promptly caught fire.
It would be the first of numerous times where he'd flip his car – and occasionally catch fire – over the following 40 years.
And yet, Laurie stayed. She wasn't shaken, wasn't afraid. She knew her eventual husband lived, slept and breathed drag racing.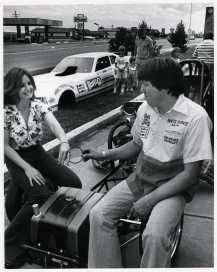 When John proposed marriage, Laurie knew it would be a wild ride being married to a drag racer; she just never knew it would be as wild as it has been.
"We dated off and on for 10 years before we got married," Laurie told NBCSports.com in an exclusive interview. "So, I don't have the excuse of well, we got married and I just didn't get the chance to get to know him better. I had plenty of chances. I couldn't say I didn't know what I was getting myself into. I did know."
I had plenty of chances. I couldn't say I didn't know what I was getting myself into. I did know.
John has gone from a struggling amateur racer to the winningest driver (145 wins) and champion in NHRA history. For the better part of the past three decades, John has been the face of NHRA. You literally cannot talk about the NHRA without mentioning John in the conversation.
He's the sport's biggest icon, fan and pitchman. And even though he's now 67 years old and is watching two of his daughters follow in his footsteps (another daughter, Ashley, also raced before starting a family), there's no slowing John down.
To him, the R word – retirement – is a dirty word.
"People talk about him retiring and I think well, he'd just sit at home and drive me crazy," Laurie says. "He still just can't let go of it.
"The thing he loves is the driving, so if he retired from that, he's still going to be out there, he's still going to be doing that, so I say you might as well continue to drive then, if that's what you really love."
There has been talk that John may hang up his firesuit after his current contracts with several sponsors including Peak and Chevrolet expire after the 2020 season, when he'll be 70.
Yet at the same time, John has said he may follow in the footsteps of Top Fuel racer Chris Karamesines, who is still rocketing down dragstrips around the country at 300 mph – at the ripe age of 84.
"I think deep down he'll know," Laurie said of if or when her husband will call it quits. "When it's just too exhausting or he's just not there anymore, then he'll want to quit and it'll be the right time."
Through it all, Laurie is always there, offering a balance when things can get a little crazy. And with John and his effervescent personality, things indeed can get crazy at times.
"She never had an ego like me," John Force told NBCSports.com in an exclusive interview. "She was the one person that would tell me I had an ego. She would tell me the reality of life. I think that checks and balances is what has kept me going."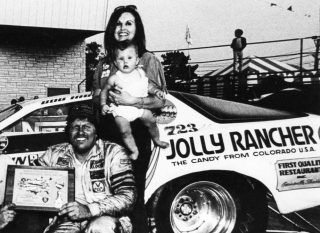 Particularly in the early years, Laurie unquestionably was — and continues to be — the backbone of John Force Racing. She wrote contracts, sold merchandise, packed the parachutes on the back of John's car, cooked for the team (back then, it was usually a ragtag group of volunteers) and even mixed the nitro fuel that powered John's Funny Car.
She even worked on the car at times. While Austin Coil would eventually come on board and become John's legendary crew chief, taking him to the majority of his 16 championships, Laurie was – and still is – the crew chief of John's life.
Even when John failed to win even one race in the first nine years of his professional career, Laurie never wavered in her support or belief in her man and his ability. Leaving was not an option. Love will do that.
"Laurie is the love of my life," John said. "She is the backbone of my family. In the early days she drove the pick up truck, mixed fuel and did the parachutes on my race car. She did all that while she was going to college to get an education. I was lacking in that. I wrote the first Wendy's contract and they sent it back to me. She re-wrote it and I knew then she was in and I needed to marry her.
"Through the road with the ups and downs of this life, as much as you love it, it has its bad sides and it is hard. You need a balance and that is Laurie. She always kept the kids in line and got them an education. She helped keep the peace between me and them when I was nuts."
And keep going they have: From their humble beginnings, the couple has built a multi-million dollar empire in both Southern California and suburban Indianapolis, with over 100 employees.
* * * * * * * * * * * * * * * * * * * * * * * * * * * * * * * * * * * 
FAMILY FIRST, DRAG RACING A CLOSE SECOND
And then there's their family. John and Laurie have three children – two who are racing currently (Brittany in Top Fuel and Courtney in Funny Car) and Ashley (as noted, who retired from driving to raise a family but serves as a vice president of JFR).
"When we decided to have children, I thought it would be best to name them A, B and C, to make it easier for John to remember their names," Laurie said. "When we decided to have children, I thought it would be best to name them A, B and C, to make it easier for John to remember their names.
John also has another daughter, Adria, from his first marriage, who serves as JFR's Chief Financial Officer and is married to Robert Hight, JFR's president and a 2009 NHRA Funny Car champ.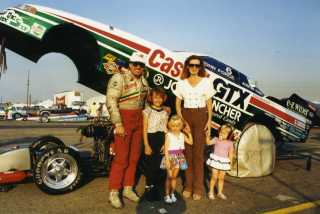 That all members of Force's family work within the JFR organization is not surprising. Laurie built a strong family unit while her and John's daughters were growing up. With John on the road so much, missing school events, more birthdays than they can count, and the like, Laurie spent much of the time raising the family by herself.
She was the one who took the girls to piano lessons, cheerleading practice and competition, dance, ballet, picnics – and then of course shepherded the girls when they would visit racetracks to watch their father drive.
In so doing, the Force family has developed an undeniable and strong bond. Without question, while drag racing has put food on the table and clothes on their backs, family is the most important aspect for John and Laurie.
To Laurie's credit, she made sure that all three daughters went to college and earned their degrees.
And when the three girls all decided to get behind the wheel of a Funny Car or dragster, Laurie – in her mid-50s – earned her own drag racing license to get a better understanding of what her girls would go through and how she could best counsel them.
"She motivated those kids," John said of his wife. "She told them if they were going to do it (racing) do it like your dad. Because she said I did it the right way."
While John would talk to the girls about how to cut a quicker light on the starting line or how to peddle a car from wrecking, Laurie wanted to make sure the girls were racing because they wanted to – not because Dad wanted them to.
"The girls come to me all the time," Laurie said. "I think John's hardest position is to walk the line between father and boss.
"It's difficult for him because he's so used to being in charge."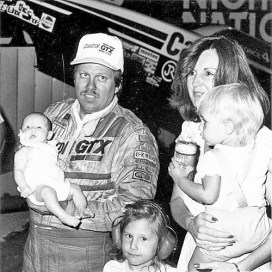 That difficulty of sorts stems from John's protective nature of what he still calls "my little girls" – even though Ashley is now 33, Brittany is 30 and Courtney 28.
"He just sees them as his little girls and he's going to come in and tell them what to do and how they should drive," Laurie said. "I think that's a big struggle for him in letting go. He can't understand that they aren't him, they can't get all amped up on the starting line and have great reaction times. For them, they have to work through it differently.
"He's still in charge and wants to run everything and hasn't realized the girls are adults now, too, and they want him to try to. He's also trying to win. He loves to watch his girls win, but not when it means he might have to lose. He's still in it to win it."
He wants to win even when he's not racing.
"He's a workaholic," Laurie said. "For him to take a break from that is pretty huge. We try to go on vacations, slow down and have fun, and he struggles with that because he thinks if he lets go for one day, the whole business will fall apart.
"It's hard to get this 'No worries, let's just go have fun' kind of guy, because it's not built into him to be that way. I think when he enjoys life is when he's around his daughters and of course the grandkids and we can just do simple things like stay home and barbecue, go swim or let the grandkids drive their little cars around the front driveway. It's when he's like that that I think he's most happy."
For some reason, John's three "grandbabies" as he likes to call Autumn (Adria and Robert's daughter), and Jacob and Noah (Ashley and son-in-law Dan Hood's sons), not only seem to calm grandpa down, they also bring out a side of John not many people see.
Example: cell phones. John isn't just technologically challenged.
"The best way to say it is he doesn't want to learn," Laurie said. "It's like teaching an old dog new tricks. He'd rather have somebody do it for him. He just stays in that kind of zone.
"Even the little grandkids that just turned five, they show him how to work a cell phone. They can go on it, pull up games, pull up anything. John's always stuck, always lost."
Even something simple as a kitten can have a big impact on John.
"We used to have animals and then about six, seven years ago they all passed on, so we never got any new animals because John suddenly decided he was allergic," Laurie said. "Sure enough, people would bring an animal around and he'd start a coughing attack.
"Then Brittany got one and we were kind of kitty sitting for her and John fell in love with that little thing. In the middle of the night, he'd get up to go to the bathroom and it would follow him there and I could hear him talking to it in the bathroom."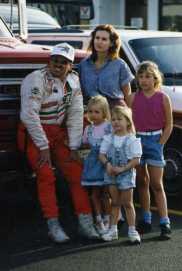 As a result, John and Laurie now have a new kitten of their own, Champs.
As for her own champ, Laurie is very proud of all that John has achieved in his career, going from nothing to the greatest driver the sport has ever known.
And she's been there every step of the way.
"I was there at the very beginning," she said. "I saw when he couldn't even start his car up. Or when he oiled a track down so bad that they kicked him out of the race.
I saw when he couldn't even start his car up. Or when he oiled a track down so bad that they kicked him out of the race.
"I saw how bad it was and how we didn't have any money and were just scraping to get by to get $600 from two runs at a match race – and then they'd deduct $500 for a grease sweep (to clean up the oil that Force's car laid down). It was terrible back then.
"Really, he did not come from money, did not have an easy time of it, didn't have sponsors lined it. He had basically nothing, but just the determination and the hard work he put into it."
But Laurie also had determination and put in as much — if not more — hard work as John did to assure his success. Without equivocation, he gives her all the credit.
"I can't imagine my success or the success of the girls without Laurie," John said. "I don't think I would be where I am. I am not just saying that. I am such a radical person. I am too emotional to be a crew chief. If you give me 10 roads I will try and run down them all. I am the one running into walls when there is an earthquake in California and she is calmly taking the kids and moves them to a safe spot. I don't think I would be here without her."
* * * * * * * * * * * * * * * * * * * * * * * * * * * * * * * * * * * 
THE DAY LAURIE FORCE WOULD RATHER FORGET
Looking back on her husband's career, Laurie has all the wins, championships and good times to remember. But there's one time that she'd rather forget: the day her husband almost died in the worst crash of his career.
During a run in a race at Texas Motorplex south of Dallas in September 2007, John crashed hard. He sustained serious injuries including severely mangled fingers and toes (there was talk early on of possible amputation of some of his digits), a broken ankle, fractured left wrist and a right knee abrasion.
He was hospitalized for a month, but after intense physical rehabilitation, less than five months later John proved wrong the naysayers that said he might never race again. Not only did he come back, he eventually went on to win his 15th and 16th championships in 2010 and 2013.
"When he had his accident, when he was on drugs in the hospital, I have to say, I didn't think I was going to get my husband back," Laurie said. "The stuff he said – I think when we took him off morphine, he became himself and he was so determined to be back in the race car.
When he had his accident, when he was on drugs in the hospital, I have to say, I didn't think I was going to get my husband back.
"I remember telling him you can't even walk or crawl, but he said, 'I think I'll be there by the first race of the year (in 2008).' The fact that he did it, I'm still pretty shocked.
"It was a hard role for John to be in because he wants to be in charge of everything – and for once, he couldn't. He couldn't do anything for himself. … But the better he got and the more results he saw, it just encouraged him to work harder."
Fans love Force because he's real. What you see or what you hear is what you get, the real, true, unplugged John. But when pressed to reveal something about her husband that his millions of fans have never known, Laurie laughs at something John may blush at when he reads this story.
"He is the mushy one in our relationship," Laurie said. "I never thought I would see that happen, but he definitely is.
He's the mushy one in our relationship.
"He's very emotional and watching movies, it's the same thing. He just thinks I have no heart if I'm not bawling at a movie. I think most people wouldn't know that about him, that he's so mushy."
Mushy? John Force? Who knew?
Follow @JerryBonkowski