It's a double barrel weekend of open-wheel racing on NBCSN this weekend, with even more sessions than normal televised owing to the weather washout of Friday track activity at Darlington Raceway.
Below, please see times and advisories for both this weekend's Formula One Italian Grand Prix coverage from Monza, and the Verizon IndyCar Series' IndyCar Grand Prix at The Glen from Watkins Glen.
Additionally, you can view this week's F1 Paddock Pass from Monza here.
—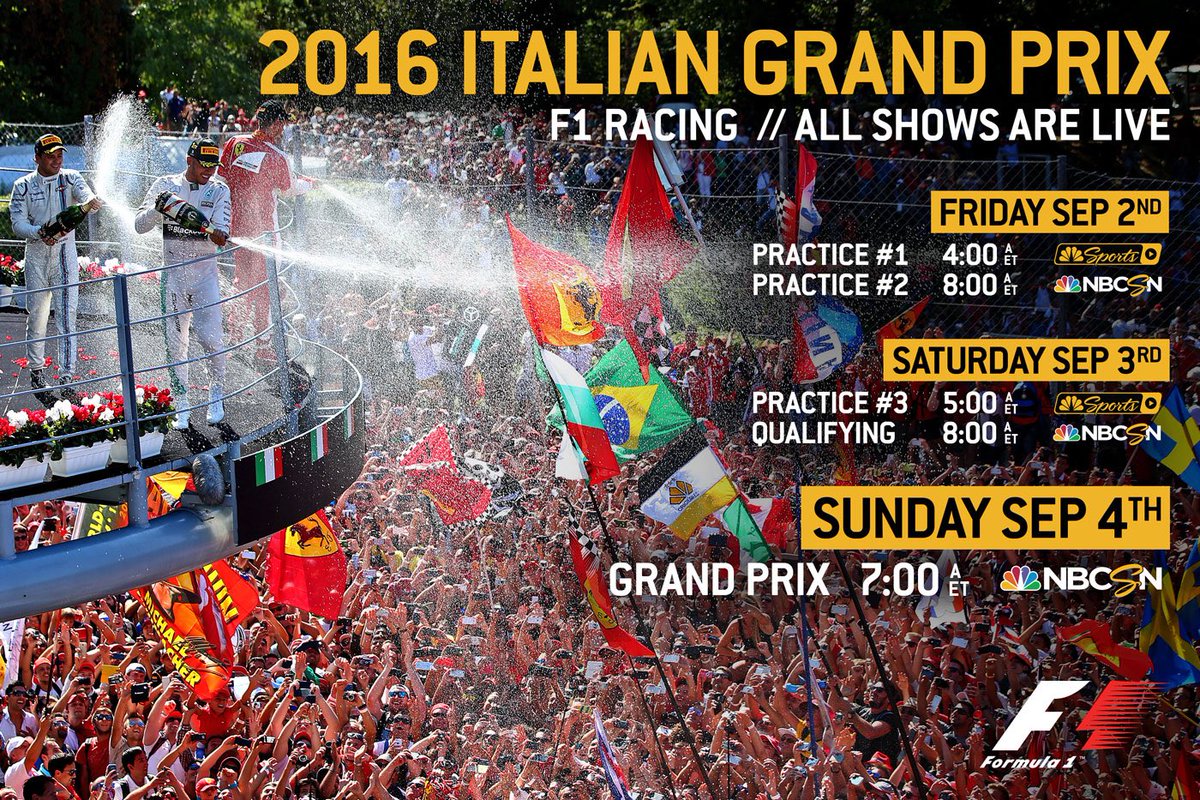 FORMULA ONE ITALIAN GRAND PRIX – SUNDAY AT 7 A.M. ET ON NBCSN
F1 makes its annual trip to Monza this weekend for the Italian Grand Prix, as Nico Rosberg (Mercedes) looks to build off of his win in Belgium last weekend and gain ground on teammate and rival Lewis Hamilton. Hamilton had won seven consecutive races prior to last weekend, and now leads Rosberg by just nine points following Rosberg's win in the Belgian Grand Prix. Hamilton is a three-time winner at Monza, including the past two seasons.
Live coverage begins exclusively on NBCSports.com and the NBC Sports app on Friday morning at 4 a.m. ET with Practice 1, followed by NBCSN's live coverage of Practice 2 at 8 a.m. ET. Streaming coverage on NBCSports.com and the NBC Sports app continues Saturday at 5 a.m. ET with Practice 3 and live qualifying at 8 a.m. ET on NBCSN.
Live Italian Grand Prix coverage begins Sunday morning at 7 a.m. ET on NBCSN with F1 Countdown, and is followed by F1 Extra at 10 a.m. ET. The GP2 Series race weekend from Monza is on at 6 a.m. ET.
Lead F1 announcer Leigh Diffey will call the Grand Prix action on Sunday, and will be joined by veteran analyst and former racecar driver David Hobbs, and analyst and former race mechanic for the Benetton F1 team Steve Matchett. F1 insider Will Buxton will serve as the team's on-site reporter from Monza. Brian Till will fill in for earlier sessions in the weekend.
—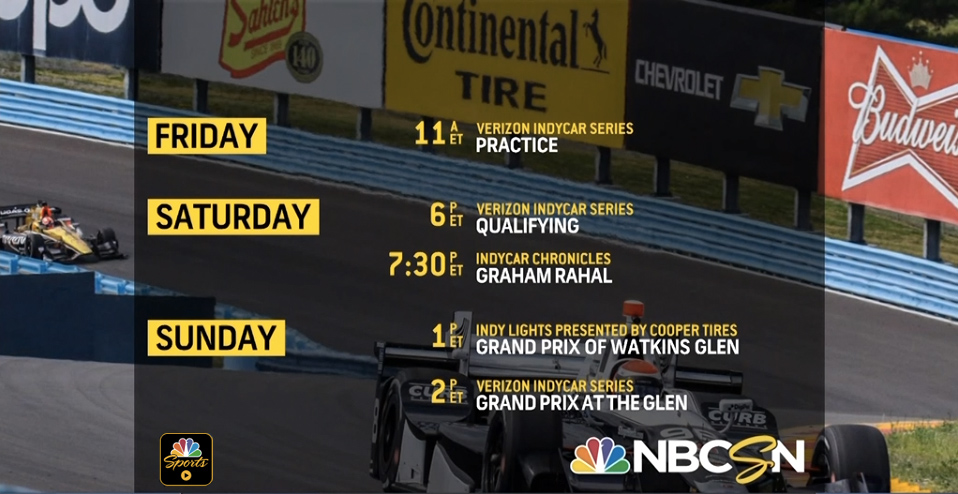 INDYCAR GRAND PRIX AT THE GLEN – SUNDAY AT 2 P.M. ET ON NBCSN
The 2016 Verizon IndyCar Series heads to iconic Watkins Glen International this weekend with championship implications at stake, with just the season finale at Sonoma on Sept. 18 remaining on the schedule.
Simon Pagenaud (Penske) continues to lead the standings over teammate Will Power, in what has turned into a two-driver race for the championship. Pagenaud (529 points) is 28 points ahead of Power (501 points), and 113 points clear of Tony Kanaan (Chip Ganassi Racing), who sits in third. This marks the first IndyCar race at Watkins Glen since the 2010 season, when Power drove to victory. Scott Dixon (Chip Ganassi Racing) is a three-time winner at Watkins Glen (2008-10).
NBC Sports Group is currently on pace to deliver its most-watched IndyCar season on record, averaging 487,000 viewers across eight races, up 18% vs. 2015 through the same number of races (412,000), excluding rain-impacted races.
Coverage begins tomorrow at 11 a.m. ET on NBCSN with practice with second practice now added for two full hours from 3:30 to 5:30 p.m. ET owing to the cancellation of NASCAR track activity from Darlington.
Qualifying airs Saturday evening at 6 p.m. ET. Pre-race coverage on Sunday begins at 2 p.m. ET, followed by the Grand Prix at the Glen at 2:30 p.m. ET. NBCSN will also present the Indy Lights series on Sunday at 1 p.m. ET.
Kevin Lee (play-by-play) will call the action alongside analysts and drivers Paul Tracy and Townsend Bell. Reporters Jon Beekhuis, Katie Hargitt and Robin Miller will report from the pits. Lee, Anders Krohn (analyst), and Hargitt will the Indy Lights race. Jake Query will fill in for Lee during first IndyCar practice.
| | | | |
| --- | --- | --- | --- |
| Date | Coverage | Time (ET) | Network |
| Fri., Sept. 2 | F1 Italian Grand Prix – Practice 1 | 4 a.m. | Streaming |
| | F1 Italian Grand Prix – Practice 2 | 8 a.m. | NBCSN |
| | Off The Grid – Monza | 9:30 a.m. | NBCSN |
| | IndyCar Grand Prix at The Glen – Practice 1 | 11 a.m. | NBCSN |
| | IndyCar Grand Prix at The Glen – Practice 2 | 3:30 p.m. | NBCSN |
| Sat., Sept. 3 | F1 Italian Grand Prix – Practice 3 | 5 a.m. | Streaming |
| | F1 Italian Grand Prix – Qualifying | 8 a.m. | NBCSN |
| | IndyCar Grand Prix at The Glen – Qualifying** | 6 p.m. | NBCSN |
| Sun., Sept. 4 | GP2 Series – Italy** | 6 a.m. | NBCSN |
| | F1 Countdown | 7 a.m. | NBCSN |
| | F1 Italian Grand Prix | 7:30 a.m. | NBCSN |
| | F1 Extra | 10 a.m. | NBCSN |
| | Indy Lights – Watkins Glen** | 1 p.m. | NBCSN |
| | IndyCar Countdown | 2 p.m. | NBCSN |
| | IndyCar Grand Prix at The Glen | 2:30 p.m. | NBCSN |
| | IndyCar Post-Race | 4:30 p.m. | NBCSN |