The second-to-last race of the Verizon IndyCar Series season, at Watkins Glen International this Sunday (2 p.m. ET, NBCSN) is the last in a three-week back-to-back-to-back run of races which have all been a bit abnormal.
Pocono Raceway's ABC Supply 500 brought the series off a two-week break, yet was delayed to Monday, August 22, due to rain. Texas Motor Speedway's Firestone 600 occurred but five days later, Saturday, August 27, with the resumption of the rain-delayed-from-June race and a thrilling final 177 laps.
Watkins Glen this Sunday, however, wasn't even supposed to happen this year. Courtesy of an incredible two-week effort between track president Michael Printup and INDYCAR President of Competition and Operations Jay Frye and their respective staffs, Watkins Glen made the calendar as the eleventh-hour replacement for the canceled street race in Boston.
Here's what could be some of the key talking points for the penultimate round of the season.
2016 IndyCar Grand Prix at The Glen – Talking Points: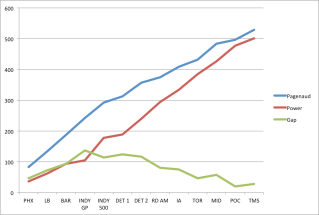 Pagenaud vs. Power, again
Simon Pagenaud's pivotal drive at Texas on Saturday night may be enough to secure his first title. A fourth place finish to Will Power's eighth extended his lead to 28 points.
Power has won at Watkins Glen while Pagenaud is yet to race at the track. Still, figure either enters as the pre-weekend favorite.
Here's a breakdown of their points battle throughout the year to the right, because I got bored and made another line graph in Microsoft Excel.
The desires of those who need or want a win
James Hinchcliffe came up 0.008 of a second short at Texas. Tony Kanaan has been close-but-no-cigar all year. Same for Helio Castroneves. Ryan Hunter-Reay's been unlucky; Mikhail Aleshin's been on the doorstep.
These are but five drivers who could use their first win of the year. There are more in that category, as well.
Ludicrous, ludicrous speed
The official track record heading into this weekend is 1:28.1322 (137.657 mph) set in 2009 by Ryan Briscoe at the 3.4-mile road course.
Weather pending, the question isn't if the track record will be beat at the freshly repaved road course – but by how much.
Unofficial test times from both a Firestone tire test held in June (via IndyCar.com) and a bigger group test in August (full list here, social roundup here) have pegged the cars anywhere from three to four seconds quicker, and the estimates could be in the 1:24 or lower range.
"Everyone is blown away by the speeds. If the fans want to go to any race, go to that place, because it looks like unbelievably fast. It looks crazy from the outside," said Graham Rahal, the Texas winner who tested at Watkins Glen in the August test, and also watched trackside as Indy Lights Presented by Cooper Tires driver Ed Jones took over his No. 15 Mi-Jack/RLL Honda in the morning.
Downforce levels
Watkins Glen combines the elevation, long straights and high-speed corners of Road America, the tight right-handed Turn 1 of the Indianapolis Motor Speedway road course, and flowing back-and-forths of Mid-Ohio and Barber to create its 3.4 miles.
And that'll make downforce levels a gamble, depending on how much teams want to trim out. As ever, if you go for a higher downforce setting you sacrifice top-end speed but could be quicker through the already ridiculous corners. Going for a lower downforce setting gives more speed for the straights but costs you in the corners.
The repave unknown, vs. the unknown unknown
The repaving of the track presents really the only unknown of the weekend, and nearly three hours of practice time on Friday will ensure the field gets a quality amount of track time.
Comparing that to the other would-be race of the weekend, Boston, presents a more known quantity than what the field and anyone on site would have had to tend to otherwise. Traditionally, first-year street races have hiccups on the first official day of running. And that's not a knock on them, but more illustrates a point that owing to the complexities of organizing and getting the streets shut down and the course set up, running on schedule becomes a luxury.
Looking at road course performance this year
The four permanent road courses this season have produced these results:
Barber: Pole: Simon Pagenaud, Win: Simon Pagenaud
Indy GP: Pole: Simon Pagenaud, Win: Simon Pagenaud
Road America: Pole: Will Power, Win: Will Power
Mid-Ohio: Pole: Simon Pagenaud, Win: Simon Pagenaud
Four permanent road course races. Four Team Penske poles. Four Team Penske race wins. Four wins from pole.
Results don't always tell the full story, though, and all four wins have featured tight win battles. Pagenaud and Rahal staged an epic bout for the win in the final laps at Barber; Tony Kanaan was coming like a freight train on Power at Road America but came up a lap short; Pagenaud needed to pull off a ballsy, aggressive passing move to pass Power at Mid-Ohio, and that only became the win battle once Mikhail Aleshin fell out of it on a pit stop.
Obviously, the question this weekend will be whether the Penske/pole/win stat rolls on. Overall though it's been a case where you need to qualify in the Firestone Fast Six to make the podium; only Helio Castroneves at the Angie's List Grand Prix of Indianapolis and Carlos Munoz at Mid-Ohio have parlayed off-sequence strategies and good yellow timing into podiums.
Podiums this year on permanent road courses have been this with these starting positions:
Barber: 1. Simon Pagenaud (1), 2. Graham Rahal (6), 3. Josef Newgarden (3)
Indy GP: 1. Simon Pagenaud (1), 2. Helio Castroneves (13), 3. James Hinchcliffe (3)
Road America: 1. Will Power (1), 2. Tony Kanaan (3), 3. Graham Rahal (6)
Mid-Ohio: 1. Simon Pagenaud (1), 2. Will Power (2), 3. Carlos Munoz (15)
Pit road drama
There's been way too much drama in the pit lane this year. Whether it was Aleshin at Mid-Ohio, Alexander Rossi with Charlie Kimball and Helio Castroneves at Pocono or a couple near misses in Texas – plus the obvious one back at the Indianapolis 500 – there's almost been more intensity in terms of entering and leaving the pit road than on track. At least until the closing laps of Texas, that is.
The final word
From defending Verizon IndyCar Series champion Scott Dixon, a multiple-time winner at Watkins Glen:
"Watkins Glen is one of those old-school, traditional road courses. It's one of my favorite tracks on the INDYCAR circuit and we've had a lot of success there in the past with Team Target. The layout is really a driver's track. I think every driver was excited when they announced we were going back. It's a place where Indy car racing belongs. I'm glad INDYCAR was able to continue this relationship into the future, too, after the recent announcement of the 2017 schedule."
Here's the IndyCar weekend schedule: 
At-track schedule (all times local):
Friday, Sept. 2
11 – 11:45 a.m. – Verizon IndyCar Series practice #1, NBCSN (Live)
3:30-5:30 p.m. – Verizon IndyCar Series practice #2, RaceControl.IndyCar.com (Live)
Saturday, Sept. 3
11 – 11:45 a.m. – Verizon IndyCar Series practice #3, RaceControl.IndyCar.com (Live)
3 p.m. – Qualifying for the Verizon P1 Award (three rounds of knockout qualifying),RaceControl.IndyCar.com (Live); TV: NBCSN (Taped, 6 p.m.)
Sunday, Sept. 4
10:30 – 11 a.m. – Verizon IndyCar Series warmup, RaceControl.IndyCar.com (Live)
1:55 p.m. – Driver Introductions
2:30 p.m. – Command to Start Engines
2:37 p.m. – INDYCAR Grand Prix at The Glen (60 laps/202.2 miles), NBCSN (Live)
Here's race's most recent top 10 (from 2010): 
1. Will Power (pole)
2. Ryan Briscoe
3. Dario Franchitti
4. Raphael Matos
5. Mario Moraes
6. Dan Wheldon
7. Ryan Hunter-Reay
8. Scott Dixon
9. Helio Castroneves
10. Justin Wilson
Here's race's most recent Firestone Fast Six: (from 2010):
1. Will Power
2. Helio Castroneves
3. Ryan Briscoe
4. Dario Franchitti
5. Takuma Sato
6. Justin Wilson