John Schnatter is used to having a lot of dough around, especially in his hands.
The man who built the Papa John's pizza empire will now be boasting a lot of a different kind of dough as he and NHRA Top Fuel drag racer Leah Pritchett engage in a two-lane challenge Friday night at Lucas Oil Raceway.
Schnatter will be racing his classic and mint condition 1971 Chevrolet Camaro against Pritchett and one of her personal muscle cars.
The winner will receive $20,000, to be donated to their favorite charity. Schnatter has pledged $10,000, while Don Schmacher Racing – for whom Pritchett drives for – has pledged the other $10,000.
Pritchett made the original challenge in a Facebook post to Schnatter earlier this week.
And Schnatter promptly accepted the challenge.
There's also bragging rights on the line for both Schnatter and Pritchett, whose Top Fuel dragster is being sponsored by Papa John's in this weekend's U.S. Nationals in Indianapolis.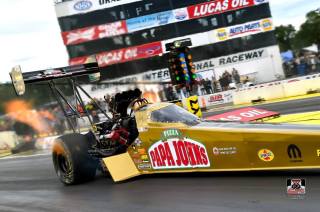 Follow @JerryBonkowski