WATKINS GLEN, N.Y. – Notes from load-in day and the first official on-track day from the Verizon IndyCar Series' INDYCAR Grand Prix at The Glen presented by Hitachi, below:
VERIZON INDYCAR SERIES
Hitachi has been named presenting sponsor for Sunday's Verizon IndyCar Series race from Watkins Glen (2 p.m. ET, NBCSN). So the official race name is the INDYCAR Grand Prix at The Glen presented by Hitachi.
"Hitachi is very excited about INDYCAR's return to Watkins Glen International for the first time since 2010 and for the opportunity as the presenting sponsor for this weekend. As the primary sponsor of the No. 3 Team Penske Chevrolet, driven by three-time Indianapolis 500 winner Helio Castroneves, Hitachi is proud to be part of this experience at one of the most prestigious tracks in North America," said Robert Sharpe, senior vice president, Hitachi Automotive Systems Americas, Inc.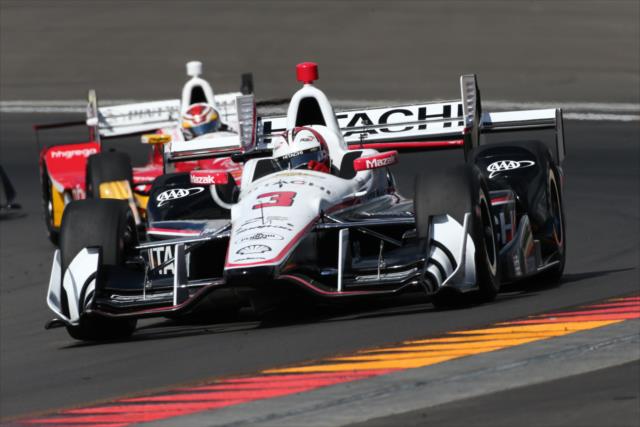 —
Both throttle and mechanical issues sabotaged the second practice session for Charlie Kimball in the No. 83 Tresiba Chevrolet, and ended his session early. He was 18th. A spot ahead of him in 17th was Conor Daly, whose Dale Coyne Racing team repaired the No. 18 Jonathan Byrd's Hospitality Honda to get him back out after his morning incident.
—
The third installment of Verizon's Lunch with Legends took place Friday at the track (see photo at top of post), featuring Dario Franchitti, Helio Castroneves and Bobby Rahal, hosted by NBCSN contributor Robin Miller.
A good time was had by all with banter throughout, as Rahal shared his history of Watkins Glen, and Franchitti and Castroneves reflected on the recent races here. Both participated in all events from 2005 to 2010, with the exception of Franchitti in 2008 in his one-year stock car sojourn. Franchitti noted though "I loved this place in a stock car, which is hard to achieve!"
More will follow from this event next week.
—
Graham Rahal's media availability was, as usual, insightful. It's been an emotional, roller coaster week for the driver of the No. 15 Mi-Jack/RLL Honda who won at Texas Motor Speedway Saturday night, then found out in the whirlwind hours later his father Bobby's mom (so his grandma) passed away, then was named as a a junior partner in a new Honda dealership with father Bobby in State College, Penn.
Rahal expressed relief that he finally broke through, as much for him as his team. He's also felt a greater confidence in his team's baseline setup for road courses, and that's contributed to his success in both qualifying and the races thus far this year. Rahal ended seventh on the combined sheets today.
—
Kyle Larson's win last week at the NASCAR Sprint Cup Series race in Michigan means Chip Ganassi Racing Teams has won in all six series it competes in this year (Verizon IndyCar Series, NASCAR Sprint Cup Series, Xfinity Series, Red Bull Global Rallycross, FIA World Endurance Championship, IMSA WeatherTech SportsCar Championship).
All six series will be in action on the Sept. 17-18 weekend, all in the U.S. IndyCar is at Sonoma, with both NASCAR series in Chicagoland, Red Bull GRC at Seattle, and FIA WEC and IMSA both in Austin at Circuit of The Americas.
As some IndyCar crew members for Ganassi also work on the IMSA Ford GT program, it will be interesting to see who goes where on that crazy weekend.
—
Speaking of Ganassi, its rookie Max Chilton pays tribute to James Hunt this week with a tribute helmet to his countryman, the 1976 World Champion, who would have turned 69 years old on August 29. The helmet comes after Chilton, 25, asked the James Hunt Foundation for permission.
Hunt, 40 years ago, came to Watkins Glen and stuck his McLaren on pole, won the Grand Prix, and set fastest lap.
The driver of the No. 8 Gallagher Chip Ganassi Racing Chevrolet premiered the helmet on Thursday, with the MAX CHILTON letters in all white caps on the black background, a la Hunt in the past.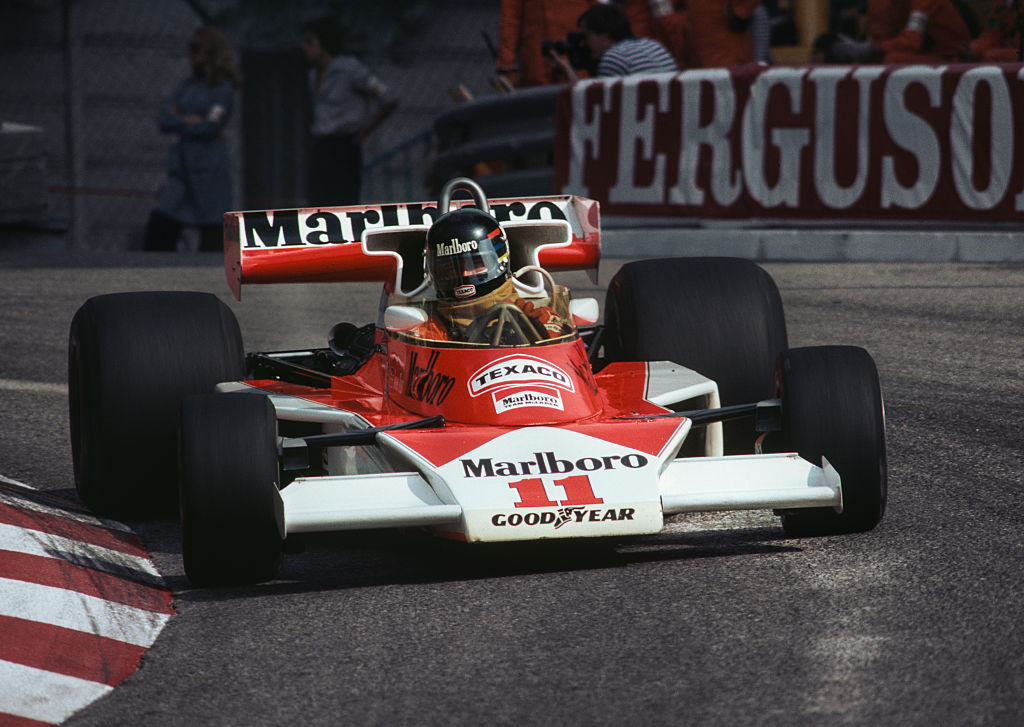 —
Indianapolis 500 champion Alexander Rossi has joined the TAG Heuer family as a Brand Ambassador. See a couple social posts below.
—
Spencer Pigot has a new livery and sponsor on his No. 20 Ed Carpenter Racing which was revealed Friday, in the form of Samsung.
We caught up briefly with Rising Star Racing principal Art Wilmes, who noted this effort has taken nearly a year to pull together. It appears set to be a "toe in the water" effort ahead of a possible greater run in 2017.
—
We did the track walk yesterday (well, sort of… we filmed a track lap on a golf cart). The notes? The elevation change is insane and the cornering speeds are also insane.
Scott Dixon estimated cornering G-loadings in the 5 to 6 G range for the weekend, and seemed out of breath on Friday when speaking to NBCSN's Jon Beekhuis after first practice.
Here's the first tweet and the last tweet from the @IndyCaronNBCSN Twitter account; the rest are in between on the overall thread.
—
Before Watkins Glen this week, Takuma Sato in the No. 14 ABC Supply Co. Honda made a pit stop to the U.S. Open tennis tournament. "I had an opportunity to visit the US Open after Texas. Kei Nishikori, the best Japanese tennis player who collected a medal at the Olympics, and I knew of each other through a mutual friend who is a professional tennis coach who comes to see me race in St. Pete every year.
"After Kei and I missed meeting each other a couple of times, I was finally able to see him this week and we had a great dinner together in N.Y. I watched his first match in the US Open and he won. I was inspired a lot from all the professional tennis players and very motivated for this weekend. It was a great way to relax and but also get back to business."
—
Sato's teammate Jack Hawksworth is good to go this weekend following his accident at Texas. Hawksworth was actually the top Honda in second practice, albeit only sixth overall.
—
A possible third Schmidt Peterson Motorsports entry for Watkins Glen did not materialize. Per a couple sources, while not officially ruled out for Sonoma, it's doubtful at this stage whether a third car will appear for the season finale, either.
—
INDY LIGHTS PRESENTED BY COOPER TIRES
SAP joins Felix Serralles' efforts this weekend on his No. 4 Carlin Dallara IL-15 Mazda, and seems likely continue at Mazda Raceway Laguna Seca next week.
—
The six-pack of Indy Lights Presented by Cooper Tires title contenders all met the media today. We will have more on this session in an Indy Lights wrap for the day.