BROWNSBURG, Indiana – In an all-John Force Racing final, Courtney Force outlasted brother-in-law and teammate Robert Hight to capture the Traxxas Shootout for Funny Cars on Sunday at Lucas Oil Raceway.
While both cars lost traction in their respective runs, Force managed to cover the 1,000-foot racing surface the quickest (4.018 seconds) and fastest (266.64 mph).
Hight's run was 4.596 seconds at 180.09 mph.
The win was a double bonus for the youngest racing daughter of 16-time NHRA Funny Car champ John Force.
Not only did she win the $100,000 prize (Hight took home $15,000), Courtney Force also won an event sponsored by her major sponsor, Traxxas radio control vehicles.
It was also the younger Force's first appearance in the Shootout final. She defeated Alexis DeJoria and Matt Hagan to reach the final round matchup against her JFR teammate.
"I went out today with the mindset of calm and relaxed," Courtney Force said. "To win an event like this in front of all these fans in Indiana is huge for our team. To be able to outrun Robert and get that win is a big one for our Traxxas team."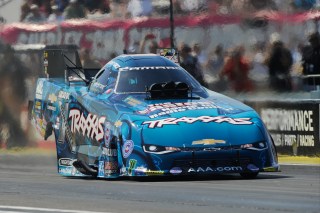 As for Hight, he made his third consecutive final round appearance in the Shootout – and once again finished runner-up. However, credit must be given to his team as it completely rebuilt Hight's car after it suffered a massive engine explosion during Saturday's second qualifying round that necessitated extensive repairs.
Hight, who defeated Tommy Johnson Jr. in the opening round of the Shootout, was the beneficiary of an incident earlier in the day when Ron Capps wrecked his car in a spectacular crash in the first round of the Shootout that left him trapped upside down for several minutes in his Funny Car.
Had Capps not suffered the mishap, he would have faced Hight in the second round semifinals.
NHRA officials determined the body of Capps' car was too extensively damaged to continue racing.
As a result, Capps was forced to go to a backup body, but was unable to continue competing in the Shootout due to rules prohibiting body changes once the event has begun. Hight was then able to have a solo semifinal run that put him into the final round Shootout battle vs. Force.
In the other Traxxas Shootout held Saturday for Top Fuel dragsters, eight time NHRA champion Tony Schumacher emerged victorious over Don Schumacher Racing teammate Leah Pritchett.
Follow @JerryBonkowski