BROWNSBURG, Indiana – If there's one weekend that noted tuner and 15-time champion Alan Johnson looks forward to each year, it's the NHRA's biggest race of the season, the U.S. Nationals in suburban Indianapolis.
His drivers have won "the Big Go" eight times over the years in Top Fuel: five times by Tony Schumacher and single triumphs by Larry Dixon, Gary Scelzi and Shawn Langdon.
At the same time, if there's one weekend that Johnson absolutely hates, it's also the same U.S. Nationals – for a much more personal reason.
It was 20 years ago, August 31, 1996, that Johnson's kid brother, Blaine, lost his life while attempting to qualify for the U.S. Nationals.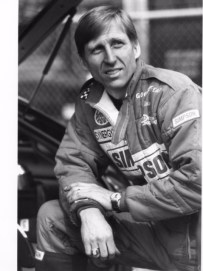 Blaine wasn't just any driver. He was one of the most promising drivers on the circuit, a bonafide champion in the making.
He had such a promising future. And with his older brother tuning his race car, it wasn't a matter of if Blaine would win a major NHRA championship – it was more a matter of when and how many titles he ultimately would win.
Sadly, Blaine would never see all that future potential realized. In one of the most freakish accidents the NHRA has ever seen, a rod bolt broke in the motor in Blaine Johnson's car.
As a result, the bolt stopped the motor cold, going from 8,000 horsepower to zero in literally the blink of an eye. In so doing, the resulting back pressure put tremendous strain on the rear tire slicks of Johnson's Top Fuel dragster, causing both of them to explode.
When that double calamity occurred virtually simultaneously, Johnson lost control of his dragster and slammed into a wall, killing him instantly.
"When that happened, the car just dropped down and was out of control and he hit the guard wall – and the guard wall is what killed him," Alan Johnson said of his brother in an exclusive interview with NBCSports.com.
Blaine's was the NHRA's first Top Fuel death since Pete Robinson was killed in the 1971 Winternationals (another Top Fuel driver, Darrell Russell, perished in 2004).
But even worse on the same weekend, veteran Pro Stock Motorcycle rider Elmer Trett was killed the day after Johnson perished, also at Lucas Oil Raceway. It was arguably two of the darkest days in NHRA history.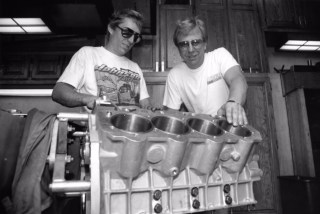 In fact, it was one of the darkest years in motorsports history in general. In addition to the loss of Johnson and Trett, the IndyCar world lost Scott Brayton during practice for the 1996 Indianapolis 500 in May, as well as Jeff Krosnoff and volunteer track worker Gary Avrin during that July's Toronto Grand Prix.
Even though this year's U.S. Nationals marked 20 years since Alan Johnson and the rest of his family lost Blaine, it's still a wound that has never fully healed with time.
"It really doesn't seem like it's been 20 years," Johnson said. "Obviously, there's a lot of stuff that's happened between then and now, but it sure doesn't seem like it's been that long ago, no."
Alan Johnson has gone on to both prominence and wealth in both racing and business. His company, Alan Johnson Performance Engineering, supplies racing parts to roughly 50 percent of today's Top Fuel and Funny Car teams.
But he'd give it all up if it meant Blaine was still here.
"I never have really put it behind me," Alan Johnson said. "I don't actually think about the incident, but I keep my brother right there all the time.
"I kind of use that as motivation so that when I come back here (to Indy), I kind of try and focus on all that – which for some people might be negative energy – and try to focus that in a positive way. It just helps me motivate myself, concentrate and try to do the best I can to excel when I come back here."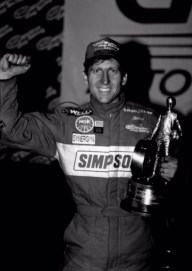 Blaine Johnson was a spectacular driver in the NHRA's Top Alcohol Dragster ranks, winning four straight championships (1990-93) and a then-record 26 races (which has since been surpassed).
"He was great," Alan Johnson said of Blaine. "People make fun of me because I'm really competitive, but my brother was just as competitive as I was.
"We got along real good and we raced real good together. I never had to motivate him and he never had to motivate me. That's just the way we were."
Alan Johnson is not only one of the most successful crew chiefs and team owners in NHRA history, he's also one of the most focused individuals in the sport. When he's in his zone, he thinks of nothing but winning the next race.
That's why Alan Johnson has been part of 11 NHRA championships as either a crew chief or team owner – or both with five different drivers: Shawn Langdon (2013), Del Worsham (2011), Larry Dixon (2010), Tony Schumacher (2004, '05, '06, '07, '08) and Gary Scelzi (1997, '98, 2000).
It was the same way with Blaine. When Alan and his younger brother – four years younger, that is – moved to the sport's top class, Top Fuel, in 1994, they were on the precipice of taking off in the minds of many observers.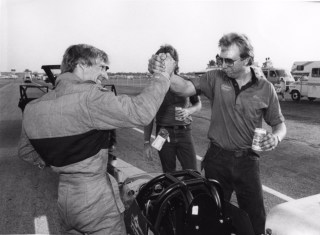 It wasn't a matter of if they'd win championships, it was more how many would they ultimately win had it not been for Blaine's tragedy.
Gary Scelzi was hand-picked by Alan Johnson to fill Blaine's seat. It was a stroke of genius, as Scelzi would win the Top Fuel championship the year after Blaine's death (1997), as well as 1998 and 2000. He'd also win the Funny Car championship in 2005, becoming one of just three drivers that have won titles in NHRA's two biggest race classes, Top Fuel and Funny Car (the others are Kenny Bernstein and Del Worsham).
"Every championship that Gary won, Blaine would also have won the same ones because he was as good a driver, if not better, than Gary," Alan Johnson said. "I think it would have been a completely different story."
Despite the horrific crash that claimed Blaine's life, two days later Alan and the rest of the Johnson family paid tribute to their lost son, brother and uncle in an extremely emotional moment prior to the final day of the U.S. Nationals.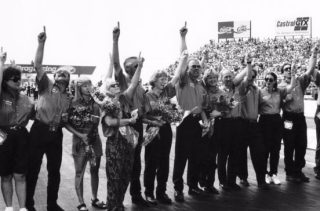 Just before engines fired to begin the four rounds of eliminations that day, the entire Johnson family stood at the starting line and pointed to the sky. There wasn't a dry eye in the entire sold-out Lucas Oil Raceway crowd.
"I watched that the other day, somebody sent me that video, which I hadn't seen for probably 20 years," Alan Johnson said. "I looked at it and said how the hell did I do that? I don't know.
"It's just one of those things, like an almost out of body experience. You're so overwhelmed with the grief, that you just seem to take it to a different level. But I think that's what makes champions anyway, being able to focus in on what you think you need to do and the things that are right and we thought that was the best thing to do for the fans and ourselves and we did it."
A memorial to Blaine sits between the Lucas Oil Raceway dragstrip and adjacent short track oval. Alan goes to visit it every time he returns to Indy. It's his way of not only paying tribute to his kid brother, but also serves as a poignant reminder of how quick drag racing really is emotionally, as well, from jubilant celebrations to crashes that occur in split-seconds that tragically result in death.
Alan Johnson and the Johnson family also established a scholarship and has donated over $500,000 of machinery to Alan Hancock College in Santa Maria, California, in Blaine's memory.
Had Alan Johnson did what he initially first thought about doing – quitting the sport after Blaine's death – the sport likely would never have been the same. And drivers that drove for Johnson, including Tony Schumacher, Scelzi, Larry Dixon, Shawn Langdon and others, would likely not have won a number of championships and races.
"Of course, that happened for sure," Alan Johnson said of potentially quitting after Blaine's death. "As being the guy that was in charge of the tune-up on the car, I certainly felt like it was my fault.
"But as I dug into it and realized what really caused the problem, and that it wasn't a bad tune-up or anything like that, it was a rod bolt failure.
"I devoted myself the next couple of years to develop a better rod bolt and a better rod and that's what 50 percent or more of these people out here who run Top Fuel or Funny car run these types of rods and rod bolts, and it doesn't break. What happened to my brother made things better for everybody."
Follow @JerryBonkowski