BROWNSBURG, Indiana – Ron Capps has had some scary episodes in his drag racing career. He's been involved in wrecks, rollovers and fires.
But nothing compares to Sunday when Capps wound up trapped and upside down at the end of the dragstrip at Lucas Oil Raceway during his first of two qualifying efforts for the day.
Everything was normal at first. Capps was quicker than 16-time Funny Car champ John Force on the run.
But once Capps passed the finish line, the parachutes on his NAPA Funny Car failed to deploy.
Things suddenly went from bad to worse – much worse:
While the chutes finally opened but not at full deployment, Capps' car left the race track and into the sand run-off area, where just before hitting the retaining fence, the car flipped upside down, leaving Capps hanging upside down and strapped in. Because of his predicament, he couldn't exit the usual way drivers can when in trouble: through the roof flap, because it was buried in the sand.
On top of that all, not only did it take safety officials several minutes to get Capps' car upright to allow him to escape, he ran out of air in his helmet, leading to a very scary and panic-filled situation for Capps.
"It's the worst," Capps exclusively told NBCSports.com of the nastiest incident of his nearly 30-year drag racing career. "I've flipped Tony Stewart's Midget car in the Chili Bowl over the fence in Turn 1, I've wrecked in a dirt car, and in a Funny Car I've had explosions and wrecks and fires, where the car was still running and I jumped out of it at 50 mph.
"But this was the most uneasy feeling I've ever had. You would think it's not as bad as that other stuff, but I was laying there strapped in still and being upside down and starting to freak out. I was hearing the cracking and popping of the engine because it was hot from the run, you're upside down because you're trapped, and you can't use the roof hatch because it's laying there in the sand."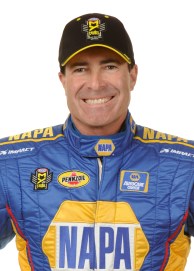 Capps then went into further detail about the incident:
"I have a chute button. I hit it several times, I'm still trying to remember what the events were. I've been through a lot of weird things in a Funny Car and things happen real fast when you're going 325 mph. The chutes either got tangled or they came out and didn't blossom.
"You just go into everything you were taught: get the fuel shut off, which thank God NHRA has a system that if you go past a certain point past the finish line, it's supposed to shut the fuel off and put the chutes and kill the ignition. The chutes just never blossomed. I was on the brakes until I think I boiled the brake fluid.
"It got to the point where I knew the sand was coming up and I knew I had to start bracing myself. And then I tried to enter the sand trap on an angle where I could slow it down gradually, like a dirt car. I didn't want to tip it but I didn't want to go straight in and catch the front and flip over the net like (Del) Worsham and (Gary) Densham did in the past. That scares me.
"It was working until just when it caught the lip and flipped over at the end and slid into the end of the sand trap. I thought that was going to be the worst of it, but the worst was being trapped in the car upside down because the only way out of the car is the (roof) flap on top of the car – and it was buried in the sand.
"That's way faster than I've ever gone into a net. Then I knew I had to keep from getting hurt.
"I have yet ever to be in that position in as many runs as I've made in my career, and I've gotta tell you that was the scariest two minutes or whatever, and they kept telling me they had people coming. And, I had Eric (Lane), my assistant crew chief, on the radio listening to me and heard the panic in my voice got worse, and then the panic in his voice got worse.
"The car needed to be flipped over. The NHRA Safety Safari is the best in the business, but when you have just a little circular hole in the side window and they're telling you to just hang on, if there was a fire in there, I would have just burned. It was scary. It was weird.
"I've been through fires and everything, you name it, but that was an uneasy feeling. And then my air ran out in my helmet. I could hear the air (dissipating), I was panicking, but I had a radio and could talk to (Lane) and kept telling him, 'Hey man, please get me out, you've gotta get this thing flipped over.'
"And he said back to me, 'They're working on it. They're coming to you.' … So they finally got enough people there to partially flip it over, I undid the belts, fell right to the ceiling and was able to get out. It was brutal."
Shortly after Capps climbed from his race car, Force came down to check on his friend and fellow competitor.
"Force said he's been through that a couple times and said it's the scariest thing he's ever gone through," Capps said. "You'd think you wouldn't be that scared after being on fire or having engine explosions in front of you, but it doesn't compare to being trapped in there."
While he praised the NHRA's Safety Safari crew for ultimately saving him, Capps spoke to NHRA officials after the incident.
"They have a tractor at the end of the track," Capps said. "Like in Formula One, they have to be able to get that tractor in there and grab the car and pull it over on its own.
"I don't know why it took so long to get the tractor there, but I'm screaming and sitting upside down and if something catches fire, I have nowhere to go. I was just waiting, suspended in my belts. My head wasn't even touching the roll bar.
"I don't know how long I was in there, but it was minutes – it took too long."
As if to add insult to injury – even though he was not hurt – while Capps won the run against Force, NHRA officials denied him the opportunity to continue on in the Traxxas Shootout.
Even though he felt the body of his car was not severely mangled, NHRA officials ruled otherwise. As a result, Capps was forced to go to a backup body, which is not allowed to continue under rules of an in-progress event, even an exhibition race like the Traxxas Shootout.
As a result, Capps lost the chance to compete for the $100,000 prize for winning the Shootout. While he was still able to make a second qualifying pass for the day, it was not allowed to be counted towards the Shootout.
About an hour or so after the incident, Capps was his usual laid-back self. He even found a bit of humor in what he went through.
"Claustrophobia is not something a Funny Car driver can have, nor have I ever had," Capps said with a laugh. "If you're claustrophobic, you'll never be a Funny Car driver."
He then turned serious once again: "I started panicking and was screaming, 'Get this thing turned over.'"
At the end of the interview, Capps was more concerned about winning the U.S. Nationals for the first time on Monday (he's finished runner-up four times). Frankly, he was almost nonchalant at potentially cheating death: "I'm fine."
Follow @JerryBonkowski