WATKINS GLEN, N.Y. – The Verizon IndyCar Series has the INDYCAR Grand Prix at The Glen presented by Hitachi on tap today. It's the second-to-last race of the season, as the series makes its return to Watkins Glen International.
There's quite a bit to look over ahead of today's race, a 60-lapper from the 3.37-mile permanent road course.
You might remember that before NBCSN was NBCSN, it was VERSUS. So fittingly, "versus" is a perfect descriptor for so many of the key story lines in today's race.
REDS VS. BLACKS
Seeing four of the six drivers in the Firestone Fast Six run that session on Firestone's black primary tires was an interesting move. Both the blacks and the Firestone red alternates seem to hang on well and there didn't seem to be a sizable step difference between the two. As ever, what tires you run and when will make the difference on Sunday.
POWER VS. PAGENAUD
It's a 28-point gap between Will Power and Simon Pagenaud going into today's race. With double points in play at the Sonoma Raceway finale in two weeks, first to second is separated by 20 points… which would leave Sonoma as a simple winner-take all if a Pagenaud-led gap out of today's race is 20 points or less.
"I'll definitely remind Will before the race that he's got a lot more to lose than I have," said polesitter Scott Dixon, who starts next to Power on the front row.
DIXON VS. THE FIELD
The weekend has been one of those old "Scott Dixon at Mid-Ohio" type beatdowns thus far, and wife Emma has been here to see it. Or, one of those old "Scott Dixon at Watkins Glen" type of weekends that occurred from 2005 to 2007 when he won three straight here.
But as Dixon noted after qualifying, he's still not accomplished the end goal of the weekend: victory. He looks to complete a dream weekend on Sunday after leading all pre-race sessions.
"Toronto and Mid-Ohio were sort of like this… so we have to keep our heads down and see where it all falls," Dixon told me after qualifying. "This season, at many of the places, we've had the speed but not capitalized on it. We did job number one, but it doesn't guarantee anything."
Dixon's got two streaks on the line going into the last two races, and they run concurrently. Every year since 2006, Dixon's won at least two races in a season, and finished in the top three in points. Right now, he's won only once (Phoenix) and sits sixth in points.
Here's Dixon's latest domination, in warmup times.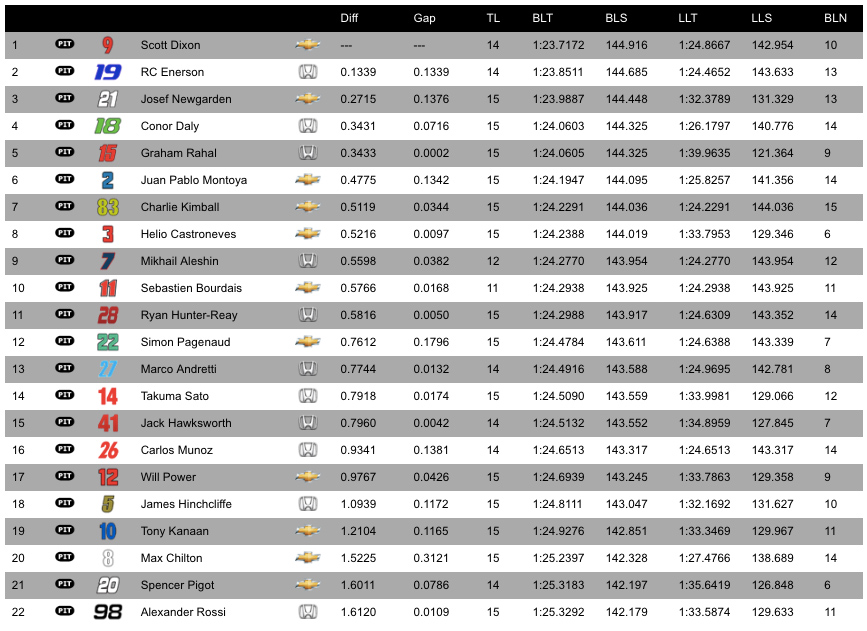 DRIVERS VS. EXHAUSTION
The word of the weekend from the drivers has been "physical" because the G-loading is crazy, as are the speeds. Average speeds in qualifying run from the low 140s to Dixon's pole speed of 147.008 mph.
The race is only 60 laps, but will be quite a test of strength and endurance given the amount of downforce and speeds these cars produce.
VETERANS VS. THE KIDS
The top five on the grid are all 35 or older and debuted in 2005 or earlier. Max Chilton is best of the younger generation this week in P6 and looks for his best finish on a road or street course this season; it's currently 14th. Then Jack Hawksworth, Mikhail Aleshin, RC Enerson and Josef Newgarden roll off from ninth through 12th. Those from 13th on back will need a bit of help via strategy to leapfrog their way to the front, most likely.
PASSING VS. NOT REALLY PASSING
With so many high-speed, mid-gear corners (many in fourth gear), one of the big questions today is what corners will serve as the key passing opportunities. Turn 1 could be a spot, as is into the Inner Loop (Bus Stop), and then at either the toe (Turn 7) or heel (Turn 8) of The Boot. But passing might be optimistic.
OFF SEQUENCE VS. STANDARD SEQUENCE
A three-stop strategy seems the likeliest course of action for the 60-lap race. Two stops could be possible with a lot of caution and a lot of fuel saving. Four stops could be possible if a car runs better on reds and wants to short pit.
STARTING GRID
The full starting grid and Firestone tire selection is below.