BROWNSBURG, Indiana – The Sarge won the battle. Now he's ready to win the war.
Nicknamed "The Sarge" due to his U.S. Army sponsorship, Tony Schumacher continued the strong roll that he's been on of late, winning the Top Fuel class Monday in the Chevrolet Performance U.S. Nationals at Lucas Oil Raceway.
This win was more than just big for Schumacher – it was huge, marking the 10th time the Illinois native (now lives in Texas) has won the biggest race of the season in the last 21 years.
That puts Schumacher in a class of his own, having broken the tie he had with retired Pro Stock driver Bob Glidden for most wins at the race nicknamed "the Big Go."
MORE: NHRA U.S. Nationals: Final finishing order, results, round-by-round, standings
MORE: NHRA Funny Car: It took 9 years but Matt Hagan finally earns first U.S. Nationals win
MORE: Pro Stock/Pro Stock Motorcycle McGaha/Hines win in U.S. Nationals
"I love my job; that's a gift," Schumacher said. "I love driving a race car; that's a gift. I drive for the Army; that's a gift. I drive a car that's fast and can win on any given day; that's a gift. I drive for nine of the best crew guys in the world; that's a gift.
"And then, of all those gifts, we also get opportunities like this: it's a must-win. And that's the best gift of all, to have that put in front of you and you have an opportunity to do it."
And speaking of gifts, Schumacher earned $100,000 for Monday's win.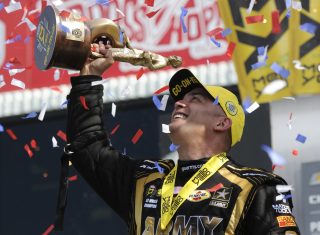 In earning the second win of this season, Schumacher extended his dominance as the winningest driver in Top Fuel history. Monday's win was the 82nd of his career.
But now that the battle is over, Schumacher is ready to go to war in the NHRA's six-race playoffs, the Countdown to the Championship, which begin two weeks from now in Charlotte, North Carolina.
Schumacher enters the Countdown as the No. 4 seed. He's seeking to extend his existing record of Top Fuel championships to nine.
That's quite a contrast to some of the early season struggles Schumacher had gone through. Now that he's been on a roll in the last several races, he's ready to ride this string to yet another championship.
"I'm in a happier place," Schumacher said with a laugh.
But then he turned serious, knowing his struggles were not all that long ago and that there's always a chance they could rear their ugly head at any time during the upcoming playoffs.
"Because of those rough times, this is amazing," Schumacher said. "Ten wins at Indy are great memories.
"… None of us want to go out and win a race or two, we want to win the championship. We want to be a champion, and to do that, you have to step outside the box."
Before he celebrated the win, Schumacher paid tribute to late Top Fuel driver Blaine Johnson, who was killed in a racing accident in the 1996 U.S. Nationals.
"We lost Blaine 20 years ago; he was riding with me today," Schumacher said. "What an awesome final round. This place is magic. I've had some incredible runs here. We didn't leave anything on the table. It was a great, great day."
Schumacher (3.806 seconds at 317.64 mph) defeated Steve Torrence (3.803 seconds at 325.06mph) in the final round.
While Torrence was faster, Schumacher had the better jump at the start of the race with a .036 seconds reaction time (to Torrence's .045 seconds reaction time).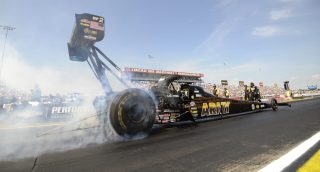 Schumacher defeated Tripp Tatum in the first round, Don Schumacher Racing teammate Antron Brown in the second round, J.R. Todd in the semifinal third round and then held off a very strong challenge by Torrence.
Among other highlights from the four rounds of eliminations:
* Antron Brown remains the leader as the points are reset for the Countdown. Brown will enter the first race at Charlotte in two weeks with 2,110 points. Doug Kalitta is second (2,080 points), followed by Steve Torrence (2,070), Schumacher (2,060), Brittany Force (2,050), J.R. Todd (2,040), Shawn Langdon (2,030), Clay Millican (2,020), Richie Crampton (2,010) and Leah Pritchett (2,000).
* During the previous three days of qualifying, Schumacher also had the fastest speed of the weekend (330.31 mph).
* No. 1 qualifier Clay McMillen (3.692 seconds) bowed out with a quarterfinal loss to J.R. Todd.
* Leah Pritchett lost in the first round to former champ Shawn Langdon, but earned enough points to qualify for the upcoming six-race Countdown to the Championship playoff.
* Brittany Force reached the second round before losing to Doug Kalitta, who advanced to the third round before losing to Torrence.
* Hoping to make it two U.S. Nationals wins in a row, defending champ Antron Brown fell to Schumacher in the quarterfinals after losing traction.
Follow @JerryBonkowski