WATKINS GLEN, N.Y. – Flying out of the Elmira airport on Monday morning after this weekend's INDYCAR Grand Prix at the Glen, the buzz in the Verizon IndyCar Series paddock was twofold: both about the race itself, and the 2017 silly season, which kicked into overdrive this weekend with a number of reports.
The key though is that none of these reports were confirmations, and as it's only the day after Labor Day in September, there's plenty still to get sorted up and down the IndyCar grid.
The easiest one sentence summation of the weekend's activities might be this: Everything is happening, unless it isn't.
Let's go through some of the possible scenarios.
WHERE WILL THE NEWGARDEN BE PLANTED?
The most coveted free agent in the paddock is 25-year-old American Josef Newgarden. He's a marketer's dream, and the first of the wave of young talents who's actually emerged as a legitimate championship and Indianapolis 500 contender, in part because he's actually had time to grow over several years.
The opportunity afforded to Newgarden, first via Sarah Fisher and now via Ed Carpenter, is one his successors as Indy Lights champions – Tristan Vautier, Sage Karam, Gabby Chaves and Spencer Pigot – have not yet had in terms of advancing in the series beyond their first year.
But Newgarden's success is such that it proves that with time to grow and develop, especially given the limited testing time, you can blossom in this series.
And naturally, that makes him top of the heap right now. But depending on who you talk to, he's driving for Penske, or he's driving for Ganassi, or he'll switch to Andretti, or he'll stay with Ed. Or somehow, he'll clone himself and drive for all four at once.
"I'm gonna be so busy next year dude," he joked when I sent him a text asking how he'd manage to split himself four ways.
At Pocono, Newgarden said he just wanted to stay in the series, period.
Talking to his mom, Tina, on the grid at Watkins Glen, she noted the speculation around him has been both nerve-wracking and hilarious at the same time.
"It's funny to me, because all he's doing, and all he wants to do, is race this car," said Tina Newgarden, who's been a rock of support for Josef in his career. "It's funny because everyone else seems to know where he's going, when we don't!"
Newgarden could extend with Carpenter but hasn't tipped his hand publicly yet. Carpenter wants to keep him and from a balance-of-power in the series perspective, having him with Ed's team for one more year would be better than seeing him make the jump now.
He's close to Penske material, but he hasn't finished the file yet. Ideally, I'd like to see him remain at Carpenter for one more year, and see if the 40-plus-year-old veterans at Penske and Ganassi can either maintain their form, as they have in 2016, or actually show signs they deserve to be replaced. So far this year, they haven't merited getting tossed aside.
THE TRICOLOUR GOES BACK TO COYNE'S RED, WHITE AND BLUE?
When Sebastien Bourdais made his return to the Verizon IndyCar Series in 2011, he did so on a part-time basis with Dale Coyne Racing. It was a fascinating scenario that the Frenchman, who'd made a habit of cleaning up with Newman/Haas/Lanigan Racing in Champ Car, would then be joining the plucky underdogs who've endured for 30-plus years – second in longevity in this sport only to Team Penske.
So for 2017, a Bourdais-to-Dale Coyne move, as was reported by NBCSN contributor Robin Miller for RACER.com, would not necessarily be a move of strength but more a move of defense to solidify his place on the grid. And here's why.
Bourdais and KVSH Racing, as they are, continue to gel, but lost points opportunities have resigned him to 12th this year when a top-five finish was the target at the start of the year.
But Bourdais has been smart to play the field this year. He's aligned with Chip Ganassi's Ford GT sports car team for selected races, won Le Mans, and been utilized in marketing and media opportunities there.
He's also acutely aware of how late the KVSH Racing deal got done this year – it was only finalized in late February, mere days before the series' official open test.
In simplest terms here, the KVSH group would like to keep Bourdais, and Bourdais wouldn't want to break the run of form they've occasionally shown over three years.
But Bourdais may not want to put himself and his family through another "am I going to be racing or not" situation, and say what you will about Coyne, but you can almost guarantee on an annual basis that Dale is making the grid with two cars.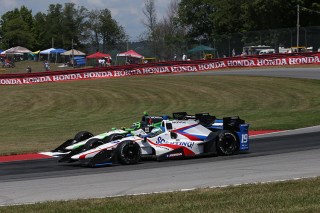 WHICH THEN LEADS TO COYNE… IN SEPTEMBER
I saw Dale Coyne on pit road this weekend after the Bourdais report came out.
"Dale," I asked, "What is this 'we're looking at a driver in September' line?"
Coyne smiled, laughed, and answered with a four-word response that only Coyne could get away with.
"It's not March yet," he said.
It's been something of an open secret and a running joke in IndyCar circles – and Coyne is hip to it – that he often leaves his driver selection until the almost or absolute last minute in March, right before first practice in St. Petersburg.
Coyne broke precedent – a little bit – by confirming Conor Daly in December in this year. But that was as much thanks to the influence and support of the Byrd family, who assembled a deal to get their driver, Bryan Clauson, into the Indianapolis 500 with the Byrd Racing colors and Daly to then run them throughout the year.
The problem for Daly if Bourdais goes to Coyne is that the second seat at the team traditionally requires a bit of funding. It's not that Daly can't provide it, but he's also showcased enough this year to merit a look from other teams. And, given Clauson's unexpected and tragic death in August, the Byrd support is not necessarily guaranteed for another full season, although it would not surprise me to see the Byrd name and colors back in Indianapolis next year.
RC Enerson, meanwhile, has picked a brilliant time to make the move into the driver rotation when he has. By sacrificing the rest of his Indy Lights campaign, Enerson had enough budget to assemble an IndyCar effort, and his first two race weekends with Coyne have been spectacular. At only 19, with already a strong understanding of the car, enough budget to help the overall program and with high upside, he's raised his value more than we could have possibly imagined little more than a month ago.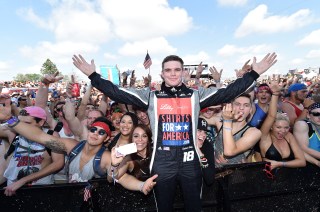 DALY'S DESERVING OF A SECOND CHANCE, BUT WHERE?
So if Bourdais goes to Coyne, and Enerson can assemble a full-season effort, Coyne would almost certainly not run a third full-time car, and thus Daly could be the guy shortchanged.
For his career development, and given how much of a roller coaster he's been on the last few years, it's crucial he remain in IndyCar for a second season. He most certainly deserves the shot.
But with a team change, he could have the dilemma of say, a Jack Hawksworth. Hawksworth has the talent to be a race winner, but having had multiple engineer changes, a move from Indianapolis to Houston and an inconsistent aero package, he is yet to achieve his full potential at this level. By contrast, Mikhail Aleshin and Carlos Munoz – who like Hawksworth were rookies in 2014 – have improved with time in their teams they began their careers with.
If Daly could stay with Coyne for a second year, particularly with engineer Michael Cannon, the two would be able to grow together and iron out the inconsistencies of this year. Where Daly has succeeded has been on race pace, maximizing his results at nearly every opportunity following Coyne's "wizardry" to turn poor qualifying positions into great race results. Ironically, it's been when Daly's qualified well that the results haven't followed.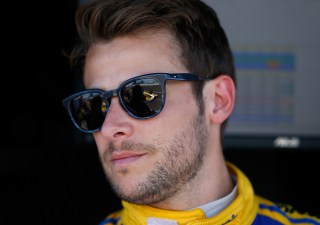 THE ANDRETTI, HERTA AND ROSSI SITUATION
Audible gasps occurred and jaws dropped up and down the IndyCar paddock when Paul Tracy delivered a verbal "chrome horn" on a member of the Andretti family during the Watkins Glen race broadcast on NBCSN, once Marco's name popped up.
"I don't know if there's anywhere else he can go. The only other ride I could see [Marco] getting is maybe with Uber," Tracy said.
That comment's undoubtedly harsh and brutal. Yet to his credit, Marco has been candid about his struggles this year and put a lot of blame on himself. He knows he's better than this and throughout most of his 11-year IndyCar career, he has been.
Yet his 18th-place start Sunday at Watkins Glen was his second best on a road or street course this year, and it was only that high thanks to two other drivers (Graham Rahal and Takuma Sato) getting penalized.
Andretti would not argue with the fact he's had a miserable season, but while the pinpoint of the focus has been on him, he's not been alone in that regard. Consider the mechanical grip woes of the team have resigned teammates Ryan Hunter-Reay, Carlos Munoz and Alexander Rossi to the lower teens on the grid at most races too, and it seems a greater team problem more than just a Marco problem. A shame considering the chemistry seemed high at the start of the year.
The deal with Andretti Autosport is this: Hunter-Reay has attempted to star in spite of the issues, but wins and points have gone begging, most notably at Phoenix, Indianapolis and Pocono. He and sponsor DHL are under contract through 2017 and for Andretti's potential competitiveness, he needs to be retained… but you also couldn't fault him if he wants to explore his options elsewhere.
Andretti, himself, was re-signed and hhgregg was announced a week or so ago in a multi-year extension. Easy to forget, Marco's still only 29, now engaged and still in search of that spark he's sought on other occasions in his career.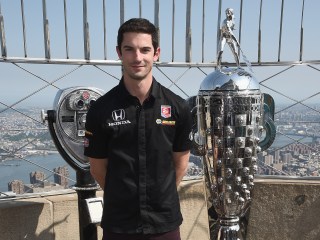 Beyond his Indianapolis 500 victory, Rossi has had a tough first season in IndyCar. He's spoken at length to me, and others, about focusing solely on this year. I get the sense he likes being here, and his dad's certainly been there for him throughout. But I also get the sense that given his innate talent, he feels – like Hunter-Reay – there should be much more in terms of results. Whether he'll want to put himself through that for another season in IndyCar is up to him.
The fourth member of Andretti Autosport might be the one with the highest upside, but also the highest uncertainty at the moment, and that's Carlos Munoz. In his third full season, Munoz has driven better than ever and also been relevant more often than ever. Far too much in 2014 and 2015, Munoz was simply "there" – but this year, he's been in the discussion at more races. But again, only confirmed through this year and with his sidepods noticeably bare at most rounds, where will he land?
Andretti Autosport could opt for an organizational shakeup and move around strategists and other team personnel – Bryan Herta's name, provided he continues with Andretti into 2017 – has been mentioned to shift to Marco's car. But even that would have far-reaching effects, because Herta's been Rossi's guiding light on the box this year, and that upheaval wouldn't be good for his program, either.
On the whole, until Andretti can fix its engineering and setup problems that have plagued them all season, the results will remain far short of expectations, and so that must be the goal for the winter.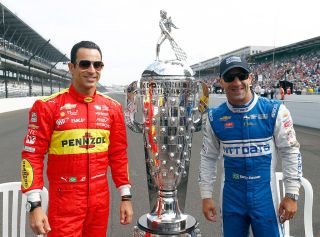 THE 40-YEAR-OLD NOT-SO-VIRGINS
Juan Pablo Montoya, Helio Castroneves and Tony Kanaan have more than 40 years combined experience in IndyCar since the 1990s and are 40, 41 and 41, respectively. And to be honest, they're all still on top of their game. Kanaan's had his best season on the whole in perhaps five or six years, Castroneves has been his usual consistent – and still quick – self, while Montoya's had the roughest luck and spotty results in a turbulent campaign.
Again, depending on who you talk to, Montoya either has a sports car deal with Team Penske in the future, may have one, could continue in a Penske IndyCar for another year or could be switching teams altogether. I haven't found his motivation lacking this year, nor his determination; I just wonder if he'll feel he needs another year like this one since he has nothing left to prove.
Castroneves seems a safe bet to return to Team Penske for an 18th consecutive season next year. IndyCar's perpetually popular Brazilian remains a top notch competitor at this level, and hasn't looked as though he's aged a day in the last five or six years.
Everyone wants to seem to want to write Kanaan out of Ganassi, but based on his performance this year, they shouldn't. Kanaan has personal sponsors and he's also been on a roll results-wise this year. Arguably he's been more consistent than Scott Dixon and until Watkins Glen this weekend, he was actually ahead of him on points. Kanaan fully deserves another year at this level and frankly, he remains far more of an ace within the Ganassi team than the likeable – but less-than-title contenders – in Max Chilton and Charlie Kimball.
THE INDY LIGHTS CONUNDRUM
The glut of talent in this year's Indy Lights Presented by Cooper Tires campaign has produced a double edged sword – plenty of drivers with the talent who could move up to IndyCar in 2017, but not near enough places for them to land.
Whoever emerges from next week's season finale as champion will have a guaranteed three races, thanks to the $1 million Mazda advancement scholarship. But as witnessed with Spencer Pigot, last year's champ, that's no guarantee of anything beyond the initial package. It took the private initiative of Rising Star Racing to get him the remaining races he has this year.
Either Santiago Urrutia or Ed Jones are favorites to win the title, separated by one point. But consider seven others who have been in Indy Lights this year or last have or will have tested IndyCars, and most will say they have that potential to step up.
Factor in previous Indy Lights champions also keen to get back in the full-time game – as noted, Pigot, Chaves, Karam, Vautier and 2009 champ JR Hildebrand are wondering what happens next for them – and there's likely far more graduates who seek a spot but without a landing spot. Hildebrand could benefit from a Newgarden-leaving-ECR situation, but again, that's an "if" rather than an "is" at this early stage.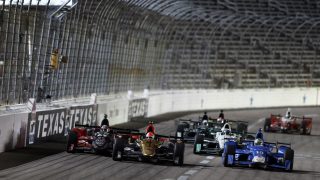 MANUFACTURER MOVEMENT
All of the above potential scenarios don't even get to the next phase of silly season chatter; whether any teams would consider switching from Chevrolet to Honda, or vice versa, next season.
Could movement happen? Absolutely. Is it likely? That's not as straightforward, given the state of play in IndyCar's aero wars next year.
With a new aero framework looking more likely for 2018 than 2017 and 2017 looking set to maintain a nearly identical package, we could be looking at a nearly identical run of form on the results tables.
As multiple sources have described it, "Well, no one would be happy. Because Chevy probably can't win Indy, and Honda probably can't win the championship."
So Honda, which started the year announcing a two-year extension through 2017 with a three-year option thereafter, needs a bigger team and a top development driver. Chevrolet wants to be beating Honda where it's competitive, not a whitewash. Honda wants to be winning, not getting annihilated.
The murmur of a third OEM potentially joining for 2018 is another element of note. So that leaves the question of whether any team would risk switching for one year or potentially hold out to see if there's a third OEM. And that third OEM would likely need to make a splash. 
OH YEAH, AND THE LOCKS, AND NEAR LOCKS
Believe it or not, there actually are drivers and teams who you can pretty much expect back status quo next year. But after almost 3,000 words you're probably like, "Wait, really?"
The locks or "near locks" at this point are as follows:
Team Penske: Helio Castroneves, Will Power, Simon Pagenaud
Schmidt Peterson Motorsports: James Hinchcliffe, Mikhail Aleshin
Chip Ganassi Racing: Max Chilton, Scott Dixon, Charlie Kimball
RLL Racing: Graham Rahal
Ed Carpenter Racing: Ed Carpenter (ovals)
Andretti Autosport: Marco Andretti, Ryan Hunter-Reay
The Indy Lights champion (three races guaranteed)
Does that mean all of the above are set in stone? No. Does it mean we would be surprised if it doesn't end up where all or all but one of these materialize as expected? Yes.
SO, IS THIS PIECE A LOT OF WORDS THAT HINT AT POSSIBILITIES BUT DOESN'T ACTUALLY CONFIRM ANYTHING?
Abso-fricking-lutely.
It's September. The Verizon IndyCar Series 2017 season does not start until March 12 in St. Petersburg.
We still have six months before the season opener and plenty of machinations can materialize, fall apart, or arise once more.
So, stay tuned. Because IndyCar's second season has only just begun.