This is a question with an answer that was so hard to believe that it had to be looked up:
What two NHRA stars have a combined 39 years of racing plus 91 national event wins (and 183 final round appearances) between them, not to mention being two of the most competitive and hardest racers to beat?
And yet (here's the second part of the question) ……
Neither has ever won the U.S. Nationals or an NHRA championship?
How can that be?
But it is, as Top Fuel driver Doug Kalitta (41 career wins) and Funny Car pilot Ron Capps (50 career wins, including 49 in Funny Car and one in Top Fuel) once again came close but failed to win the U.S. Nationals this past weekend in suburban Indianapolis.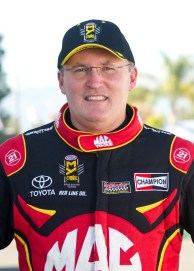 Both drivers reached the semifinals before bowing out.
Still, while coming up short once again in Indianapolis, neither Kalitta nor Capps are giving up hope of winning that elusive first NHRA championship in a little over two months in the season-ending Auto Club Finals in Pomona, Calif., Nov. 10-13.
Their respective championship quests begin Sept. 16-18 in Charlotte in the opening race of the six-race Countdown to the Championship playoffs.
"Hopefully, we'll hit the ground running for those last six events," said the 52-year-old Kalitta, who has three wins this season. "You have to just be going rounds and winning races. Here lately, we've been struggling a little bit, going out early and not qualifying as good as we need to. But I think we're where we'll need to be going into the Countdown."
As for the 51-year-old Capps, with four wins in 2016 and ranked No. 1 in the standings, he's having one of his best seasons ever in Funny Car competition.
But while Capps unquestionably wants to win the championship for the first time, he figures he'll jinx his chances if he thinks or talks about it too much.
"I'm not even thinking championship right now," Capps said. "Every fan I see grabs me and says 'Hey, this is your year,' I swear. I think the fans want it more than I do, which is impossible, but it's cool."
Even though they race in different classes, there is a strong mutual admiration between Kalitta and Capps. Each one wants the other one to win the championship – and if they both do it in the same year, all the better.
"I hope him and I can do it the same year – like this year," Kalitta said of Capps. "That would be huge.
"Ron's a great competitor and obviously a great driver. It's one of those deals, you just can't give up on your dreams and that's definitely what this is for me."
Capps has been a long admirer of Kalitta, starting with the latter's very successful tenure in sprint car racing – including 1991 USAC rookie of the year and 1994 USAC Sprint Car champion – before moving to NHRA drag racing in 1998.
"Any time I'm mentioned with Doug Kalitta on anything, it's bigger than you can imagine as an honor for me," Capps said. "Doug is, by far, the most talented driver we have on the grounds. Pure race car driver, there's nobody better.
"If you ever saw him in a USAC car at Winchester (Ind.), you ask (NASCAR star) Tony Stewart or any of the guys that came up through the Midget ranks, he would destroy all those guys back in the day. He is one of the best there is. I've gotten to race on dirt with him. I think he's unbelievable."
Much like how Kalitta hopes Capps can win the Funny Car championship this season, Capps hopes the same for his friend in the Top Fuel ranks.
"It's cool to be mentioned with him, but not in the fact that we both haven't won," Capps said. "The championship has always been brought up that he hasn't won one and I haven't won one, but again, I like being mentioned with Doug in anything, even if it's that."
In 18 seasons, Kalitta has gone on to become the fifth-winningest driver in NHRA Top Fuel history behind Tony Schumacher (82 wins), Larry Dixon (62), Joe Amato (52), Antron Brown (42) and Kalitta (41).
Capps, meanwhile, is the second-winningest driver in Funny Car history (50 wins) in his 21-season career. Sixteen-time champ and 145-race winner John Force is No. 1.
Now that their respective U.S. Nationals aspirations will have to wait for another year, it's all about the championship for both of them the rest of this season.
"It's all about each run and the effort put into it," Kalitta said. "Every once in a while you need a little bit of luck out here, too.
"It's definitely nothing to hold your head against or not be proud of Ron's accomplishments and mine.
"We definitely want to win the championship, to win it for my team, Mac Tools and Connie (team owner and uncle Connie Kalitta). That's what really motivates me. I'd love to win a championship for those guys."
Follow @JerryBonkowski