At the start of the year, we pegged the 2016 Indy Lights Presented by Cooper Tires field as one of the deepest in its recent history, if not all-time.
Having six drivers mathematically alive for the final doubleheader of races at Mazda Raceway Laguna Seca this weekend proves that point in full.
With 16 races complete and just two to go, that six-pack of drivers has two co-favorites, two lurkers, and two longshots.
Last year's Pro Mazda Championship Presented by Cooper Tires champion Santiago Urrutia holds a one-point lead over Indy Lights series sophomore Ed Jones, 319-318, following a seismic shift in the standings last week at Watkins Glen International.
Multiple-race winners Dean Stoneman and Zach Veach sat third and fourth on 296 and 288, but they'll need a strong first race to sustain their hopes going into Sunday's finale of the "Soul Red Finale" weekend. Veach's chances have now been compromised following a 10-point post-race penalty assessed Wednesday for floor height, and he's now at 278 and dropped to sixth.
Then Felix Serralles and Kyle Kaiser sat fifth and sixth on 281 and 279 points, respectively. Both have won this year, but both sit more than a full race's maximum points gap behind the leaders. If either of them is to have any chance of the crown, they'll need a win on Saturday and a minor miracle to follow.
Add in the fact you've had one other race winner this year in Felix Rosenqvist, plus four other drivers who've stood on the podium at least once in 2016, and you realize the glut of talent that's been concentrated in Indy Lights this year.
But that also makes it all the more important to see who emerges as champion, to earn the $1 million Mazda advancement scholarship and a guaranteed three races in the 2017 Verizon IndyCar Series season, including the 101st running of the Indianapolis 500.
Winning Indy Lights this year gives whichever driver wins it bragging rights and a guaranteed shot at the next level. This isn't to say those who don't won't be able to advance – and given how many drivers in the Indy Lights field have tested an IndyCar this year, you still could see multiple drivers – but this does make the process easier for whoever wins it to get their hands on an IndyCar contract sorted sooner rather than later.
Because Indy Lights hasn't shaped up as a straight one-on-one battle as the Pro Mazda Championship Presented by Cooper Tires and Cooper Tires USF2000 Championship Powered by Mazda titles have, let's instead look at each of the six title contenders individually.
All six were part of a press conference at Watkins Glen International last weekend before the penultimate race of the year.
—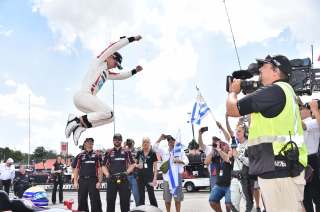 Santiago Urrutia, No. 55 Schmidt Peterson Motorsports with Curb-Agajanian
2016 to date: Urrutia's strongest performances all year have been on the permanent road courses. Until Watkins Glen, he had four wins and two runner-up finishes in his six most recent road course races. But at Watkins Glen, a lack of focus on long runs in practice meant he struggled from a tire conservation standpoint, and a puncture sabotaged any hope of a strong finish, resigning him to 12th with just a one point lead.
Mazda Raceway Laguna Seca breakdown: Uruguay doesn't have a race on the calendar but for all intents and purposes, this is a spiritual "home race" for Urrutia and his countrymen. Last year, he claimed an emotional Pro Mazda title on the same track and same weekend, 16 years later, where Uruguayan IndyCar driver Gonzalo Rodriguez lost his life in 1999. He finished second in both races.
Pre-weekend quote of note: "For me, it is the same thing as last year in Pro Mazda. Racing to win the championship and to get the scholarship to move up to Indy Lights. It'd be huge for my career to be in IndyCar. It will be very competitive for sure. It should be alright. [Mazda Raceway] Laguna Seca I like from last year. Good memories from last year. It will take a little bit off."
Outlook: Urrutia's hopes rest not on tire conservation, but setup and pace off the truck. SPM had a nightmare weekend in 2015 here and while it wasn't the singular reason Jack Harvey lost the title, it didn't help. Coupled with teammate Andre Negrao, Urrutia's title run will be aided – or hurt – by the setup off the box. And with both drivers having tested an SPM IndyCar earlier Thursday at Sonoma Raceway, then driving down to Monterey, it will be interesting to see if either driver is affected by the extra work and how they adjust back to an Indy Lights car from the physicality. Must respond after the tough race in Watkins Glen.
—
Ed Jones, No. 11 Carlin
2016 to date: Jones started strong, with a pair of wins in the first six races, but lost out in a gut-wrenching finish to Stoneman at the Freedom 100. Contact between the two at Road America only continued to stoke the brewing rivalry. Jones led the points for most of the summer before an accident at Mid-Ohio, but bounced back nicely with second place at Watkins Glen, even though he'd been balked in qualifying and lost a possible pole – and potential win.
Mazda Raceway Laguna Seca breakdown: Third and fifth were Jones' results at the track last year, but then-teammate Max Chilton had the pole for both races. Chilton could have won the first race of the weekend had it not been for a mistake.
Pre-weekend quote of note: "I led for so long this year. It seemed even when I did something wrong we held the lead. So it became a bit weird … I then became a bit complacent and relaxed. It's good to be chasing for once. Now you can take more risks. Take more care when trying to pass someone."
Outlook: Because both Jones and Carlin engineer Geoff Fickling, who knows the track better than most, have past track experience, they'll enter the weekend with a slight leg up on Urrutia, even being down one point. Jones is in a better frame of mind now than this same time last year and also has the edge of having been through here before. If experience was the only deciding factor, I'd give Jonesy a very, very slight leg up over Urrutia.
—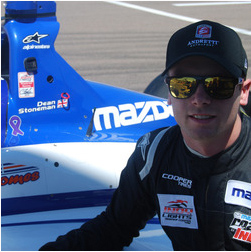 Dean Stoneman, No. 27 Andretti Autosport
2016 to date: Stoneman's won on both a road course and an oval, the latter providing the year's most dramatic finish at the Freedom 100. But a pair of mechanical failures in Barber and Toronto are enough to have left Stoneman further back in the points than he deserves to be.
Mazda Raceway Laguna Seca breakdown: This will be Stoneman's first race here, although teammate Shelby Blackstock finished eighth and fifth in two races last year.
Pre-weekend quote of note: "It'd be a great achievement to win it. It's been a challenging year with some ups and downs… and some unfortunate issues outside our control."
Outlook: At 23 points back, Stoneman will need to channel some of his earlier season aggression to balance a good setup off the truck to gain enough points in race one to have a realistic shot going into race two. Stoneman's recovery and return to racing from testicular cancer remains an incredible story; a championship in similar comeback fashion would be icing on the cake.
—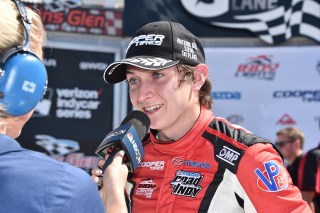 Zach Veach, No. 5 Belardi Auto Racing
2016 to date: Veach's return to Indy Lights featured a couple early season mistakes, since ironed out, with two popular victories occurring at two classic road courses of Road America and Watkins Glen International (right) last week.
Mazda Raceway Laguna Seca breakdown: Veach has track experience, but having not been here in Indy Lights last year, it goes back to Pro Mazda when he finished 11th and 17th in two starts in 2012.
Pre-weekend quote of note: "I feel sitting that year out though was more hurtful performance-related, than anything. I feel there's been some inconsistency, and some mistakes. But I'm still smiling. It's been a nine-year process. It's your dream. It's what you want to get to. I'm so thankful for the Mazda Road to Indy presented by Cooper Tires, and what it's done for me."
Outlook: Veach is the last of four drivers within a one-race maximum points swing of 33 points, at 31 back of Urrutia. He's been good on the natural terrain road courses and has nothing to lose going into the weekend. A win wouldn't surprise this weekend, but a championship wound.
—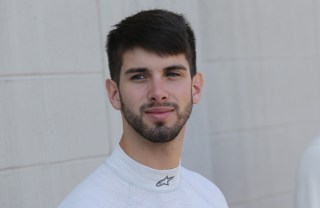 Felix Serralles, No. 4 Carlin
2016 to date: The talented but inconsistent Serralles has a win on a street course (St. Petersburg) and an oval (Iowa) this year. He has eight top-five finishes, but has only strung back-to-back top-fives together twice, at the two St. Petersburg races in March and at Iowa and Toronto race one.  
Mazda Raceway Laguna Seca breakdown: Serralles finished 13th and eighth in the two Indy Lights races last year, driving for Belardi.
Pre-weekend quote of note: "It's been a lot of things outside our control. Bad luck in qualifying. You never know if you're racing next year. It's such an expensive sport. When you're in it, you have to enjoy it. Results can get you down. I'm really happy where I am."
Outlook: Outside a full race points margin back – Serralles is 38 behind with 33 the maximum – the best he can realistically hope for is to support Jones' cause by taking enough points away from his rivals.
—
Kyle Kaiser, No. 18 Juncos Racing
2016 to date: Three podiums in as many races to kick off the year, including a maiden win at Phoenix, heralded Kaiser as a potential champion. But he's been good, not great, since, with three third-places his best results in the last 13 races.
Mazda Raceway Laguna Seca breakdown: Kaiser finished second and 10th in two Indy Lights starts last year, but he has a wealth of track experience in other open-wheel cars. Additionally, teammate Spencer Pigot won both races here for Juncos last year to capture the 2015 title.
Pre-weekend quote of note: "Coming in as a rookie you have a lot to learn. You make some mistakes and it's hard to learn. Coming into second year, we came in stronger. We fell into a slouch in the middle of the season. Trying to get back to finish strong. Spencer (Pigot) always had a bit more experience than me. And that has helped translate into my driving. It's a different dynamic now."
Outlook: Like Serralles in fifth, Kaiser needs a minor miracle to win the title as he enters 40 points behind. While Ricardo Juncos' team appears set to leave a Mazda Road to Indy presented by Cooper Tires season without a title for the first time in three years, that doesn't mean they can't play spoiler. Kaiser is excellent at Mazda Raceway and must be considered a podium contender, which could shake up the standings in front of him.