One of the cool new parts of the 2016 Verizon IndyCar Series season, which has its season finale on Sept. 18 at Sonoma Raceway, has been the new Verizon "Lunch with Legends" series, which has enjoyed a pretty good amount of growth in its first three events.
The series title sponsor has sought to increase access for media, the paddock and ultimately and importantly, Verizon IndyCar Series fans. The thus far three-event series has done a good job of bringing the legends of the sport to light for informal gatherings that have produced some fun stories and a festive atmosphere.
Hosted and moderated by veteran open-wheel scribe Robin Miller, an NBCSN contributor, the lunch gatherings have provided folks a chance to hear more stories that we either hadn't heard before or were glad to hear again – in large part thanks to Miller's relationships built with the legends over time.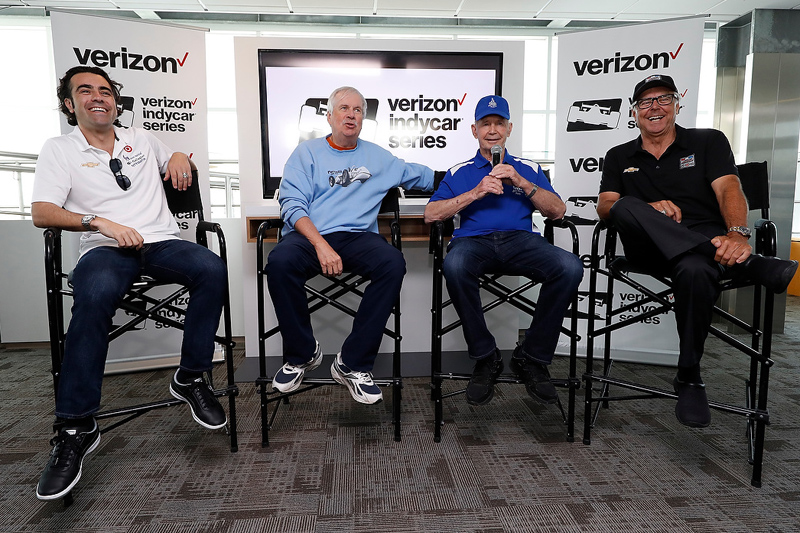 The series kicked off in the run-up to this year's Indianapolis 500, in the Pagoda, before the 100th running. Hearing 1963 Indianapolis 500 winner Parnelli Jones tell tales of how much different the racing was back in the day transitioned to two of the modern day masters and respective team sages/mentors, Rick Mears (Team Penske) and Dario Franchitti (Chip Ganassi Racing), who combined have seven Indianapolis 500 victories between them.
A quick bit of background from yours truly. I first really started following the sport in 1996 when I was just seven. So while I quickly learned the names Mears, Foyt, Andretti, Jones, Rutherford and on down the line, there weren't many of them I got to see race when I started watching nearly every weekend. But Franchitti, who I initially thought was Italian before discovering he's Scottish, was one of the first drivers and names I grew to take note of.
In that first lunch, Franchitti described his evolution from a Mercedes touring car driver to his first test and IndyCar race at Homestead-Miami Speedway. He more or less said that after he crashed out, he didn't necessarily think he'd grow into an eventual three-time '500 champion, four-time series champion, and one of this generation's greatest legends. The access from this lunch provided a real-life, real-time history lesson that I'd initially learned about by reading about him in On Track and RACER magazines back in the day.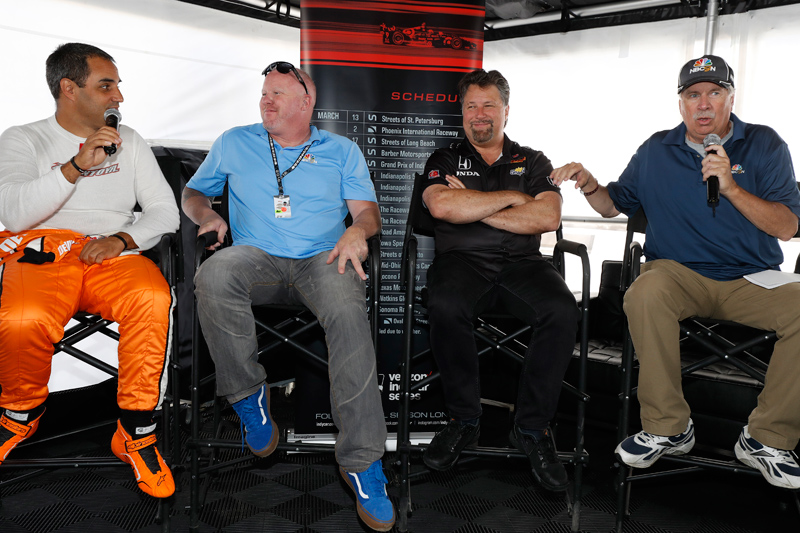 Then at Road America, the series enjoyed its second installment with three drivers who made a habit of kicking butt at the classic 4.048-mile (it's now listed as 4.014-mile, but who's counting) road course in Elkhart Lake, Wis. NBCSN IndyCar analyst Paul Tracy, Andretti Autosport team principal Michael Andretti and one of Team Penske's current IndyCar stars, Juan Pablo Montoya, were present for this one, and all talked about the average speed on course – well north of 140 mph for an average. Verizon seems to know a thing or two about speed, so the speed discussion seemed appropriate…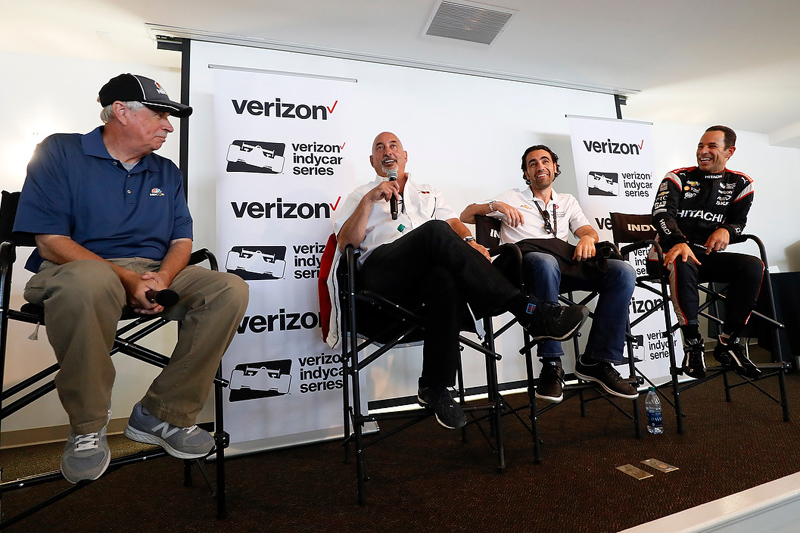 Of course, Watkins Glen International had to go and one-up Road America on the average speed line with Scott Dixon setting a record average speed this weekend of 147.008 mph at the 3.37-mile road course. Dixon's teammate, Franchitti, was back for the third installment of the series along with Helio Castroneves and Bobby Rahal. For me as a relative "kid" by comparison to many of my peers and colleagues in the media center, it was cool to see guys who were all racing at the same time – in 1998, Castroneves was a rookie, Franchitti a sophomore and Rahal in his "Rahal's Last Ride" tour – all on the same stage talking about what "The Glen" meant to them. Much earlier on, Castroneves and Franchitti, apparently, were teammates for five minutes in the 1990s when Jackie Stewart fielded a junior formula team!
Rahal had the most varied background, particularly noting his Formula One attempt at the track back in 1978. Asked what his favorite corner at Watkins Glen was, Franchitti replied "all of them?" before bringing up the Inner Loop (Bus Stop) and Carousel sequence. Several humorous sequences during the event followed, thanks in large part to the questions asked not just on site but also via social media platforms like Facebook and Twitter.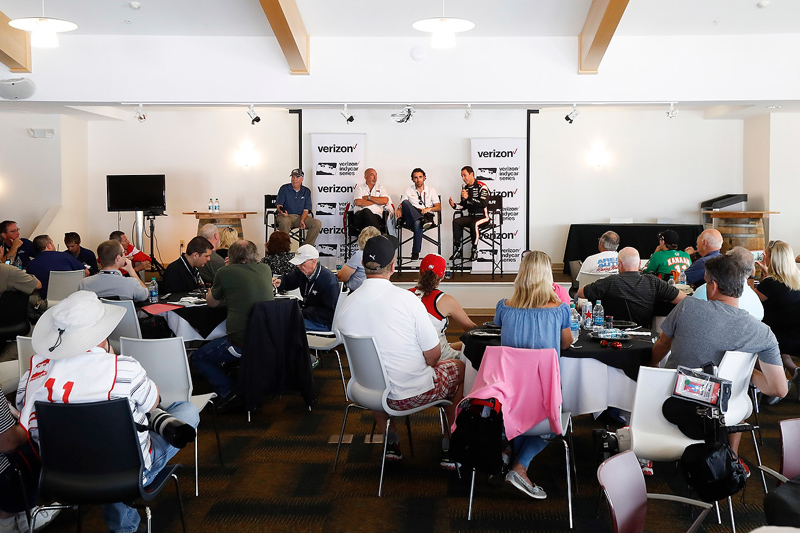 One of the important factors you have to think about when a partner gets involved with IndyCar is activation. More so this year than in its first two years – particularly given the change in corporate logo at the start of the year – it feels as though Verizon's activation and increasing access has been a welcome sign to see.
You get the sense that because of the relative stability in management, circuits and dates, there's a much greater sense of "certainty" in the paddock than two or three years ago.
And one of the things that's been particularly cool about the Verizon Lunch with Legends series is there seems to be just that key amount of balance in embracing, but not living in, the past, while also understanding how the past helps contribute to and drive a better future.
The Verizon IndyCar Series would not be where it is as a living, breathing racing organism if it wasn't for the efforts of Jones, Mears, Franchitti, Andretti, Tracy and Rahal behind the wheel then, and Castroneves, Montoya and the rest of the current 22-car field now.
But through these lunches and the format, it's provided local, national and international media the chance to learn and laughed at each lunch, and gain a unique perspective through the access and platform Verizon has provided in Indianapolis, Elkhart Lake and Watkins Glen.
Whether it's been a trip down memory lane or a glimpse into why a certain venue is so special, it's been something that's aided me in I'd say my fifth full-time (11th overall) season of covering the Verizon IndyCar Series on-site, and I'm sure others.
The food hasn't been bad, either…