CJ Wilson Racing's relationship with Porsche isn't just in the actual world, but also the virtual world. The inaugural CJ Wilson Cayman Cup Presented by Logitech G season is in the books, with David Hoch winning in the colors of Darren Cox's eSports + Cars team.
A release and explanation is below:
—
With a measured and controlled run to third place at Road Atlanta's series finale, David Hoch, ("LMR Harmonic"), clinched the inaugural CJ Wilson Racing Cayman Cup Presented by Logitech G. His podium finish was his eighth in ten races and it halted a run of three successive race wins for the Chicago based racer. His four total victories was the most by any competitor in the Championship run by The Online Racing Association (TORA) for the Forza Motorsport 6 platform. Hoch wins a full race set up from the Series presenting sponsor, Logitech.
Despite Hoch's dominance of the second half of the season, the title was not secured until the penultimate round at Virginia International Raceway due to an astonishing level of consistency by Canadian Evan Thorogood, ("Raceboy77"), who had nine top five finishes and seven podiums finishes including the victory at Road Atlanta in the season finale.
Until the last event, both drivers ran their Porsche Cayman's in their personal race liveries but for Round 10, Hoch and Thorogood raced in the colors of the eSports + Cars team founded by the former Global Head of Nissan Motorsport, Darren Cox. The members of the recently formed eSports team run by the founding father of the GT Academy, Cox, took 15 podiums and five victories.
"CJ Wilson and his team should be congratulated on pulling together a strong virtual championship that continues to improve the professionalism of online racing," eSPORTS+CARS Team Principal, Darren Cox said.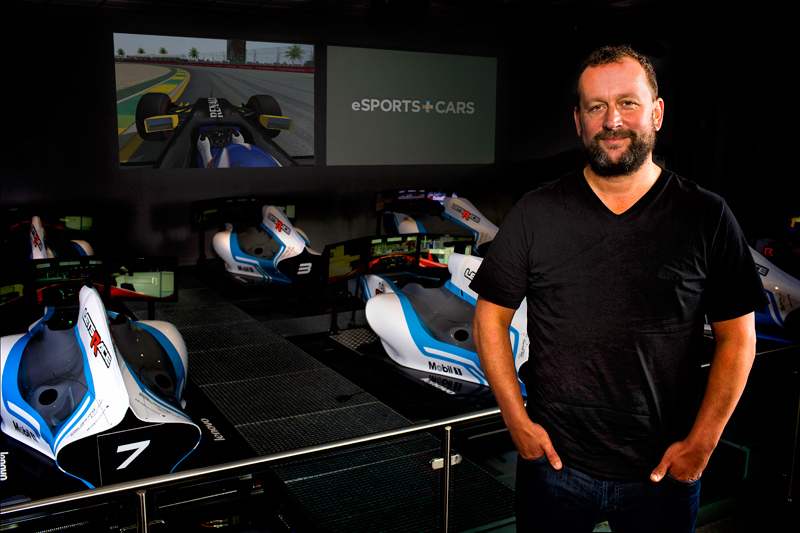 He went on to state that "Initiatives like this go a long way to help introduce esports and virtual racing to a mainstream audience. Both our organizations are very aligned in this goal and objective. To have David and Evan perform so strongly in the championship is just another example of the performance of the entire eSPORTS+CARS team since we launched. I congratulate the guys on their performances, which were by any measure, dominant. We'll be looking forward to coming back in 2017 to defend our championship win and work together with CJ and his team to continue to grow the sport."
"Virtual racing is a huge and growing category and we have been completely blown away from the response and the talent displayed in the TORA Cayman Cup series," explained Team Owner, CJ Wilson. "With the costs of actual on track development remaining outside the realm of most young drivers, to be able to log on and race with other incredibly talented eSports racers is a huge work-around for them. All the racecraft, set up skill, reflexes and mental toughness that go into winning a true Championship with Forza and TORA or IMSA are completely parallel skills. This proves you can develop as a driver online."
The two-time MLB All-Star believes eSports racing has a significant role to play in the future of professional motorsport. "I have no doubt that this is a big step forward for the category and for racing across the world. We at CJWR hope to grow our eSports program alongside our real current racing programs and hopefully there exists a way to work with series winners such as David. We all have goals of where we want to go and for us, this has been a revelation." Wilson is fully behind the development and expansion of the Cayman Cup. "To get our sponsors and media partners aware of the engagement shows how far we can take it. We'd love to help expand the series beyond this season, I know I'll be practicing in the meantime!"
Champion Hoch was quick to recognize the size of his achievement. "This is the most competitive series I've ever done. A lot of guys who normally don't race in championships like this got their feet and entered the series so it was interesting to see some new faces who were veterans on the Forza Motorsports platform, but new to TORA events." He went on to outline how this type of event can only grow the eSports racing market. "Having guys like CJ on board has been brilliant. Motorsport is popular but virtual racing is a small but growing niche and having somebody like CJ and his team getting behind it has really helped make an impact."
The depth and quality of the Cayman Cup Presented by Logitech G was further underlined by the fact that three of the race winners have qualified for the Final of Season 1 of Forza Motorsports Race Championship which has a prize fund valued at over $75,000.
Season 2 of the CJ Wilson Racing Cayman Cup will begin in the Spring of 2017. In the meantime you can get more details about the 2016 season at the site of The Online Racing Association HERE.