Pro Stock driver Chris McGaha couldn't have picked a better time for his first final round appearance of the season.
The Odessa, Texas native not only made it to the final round of the U.S. Nationals on Monday, he wound up winning the biggest race of his career against one of the toughest competitors in the class, former champion Allen Johnson (see video below).
"I've been here (at the U.S. Nationals) for five years," McGaha said. "I finally got a round win here, and it felt good – and then to go on and get the win."
In so doing, McGaha made it very clear that even though he enters the upcoming six-race Countdown to the Championship playoffs as the seventh seed in the field of 10, he's in it to win it.
"We have to keep doing what we did (in Indianapolis)," McGaha said. "If we do that, we definitely have a shot at it.
"I've watched a lot of runs along the way. Between tire shaking and making bad calls and just like getting our butt kicked, we should be a lot higher. We've just got to keep winning."
There's no question the field will be tough. KB Motors' Jason Line and Greg Anderson – who are ranked 1-2 heading into the Countdown – dominated the first half of the season, with Line winning seven times and Anderson six.
But both Anderson and Line worried that other teams would ultimately catch up – and they have, with McGaha and his Harlow Sammons Chevrolet Camaro being among several candidates that are ripe to challenge the KB supremacy for this season's championship.
"I guarantee the KB guys, I know exactly what they're thinking of right now, they'd probably rather have won this race than those others because now we're going into the Countdown," McGaha said. "They conceded that people are catching up. We're making progress on race day. They don't seem to have the dominance – they still have the cars – but they haven't been as dominant on race day."
In an ironic twist, McGaha made his NHRA Pro Stock debut at the 2011 U.S. Nationals. After missing the following year's race due to weather issues, he's been a stalwart there every year since – but never got as far as he did this past Monday.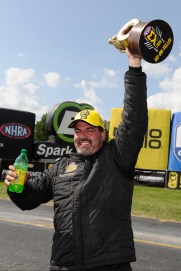 And Monday's win could send McGaha on a run like he took last season, when he won the first three races of his Pro Stock career at Sonoma (Calif.), Seattle and Maple Grove (Pa.).
McGaha, 37, is currently racing without a crew chief, which essentially doubles the work he does. He's not only driving, he's also overseeing all the mechanical work on the car, the setup and the never-ending quest for more horsepower, quicker elapsed times and faster speeds.
"We don't have a crew chief, so we try to make the best call we can," McGaha said. "I'm more of a power guy, so I'm always leaning on power. It's always going to be power, you never have enough. Yes, I can tell if there's something wrong with the car and we keep working on it.
"Some days I think it's power and then I don't. I may go over there and say I still need more power. It's not enough. It's like not having too much money or too many wins – you can never have enough."
Doing both roles can be difficult, but because McGaha has had a history of being both a driver and crew chief for both himself and other teams, he seems to have it down to a science – and the results last year and now with his win at Indy, prove that.
"I've crew chiefed my car at different times before when we were between crew chiefs," he said. "Actually, I go up there and it's one more step to do. You do it and you go on.
"I really don't go up there and think about my driving too much. I just go up there and let it happen. I don't try to get all into it and worked up, I don't have any special rituals – it's just part of the steps of making the car go."
And if he keeps up what he did at "the Big Go" (nickname for the U.S. Nationals), McGaha may very well keep going all the way to the championship six races from now.
Follow @JerryBonkowski