MONTEREY, Calif. – The season finale for the Mazda Road to Indy presented by Cooper Tires is upon us with this weekend's "Soul Red Finale" at the "spiritual home" of Mazda, Mazda Raceway Laguna Seca, in Monterey.
The Indy Lights Presented by Cooper Tires championship still has six drivers mathematically eligible: Santiago Urrutia (319), Ed Jones (318), Dean Stoneman (296), Felix Serralles (281), Kyle Kaiser (279) and Zach Veach (278), although multiple drivers could be knocked out after the first race of the weekend (races air Sept. 23 at 1:30 p.m. EDT on NBCSN).
Pro Mazda Championship Presented by Cooper Tires and Cooper Tires USF2000 Championship Powered by Mazda both have three drivers, although realistically the title will be staged between just the top two in each series.
In Pro Mazda, Aaron Telitz leads Pato O'Ward 345-331, with Nico Jamin third on 271 with three races to go.
In USF2000, Anthony Martin tops Parker Thompson 347-326, and Victor Franzoni has 294 with two races to go.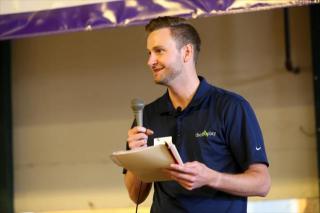 Going into the finale for the next wave of potential Verizon IndyCar Series stars, we checked in with NBCSN Indy Lights analyst Anders Krohn, co-owner of CoForce, LLC, for a look ahead to all three series.
INDY LIGHTS ENTRY LIST
PRO MAZDA ENTRY LIST
USF2000 ENTRY LIST
—
Indy Lights
MotorSportsTalk: We were watching qualifying for Indy Lights at Watkins Glen just last week and the commitment these guys were doing looked mental. You've driven there before; could you imagine or begin to describe how much faster this was now?
Anders Krohn: "I don't know exactly how to describe it, but Indy Lights around there was fast and crazy before the new car, and before the repave. Now this has been elevated to pure insanity, and just looking at the brake points and minimum speeds, the place has gone from world class to uhm, I don't know what a step up from world class is… You know what I mean."
MST: How surprised were you that Santiago Urrutia did not do a major long run before the race?
AK: "That decision definitely cost them dearly. Usually Tim Neff is the first guy you'll see opting for a full tank of fuel and a long run during practice, so I'm not sure what altered that strategy this weekend. The place was so hard on tires and a minor imbalance at the start of the race would make it nearly impossible to get to the end without pitting. Can we introduce pit stops to Indy Lights? Sorry, I'm a squirrel."
MST: Urrutia's been in a title battle before, last year. How will that experience help him going into this weekend?
AK: "Having worked with him previously, the guy just doesn't get flustered. He just goes about his business in a very robotic manner, and that'll help him tremendously when the pressure is on."
MST: Does being the chaser help Ed Jones whereas earlier this year he led and said he got "complacent" and "relaxed?"
AK: "I have to say, a few weekends ago I thought the pressure might be getting to Ed, but he proved me wrong this past weekend at The Glen. He put together a very solid drive when to other contenders were falling apart. His job is quite simple at Mazda Raceway, win both races and he's the champ."
MST: Can Dean Stoneman or any of the three other mathematically eligible drivers win the title? How should they approach their race weekends?
AK: "Even though they have wildly different approaches to everything under the sun, I'm going to add Zach Veach to this as well. Both Dean and Zach have the beautiful situation of knowing that it's win it or bin it. That means you'll see them be more aggressive than Ed and Santi, who have to tread a little more carefully. I think that'll add such a great storyline to the weekend with two drivers having to 'nurse' it home, and two drivers needing to take risks to potentially win the championship."
—
Pro Mazda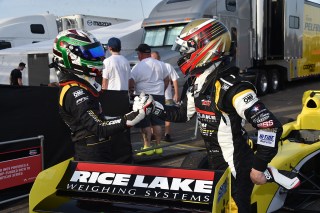 MST: Aaron Telitz has had to rebound from adversity earlier this year and did so, and now going into the finale it's Pato O'Ward's turn. How do you think Pato can respond to Aaron's recent run of form?
AK: "Aaron's response has been extremely impressive. It would have been very easy for him to be downbeat by the early season domination from Pato, but instead of giving up, he buckled down, kept refining and has obviously turned things around in a big way.
"Mazda Raceway is probably Pato's strongest track of the year if you look at his speed there last year. With that said, Aaron is on a mission at the moment, so it'll be a massively tough call. Either way it'll be a tough weekend, because both drivers are clearly deserving of the championship and both are ready to move up. Can we convince Mazda/Cooper/Andersen to double the prize fund?"
MST: How do you expect Nico Jamin's presence to affect the title battle? As spoiler, how does he handle the dynamic of the top two while also striving to win himself?
AK: "Nico has the beautiful situation of having no pressure whatsoever, so he can be a little rougher and take more risk than Aaron and Pato. I would fully expect him to be very strong, as he was at Mid-Ohio, at Mazda Raceway. It looks like Nico and the Capes have found something in the last few weekends that's given them a lot of speed."
MST: With it being three races, does that place more additional pressure on nailing the setup straightaway since there's the extra race?
AK: "You for sure need to nail it out of the box and it's not an easy track to nail it at all. There's also some additional pressure for a couple of guys for the chance of winning $750k. I have flashbacks from the MRTI season finale at Sonoma 2014 in my head (crazy battles between Gabby Chaves and Jack Harvey in Indy Lights, Spencer Pigot and Scott Hargrove in Pro Mazda, Florian Latorre and RC Enerson in USF2000) and wouldn't be surprised if we see similar, absolutely nuts, moves and action."
—
USF2000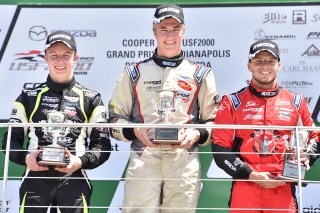 MST: You've seen both Anthony Martin and Parker Thompson progress from year one to year two. What strides have they made in their sophomore years?
AK: "If you had asked me at the start of the year who was going to win the championship, I would have predicted Anthony Martin. He was by far and away the strongest rookie last year, but Parker has really upped his game over the winter and looked the man to beat in the first half of the season. Consistency-wise, they have a ways to match Jamin/Telitz/Eidson from last year, but they have been extremely strong and impressive. Both are ready for Pro Mazda next year, for sure."
MST: What drivers could you see making things difficult for the "Cape twins" at the finale?
AK: "Never count out Victor Franzoni. The guy is an absolute hoot to watch, every single race. His driving style is the very definition of HUSTLE. He'll overdrive the car occasionally, but always makes something happen, especially on cold tires/opening laps. Dakota Dickerson and Robert Megennis have been very impressive as rookies as well, so they'll both be looking for podiums to round out their first season of USF2000 competition to make themselves hot property for 2017 off-season banter."