If there was an award for sheer determination, dogged perseverance and never giving up or giving into adversity in a season, Top Fuel driver Leah Pritchett would be the hands-down winner in 2016.
Consider what Pritchett has gone through thus far in 2016 – both good and bad:
* She started the season with major sponsorship with Quaker State. Things couldn't have looked more promising: she'd finally reached the big time with a full season's ride.
* She won the second race of the season against Brittany Force (at Phoenix), the first all-female Top Fuel final since 1982.
* Only a few weeks later, Pritchett's professional world collapsed – and not of her own doing – when team owner Bob Vandergriff Jr. abruptly announced his retirement and shut the doors, leaving Pritchett without a team and an uncertain future, at best.
* Fortunately and fortuitously, she managed to quickly rebound without missing a race – or a beat, for that matter – driving several races in the Lagana family Top Fuel dragster. Yes, it's a smaller team, but one with a lot of heart – something Pritchett could obviously identify with.
* Pritchett's tenacity and determination with Team Lagana impressed legendary team owner Don Schumacher so much that he signed her to race for the remainder of the season – and potentially well into the future.
* Even though she's had a number of different sponsors, including Papa John's heading into this past weekend's Chevrolet Performance U.S. Nationals in Indianapolis, the fact Pritchett has been able to attract enough sponsorship to keep going race after race speaks volumes of her marketability and overall talent.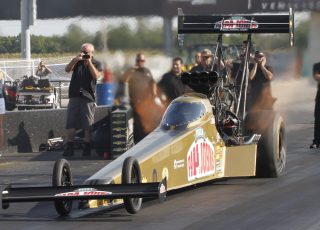 * As if she hadn't gone through enough pressure already, Pritchett came into the U.S. Nationals with essentially a must-win situation. She had to finish the race not necessarily with a win, but had to wind up higher than fellow driver Terry McMillen to clinch the 10th and final qualifying spot of the upcoming six-race Countdown to the Championship playoffs.
* In much the same fashion as the other Cinderella-like accomplishments she's achieved thus far this season, Pritchett indeed made the Countdown. Next up: to do well in the Countdown and potentially go on to win the Top Fuel championship.
If that happens, it could be one of the greatest comebacks from adversity in a single season in NHRA history.
"I don't know of anyone who's made the Countdown under more unusual circumstances," NHRA Vice President of Communications Terry Blount said to Pritchett. "So many different rides, you lost your ride, you had to hustle and look for another ride, had to look for sponsors. It has to be extra-special to do it this way."
When U.S. Nationals pole-sitter Clay Millican defeated McMillen in the first round of eliminations Monday, it paved the way for Pritchett to make the Countdown.
"Terry (McMillen) and I were fine, we're friends, but this is business today – and I wanted Clay to win bad," Pritchett said emphatically. "Ultimately, Terry took himself out (fouled at the starting line), and I know what that pressure situation is like."
Even though Pritchett lost in her own first-round matchup, McMillen's earlier foul allowed her to earn enough points to make the Countdown.
In fact, Pritchett earned her spot in the Countdown by the slimmest of margins: one point over McMillen.
"In the big picture of everything, it's bittersweet," Pritchett said. "I wanted to win the U.S. Nationals and that's not going to happen.
"We get to focus on a championship and I can't tell you how incredible that feels and the weight lifted off not just my shoulders, but so many people that helped make that happen.
"Back to Dom and Bobby Lagana. They had a vision very first off with me. '(They said) We don't know what's going to happen this year, but Leah we're behind you and we're going to get you in these cars for a couple races' and it started there and kept going and kept going.
"I got to stand on the shoulders of so many people to be here and now it's just business."
Speaking of business, Pritchett rode a three-race sponsorship from Papa John's Pizza into and through Indianapolis. There may be additional sponsorship opportunities with Papa John's in the Countdown and potentially an even bigger deal – as much as all 24 races – for next season.
But in a sense, Pritchett is using the deal as inspiration for the bigger picture of battling for the championship.
"John (Schnatter) didn't build Papa John's overnight and we're not going to win a championship overnight," Pritchett said. "We have to start with the first step, and that's getting into the Countdown. … We're excited because we get to finish this thing now."
Pritchett admits she's a bit nervous heading into the playoffs.
"We have our work cut out for us," Pritchett said. "Now, changing into this mindset, I've never been in this head space before. Yes, our work's cut out for us, but I'm looking forward to this mountain."
Even though she has college degrees in communications and marketing, Pritchett said that she gave serious thought to going back to school to learn more about the business world so that she could apply it to her racing career.
But …
"In these last 60 days, I'm like there is no school that I could go to to learn what I've been learning and gone through," Pritchett said. "Maybe I'll go teach a class of what not to do and what to do."
Pritchett's learning experience has been tough, no doubt. But she's not only gotten through it, she's also ready to flourish now that she's in the Countdown, where – while it is unquestionably difficult to do – the format still allows for a driver to start out ninth or 10th and potentially finish first.
That's what Pritchett is hoping for.
"When we won at Phoenix," Pritchett said, "it gave me the confidence of you know how to win, you can finish this thing off and this is the push you're going to need because you don't know it yet, Leah, but your season is about to be turned upside down and you're going to need to fall back on something – and that win was what it was.
"No one else has been through this and that kind of goes along with my overall story: no one else has really done things the way I've done them. I haven't done them the way other people have done them."
And now, even with all the challenges she's faced this season, there's no question how Pritchett is feeling going into the Countdown: "I'm frickin' happy!"
Follow @JerryBonkowski