MONTEREY, Calif. – Ed Jones has had pretty consistent, good pace this weekend at Mazda Raceway Laguna Seca, with the Dubai-based Brit edged only by Kyle Kaiser thus far in the Indy Lights Presented by Cooper Tires season finale.
Yes, Kaiser had the pole for Saturday's race and stormed to the victory, but Jones has positioned himself to capture the title and the $1 million Mazda advancement scholarship that comes with it after finishing second in the race.
If Jones can stay ahead of Santiago Urrutia, the only other driver mathematically eligible on Sunday, through the opening Turns 1 and 2, there's a good chance he'll be able to stay there for the rest of the race.
However, the uphill starts at Mazda Raceway have been potentially fraught with caution following the first three races of the weekend today for all three rungs on the Mazda Road to Indy presented by Cooper Tires ladder.
Polesitter Aaron Telitz lost the lead off the line to teammate Pato O'Ward, who then surged away in the Pro Mazda Championship Presented by Cooper Tires race. A last-lap restart, though, saw Telitz get back by a slowing O'Ward at the start/finish line before O'Ward got Telitz back at Turn 5.
Most of the positions up front in the Indy Lights race changed at the start today. Then, in the USF2000 race, Parker Thompson knew his best and perhaps only shot at getting ahead of Victor Franzoni was at the start.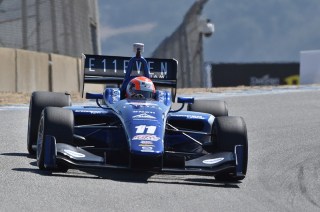 Jones, who's calm and collected and riding a good air of confidence this weekend, said there's no concerns to be had about the start on Sunday. He feels good that if he does his job from pole position to the inside, he'll be fine for the rest of the race.
"I start from pole tomorrow, so the aim is get through the start," Jones explained post-race. "As we saw today, if I'm ahead tomorrow, I feel pretty confident.
"Today we had a really good start, but I couldn't match Kyle's pace. It's a longer race tomorrow. It's a tricky one… and a lot is resting on it."
Slightly less confident and slightly more nervous after the race today was his team boss Trevor Carlin, who looks to add an Indy Lights championship – a potential first for the team – to its incredible record in junior open-wheel formula around the world.
In speaking to Carlin before the weekend really got going on Friday, there was a cautious optimism about Jones' title hopes but not an out-and-out confidence.
"I'm not the sort of guy to ever get overconfident," Carlin told NBC Sports. "Ed wasn't stunning here last year, but we had a pole position car with Max. So we know the base setup of the car is going to be good out of the box.
"I think Ed's made a massive step forward from last year. So if Ed can do what Max did in qualifying, I think we could get a couple of pole positions and get on ourselves on our way."
Carlin said potential aggression from Jones' title rivals – like Jones, Urrutia and Dean Stoneman were all placed on probation after the Road America weekend back in June – could have an impact.
He's hoping it doesn't come to that, obviously.
"I could see it coming down to something controversial to be honest at the end result," Carlin admitted. "Then I can only hope that the championship organizers take appropriate action – obviously the risk there is if one of our guys does something wrong as well!
"Stoneman is really a long shot for it, so he'll be desperate, a bit like Jack Harvey was last year at the start of race two was a bit crazy. Dean's a decent guy but when he's in the car he's pretty aggressive.
"Santi's not known for patience. Fair play to him, they didn't show the pass at Watkins, we didn't see Ed pass him, but at least that was clean and no problems."
Regardless of how the day plays out, whether Carlin secures its first driver and team Indy Lights title or Schmidt Peterson Motorsports with Curb-Agajanian secures its eighth drivers championship (has seven since 2004), Carlin's second season in Indy Lights has been even better than its first.
The Colin Hale-managed team's moved its U.S. headquarters to Del Ray Beach, Fla. from Poughkeepsie, N.Y., with Carlin hailing Hale's work and efforts as the crew morale has been high in running the three-car program for Jones, Felix Serralles and Neil Alberico this year.
"It's much more relaxed and much more organized," Carlin said. "The team has always been organized, Colin does a fantastic job.
"This year it's just a case of improving step-by-step. We feel that we're part of the establishment now, and you know, just want to keep doing that and expand into other projects as time allows."
One said other project could be an IndyCar program, potentially as early as 2017, although theoretically it would make more sense going into 2018 once INDYCAR (sanctioning body) outlines the next round of technical regulations.
The team's newest project, though, could result in a historic day in Monterey on Sunday.