MONTEREY, Calif. – With Carlin having secured the Indy Lights Presented by Cooper Tires championship on Sunday at Mazda Raceway Laguna Seca, it marks Trevor Carlin's team's first major American racing accomplishment – perhaps the first of many to come.
To get the "elephant in the room" out of the way first, accusations immediately flew in the wake of Ed Jones' final lap pass of Felix Serralles – the single pass which was enough to get Jones clear of Santiago Urrutia on points – that this was a team orders edict.
Serralles pulled over on his own accord to allow Jones through, as there was no call from the team to say Jones needed to be let through.
The "how" the title was decided, however, should not overshadow the season-long accomplishments achieved by Carlin in Indy Lights, in just its second season in North America.
Having originally set up shop in Poughkeepsie, N.Y. when they arrived here last year, Carlin moved its U.S. headquarters to Del Ray Beach, Florida over the offseason, a move made to attract and keep more of its crew longer-term. That's about an hour and a half north of Miami.
"I knew that if I wanted to keep my key personnel, I'd have to find them somewhere a little bit more conducive to a lifestyle outside of racing," Carlin told NBC Sports this weekend.
"The winters are pretty tough in Poughkeepsie… the only time my guys are at home is in the winter. In the summer they're traveling around the States and racing, so they have to go wherever they are. What I thought is go somewhere warm.
"California is too far, it's not logistically sensible. But Florida, and the connection with Andy (de Francesco), he said 'maybe help me find a shop.' As it happens we found our own shop and then the Benik (USF2000) thing came along. It was perfect."
Jones has primarily set up shop in Miami when he's been in the U.S. The 21-year-old is oft-known as the "Dubai-based Brit" but he's found a home both in Miami and with Carlin after two years now Stateside.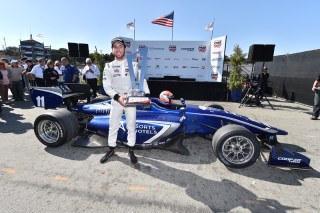 "I love it here. Miami suits me well. It's home for me now," Jones told NBC Sports after winning the title on Sunday.
"This place feels nice. I like America. People are so friendly and welcoming. It's a place I see myself for a long time.
"I'm one of those guys where I find it hard to feel emotion on things in the moment. It'll take time to sink in. Coming over here with Trevor was a big change.
"For it to pay off, the job the team have done is incredible. You have to realize what a job they've done, to have competed with teams that have been for so many years. When they make it to IndyCar, they'll be one of the top teams."
Indeed, that last line is the important one. Carlin came into Indy Lights at the same time as the new Dallara IL-15 Mazda did in 2015, but still with a lesser understanding of America and the series compared to past title-winning teams Juncos Racing, Schmidt Peterson Motorsports with Curb-Agajanian, Belardi Auto Racing and Andretti Autosport.
What they've done in the two years since has been remarkable, garnering the high level personnel they have and putting themselves in immediate title contention. Jones noted Carlin engineer Geoff Fickling has been a huge help for his growth and development.
"He's brought me on massively as a driver," Jones said. "Our personalities match very well in a working way. Without him, there's no way we would have been able to do this. The Carlin team would have suffered without having him here."
Carlin lost the title last year and Jones admitted he made a few mistakes this year that made the title closer than it probably could have been.
Jones started quite strong with two wins, three runner-up finishes and and two fourth-places in a row through Road America race one.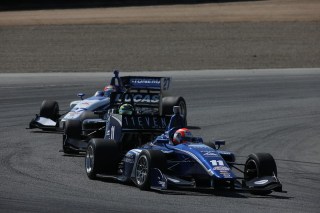 But an overly aggressive move on then-title rival Dean Stoneman in Road America race two, when Jones admitted to and did run Stoneman off the road up the hill at Turn 6, was a possible turning point that brought Stoneman, Urrutia, and then the lesser likely trio of Serralles, Zach Veach and Kyle Kaiser back into title contention.
"At the time it felt like the right thing. But obviously now it wasn't the right thing. I can't regret what I did. That's a way of life," Jones admitted.
From there, Jones fell into a minor funk results-wise. Just one podium occurred in that six-race stretch from Road America race two through Mid-Ohio race two, and an accident in the Mid-Ohio second race threatened to derail his title hopes altogether. Jones trailed Urrutia by 24 points leaving Mid-Ohio, following Urrutia's dominant weekend sweep.
It was at Watkins Glen, meanwhile, where the seeds of the championship were replanted.
Jones and Carlin, smartly, focused on tire conservation and longer runs. Urrutia and Schmidt gambled on only doing short runs in practice in order to save tires for the race, but Urrutia hadn't done a run much longer than a handful of laps going into the 25-lap race.
Urrutia spun in qualifying but resumed ahead of Jones on track. Urrutia won the pole but lost his fastest time as a result of the interference; nonetheless, his second fastest lap was enough to secure the top spot.
But in the race, the potential strong result came unglued. Jones finished second while a punctured left front tire resigned Urrutia to 12th and last, and the points pendulum swung from Urrutia being 24 up to just 1 up heading to Mazda Raceway Laguna Seca this weekend.
Jones and Carlin were calm and collected all weekend, while the usually unflappable Uruguayan did not appear himself this weekend. With the Watkins Glen result still lingering and then the distraction of having his first IndyCar test on Thursday, Urrutia's mind may have been elsewhere. But Jones and Carlin could afford to focus solely on Mazda Raceway -and it paid off.
The second year was always going to be more comfortable for both of them as a collective unit, knowing America and knowing the series the second time around.
Said Jones, "This year I've been a lot more comfortable in the car and the team. Everything is more complete as a team. We probably should have … not won it a lot earlier… but it never should have got this close. We had so much speed. It's kind of embarrassing to not win it earlier, and that's due to my mistakes."
Added Carlin, "It's much more relaxed and much more organized. The team has always been organized, Colin (Hale, team manager) does a fantastic job. This year it's just a case of improving step by step. We feel that we're part of the establishment now, and you know, just want to keep doing that and expand into other projects as time allows.
"The biggest thing is that when you're in the paddock and you're mixing with people, everyone is far more friendly and amenable and do things to encourage racing to go ahead. It's a far friendlier environment.
"But when they're on-track, the racing is as fierce as in Europe. You'e seen Lights this year, IndyCar is always incredibly tough. People still behave correctly over here and enjoy the sport and then let the drivers do the fighting. The teams and mechanics and engineers shouldn't be fighting, they should be doing their job and enjoying their job.
"It is a sport at the end of the day, and we do it because we love it. We don't want to get bogged down in politics and bureaucracy."
The fact they love it in America, as well as Europe where Carlin has built a junior formula empire, is only a good sign for the team and health of North American open-wheel racing going forward.