In the opening three races of the 2016 Verizon IndyCar Series season, the respective story lines and potential championship contenders were planted.
Juan Pablo Montoya followed his near-title miss in 2015 with a decisive win at St. Petersburg for the second consecutive year, making a key pass on Simon Pagenaud before securing the win. Yet the day was more notable for who wasn't in the field, with Will Power ruled out owing to a misdiagnosis of a concussion, but still sidelined from an inner ear infection.
Scott Dixon, the defending series champion, then scored his first win of the season in IndyCar's return to Phoenix. Pagenaud was second for a second straight race and moved into the points lead; Power, in his first start of the campaign, was third.
Pagenaud, then, and his No. 22 Team Penske team outfoxed the strategic genius that is Dixon's strategist, Mike Hull, at Long Beach en route to an at-the-time slightly controversial but still very important first win for Penske that day back in April.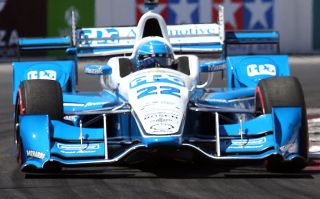 Successive wins for Pagenaud after a thrilling dice with Graham Rahal at Barber Motorsports Park and in dominant fashion at the Indianapolis Motor Speedway road course than officially solidified Pagenaud as the year's championship favorite, with the rest of his would-be rivals – Power, Dixon, Montoya, Helio Castroneves, Tony Kanaan and Josef Newgarden – forced to play catch-up from behind.
Think of them as the collective football team that's trailing by three or four touchdowns in the third quarter, needing to rally back to have a shot.
The margin between Pagenaud and Power has ebbed and flowed over the course of the year. It's been as high as 137 points after the Indy GP, when Pagenaud led while Power was just 10th in points, while it closed to as few as 20 after Pocono when Power matched Pagenaud with his fourth win of the year.
Now with the pair of drivers, friends and Team Penske teammates separated by 43 points going into Sonoma, their evolution into championship contenders this year is complete and they have one more race to determine which of the two will be crowned.
For Pagenaud, this has been his most complete season yet in five full-time campaigns since returning to IndyCar, and his seventh overall, with his 2007 Champ Car debut occurring alongside Power at Derrick Walker's Team Australia and his 2011 season a three-race bow in three successful one-off appearances.
Although he's yet to win on an oval, Pagenaud drove smartly at Phoenix, Iowa and Texas to score three top-five finishes – and the fact that those results were considered disappointments only served to indicate how far he's come on these type circuits. Indianapolis saw him hampered by mechanical gremlins; his lone in-race mistake, meanwhile, occurred at Pocono when he crashed at Turn 1. On road courses, he's been strongest, and it's where he's secured pivotal wins at Barber, GPI and most recently, Mid-Ohio. His results on street courses were mixed.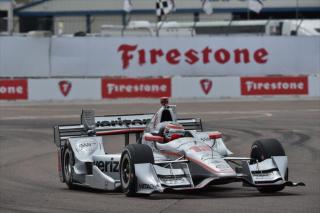 Power has evolved from the driver who struggled to close things out from 2010 to 2012 to the cagey veteran maximizing his opportunities, and has parlayed an impressive run of form since Detroit race two to even put himself in this position. His last two weeks have hurt, but the law of averages and the level of competition simply meant that his insane run of four wins and two second-place finishes from Detroit race two through Pocono was unsustainable.
Pagenaud, similarly, hit a rough patch after his own quick start this year. After banking two runner-ups and three straight wins to kick off the year, he was 13th or worse in three of his next four races, but only saw his points lead dwindle from 114 points after the Indianapolis 500 to 81 after Road America in that span. The fact he weathered that storm without a combination of Power, Dixon, or whoever else making up more points has helped him now.
All the while, their contenders fell by the wayside. Dixon, usually close to perfect, has far too many valleys than peaks. Montoya's had a nightmarish season. Brazilian veterans Castroneves and Kanaan have been their consistently good selves, but without wins, haven't quite entered the title picture. Four finishes of 21st or worse negatively balance Newgarden's four podiums out.
And none of the Hondas – whether Graham Rahal, Ryan Hunter-Reay, James Hinchcliffe or even emerging talents Carlos Munoz or Indianapolis 500 winner Alexander Rossi – has been close to a title contender this year for either poor luck, poor pace, or a combination of the two.
So it sits now going to Sonoma that Pagenaud will win his first IndyCar championship, and his third overall in North America since moving here in 2006. Or, that Power will win his second IndyCar championship and cement himself among the modern day legends of the sport with multiple titles.
For Pagenaud, this is his moment. There's only six past IndyCar champions actually on the grid – Power, Dixon, Hunter-Reay, Montoya, Kanaan and Sebastien Bourdais. Joining that exclusive list would be the culmination of all he's worked for over 10 years since winning the Formula Atlantic title as a rookie in 2006.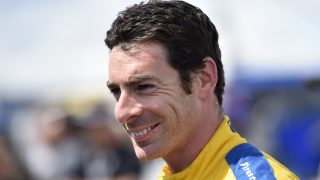 "Everyone asks if I feel pressure. But this is exactly where I want it to be," Pagenaud said during the Watkins Glen weekend. "I have a great team, great car. I've had fun. And I'm finding my teammate – who I respect a lot and is a great driver – it's going down to two races.
"The best guy is who will win. If he wins, I have to become stronger next time. If I win, I've done my job. It's down to doing the best you can from here."
Pagenaud's fourth place at Texas may serve as the seminal moment from an oval standpoint, while his pass for the win at Mid-Ohio would stand out as one from a road course one.
That decision to back out once in the middle of a four-wide moment lost him the battle in the heat of the moment, but could well end up winning the war.
"That night was about being on the edge of control all night, to have confidence and push it," Pagenaud explained. "I started last, really. There were only two cars behind me and so I went to the front on an oval, and people are like, 'Hey, here's where Pagenaud might not be so strong on an oval.'
"But I had a grin on my face when I passed Power. I've accomplished my goal, and now I even need to go more forward. I had great pit stops from my guys.
"All of that together uplifts you. You need to find a little bit more. I was finding that little bit more on the way to the four-wide situation, and there I needed to back down; it was too much. Ovals can bite you if you're not being careful and right at the limit. That's what's fun about it."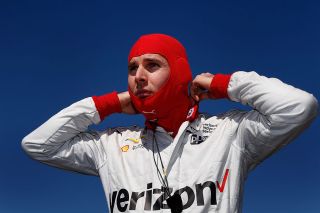 For Power, the 2016 season has been a story in resilience, and the fact he's even in this position to begin with is somewhat surprising.
His health was in doubt over the winter and he was not back to full strength until halfway through the season. He was probably in a worse position than we all realized. But now, serene, calm, and calculated, Power has let the races come to him. He's been racing differently now than he did in 2014 and if he can overcome the 43-point deficit, this way will have served him well this time around.
"You take your health and feeling good for granted… until you don't," Power said at Watkins Glen. "You have to take every moment and maximize it.
"I'm less aggressive now, actually. Driving-wise, I would say I raced differently in 2014. It's the opposite. I went for every gap in '14.
"This year, it's been a little different. You gotta remember in '14 you had a whole field of competitive cars. This year, apart from the superspeedways, you can take out Honda. The Chevy body kit is very strong on the road courses. You've almost eliminated half the field. Take Penske … but then eliminate some Chevys as well.
"It's been a different year. The same guys are winning. Simon and I have won eight races. Juan won a race. It's a different championship in that respect. '14 was different, in a lot of different ways."
And a Pagenaud vs. Power bout is a different one than in past years.
It was Montoya vs. Rahal last year before Dixon "stole" the title. Power overcame his own inner demons to beat Castroneves to his first title in 2014. Dixon edged Castroneves in 2013, with Hunter-Reay overcoming the deficit on Power in 2012.
Either one of these two will have earned it; the question now is which one will enter history for a different reason in this, a different year.