For only the second and last time in 2016, the three primary sports car series we cover on NBCSports.com – the FIA World Endurance Championship, IMSA WeatherTech SportsCar Championship and Pirelli World Challenge – are all in action on the same weekend.
This also occurred back from April 15-17, when WEC opened its season at Silverstone while both IMSA and PWC – albeit not all their classes – were on the Long Beach weekend slate.
This weekend, it's the WEC and IMSA sharing a weekend for the last time for the foreseeable future, with the last scheduled Lone Star Le Mans weekend at Circuit of The Americas in Austin. To the West at Sonoma, PWC has its second-to-last weekend of the year.
Here are quick previews to the weekends ahead.
—
FIA WEC (Saturday, Sept. 17, 5 p.m.-11 p.m. CT)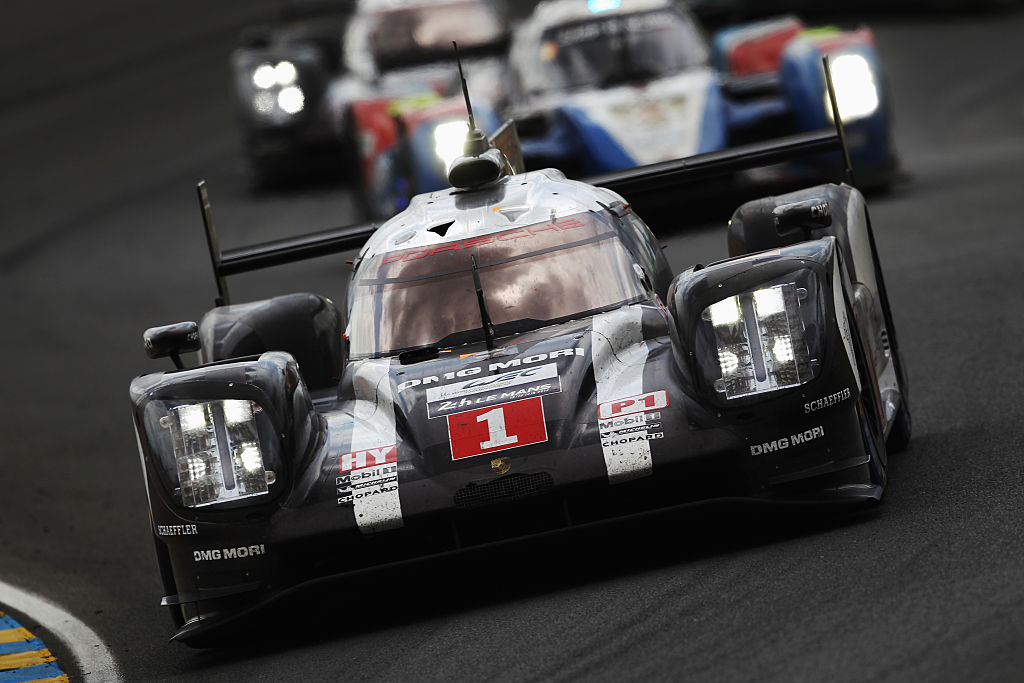 An unusually short amount of time separates the most recent FIA World Endurance Championship round in Mexico City from this weekend's round at Circuit of The Americas, which is very much a question mark for the future beyond 2016 in terms of what date it would land in 2017 provided it continues.
Anyway, just two weeks after the series headed to the high altitude of the relaunched Autodromo Hermanos Rodriguez, it's back to Austin for a race that really hasn't taken off as much as both the FIA WEC and COTA would probably like it to. The six-hour race starts in the late afternoon and goes into the night.
Porsche has four of the five LMP1 and overall triumphs this season, albeit the last two in more straightforward runs than the first two. The Romain Dumas/Marc Lieb/Neel Jani trio inherited the Silverstone win following an Audi exclusion, and the 24 Hours of Le Mans win with Toyota's heartbreaking turbo failure in the final minutes.
But defending champions Timo Bernhard, Mark Webber and Brendon Hartley have taken the updated Porsche 919 Hybrid to dominant wins in Nürburgring and Mexico City. They'll look for the three-peat this weekend, while also looking to repeat their 2015 win here.
Audi's been closer to Porsche than has Toyota in the last two races. The questions here are whether Benoit Treluyer, who's missed the last two races, and Anthony Davidson, who missed the last one, are back to full strength and can thus resume in their respective cars. The singleton Rebellion and ByKolles LMP1 privateers, as ever, press on.
In LMP2, RGR Sport grabbed an emotional second win of the year on home soil courtesy of a perfect weekend from Ricardo Gonzalez, Felipe Albuquerque and Bruno Senna in their Ligier JS P2 Nissan. They're nipping at the heels of class leaders Signatech Alpine, which has the other three class wins with the potent trio of Nicolas Lapierre, Stephane Richelmi and Gustavo Menezes in the Alpine A460 (nee Oreca 05) Nissan.
Few would begrudge a maiden FIA WEC class win for Tequila Patron ESM, with the No. 31 Ligier Nissan of Ryan Dalziel, Chris Cumming and Pipo Derani having scored four podiums in five races this year, but yet to win. Dalziel will be a busy boy Saturday as he'll be fresh off the IMSA race earlier, but will still be his usual exciting self to watch in his WEC stints – as will Derani.
Strakka Racing also seems close to the podium with three straight fourth places on the trot, and youngster Lewis Williamson impressing alongside Jonny Kane and Nick Leventis in the team's venerable Gibson 015S Nissan in his first two starts.
The pendulum swung to Aston Martin Racing, on Dunlops, at Mexico City in GTE-Pro to mean all three manufacturers in that class have now won. The venerable but updated Vantage V8 was the class of the class, while the Ferraris were second and fourth and the Fords having had a shocker of a weekend. The latter will look to bounce back on home soil and add a U.S. win to the Le Mans win; Ford, too, has the chance to pull off a daily double if they can win GT Le Mans in IMSA earlier in the day.
GTE-AM saw the trio of Patrick Long, David Heinemeier Hansson and Khaled Al Qubaisi score an overdue first win in their Porsche in Mexico. Long will be absent this week – Kevin Estre fills in – while the usual GTE-AM title combatants AF Corse with the aging Ferrari F458 Italia and Aston's GTE-AM entry, now on Michelins, will look to get back on top.
—
IMSA (Saturday, Sept. 17, 11:35 a.m.-2:15 p.m. CT)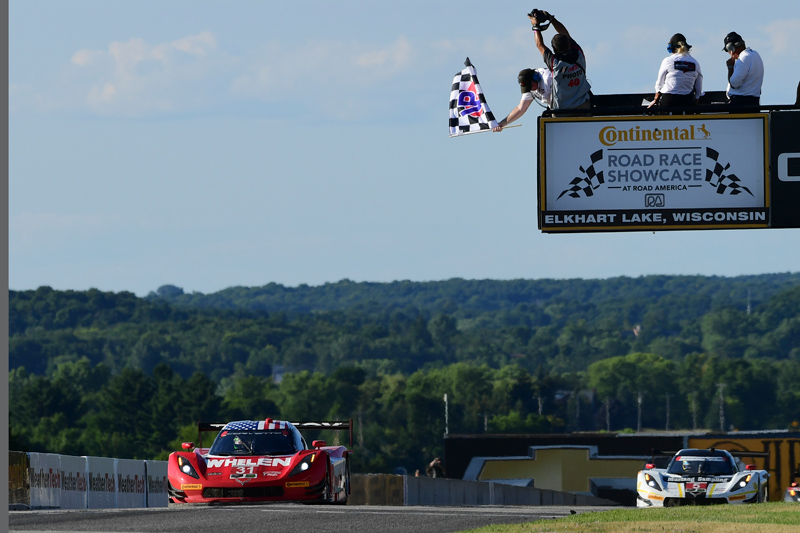 IMSA's portion of the Lone Star Le Mans is, not by choice, the undercard on the weekend as the first of two major races on Saturday. But the two-hour, 40-minute race will undoubtedly feature some interesting action with all four classes back in action for the first time in a month and a half since Road America.
In Prototype, the question will be whether anyone can topple Action Express Racing, which has three 1-2 finishes in the last three races.
The Dane Cameron and Eric Curran have won the two most recent Prototype rounds at Canadian Tire Motorsport Park and Road America and seek a three-peat this weekend, and have closed to just within XX points of teammates Christian Fittipaldi and Joao Barbosa. The Fittipaldi/Barbosa pair is in search of their third straight class title while Cameron and Curran seek their first combined, although Cameron won the GT Daytona title on his own in 2014.
With last year's winning Ganassi Riley-Ford now a museum piece, it's guaranteed there will be a new winner in Prototypes in Austin. Of the remaining class entries, both Wayne Taylor Racing and Visit Florida Racing look to snap recent dry spells, Michael Shank Racing looks to overachieve as always, Mazdas need a simple, trouble-free weekend and the DeltaWing rounds out the field at a track it won't be as competitive, as its home race at Road Atlanta.
The title battle between Starworks Motorsport and PR1/Mathiasen Motorsports figures to lead the PC storyline for the weekend, with JDC/Miller Motorsports having fallen further back and CORE autosport in too big of a hole to overcome. CORE has since withdrawn, thus ending their hopes for 2016. Remaining entries from BAR1 Motorsports and Performance Tech Motorsports complete the class, with a replacement yet to be announced for Kyle Marcelli (racing in Sonoma) alongside James French at Performance Tech.
Corvette Racing's three-race win streak has snapped the momentum of the Ford Chip Ganassi Racing Ford GTs right in their tracks. But combined, the two American manufacturer mights have won the last six races in GT Le Mans dating to Mazda Raceway Laguna Seca in May, and eight of nine overall, and are the two manufacturers with the best chance at capturing the titles.
Ferrari remains in search of its first U.S. win with the new 488 GTE, Porsche made it back on the podium at VIR but its drivers aren't making any friends, and BMW actually enters as this race's defending winner with the old Z4 GTE, won on fuel mileage. But the new M6 GTE is also yet to break through this year.
In GT Daytona, Balance of Performance, withdrawals and exclusions have dominated the headlines more than the recent on-track action. Scuderia Corsa enters the weekend with a 20-point lead courtesy of a consistent season from Christina Nielsen and Alessandro Balzan in the team's new Ferrari 488 GT3 (268-248).
Behind them there's a logjam including the Stevenson Motorsports Audi R8 LMS of Robin Liddell and Andrew Davis, the Riley Motorsports Dodge Viper GT3-R of Jeroen Bleekemolen and Ben Keating, and the The Heart of Racing Porsche 911 GT3 R of Alex Riberas and Mario Farnbacher. Only 12 points cover those three pairings. The Riley Viper is thus far undefeated at COTA in IMSA competition and Keating also won in American Le Mans Series GTC competition there in 2013, then co-driving with Damien Faulkner. Magnus Racing's exclusion from VIR has more or less ended its championship hopes.
—
PWC (2 GT, 2 GTS races apiece; 1 each on Saturday and Sunday)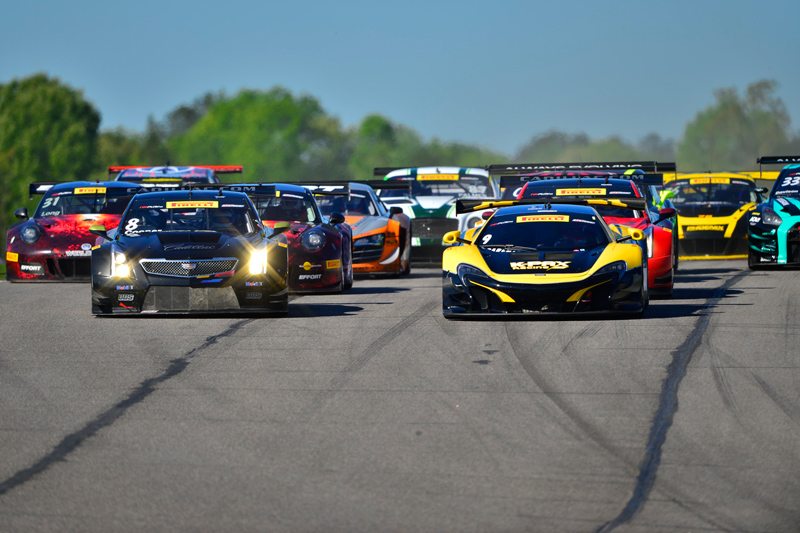 PWC has its last weekend with the Verizon IndyCar Series at Sonoma, where a future roadmap to the series' schedule of events and Sprint versus Sprint-X determination could be made.
Oh yeah, and there's title battles that are in play, too.
After winning his most recent FIA WEC start in Mexico City two weeks ago, Patrick Long will look to carry that winning momentum back in a Porsche 911 GT3 R versus the Porsche 911 RSR he co-drove to a GTE-AM class win with David Heinemeier Hansson and Khaled Al Qubaisi.
Long's the solo driver in the No. 58 Wright Motorsports Porsche in PWC, and has moved into position to capture his second series title (2011) following a weekend shakeup at Utah Motorsports Campus. He leads Alvaro Parente, driver of the No. 9 K-PAX Racing McLaren 650S GT3, by 21 points (1393-1372) heading into Sonoma this weekend.
Those two cars – a Porsche and a McLaren – split the Sonoma wins last year. But the drivers were different. Kevin Estre brought K-PAX a win last year after passing Renger van der Zande, who was filling in for Ryan Dalziel (who was at COTA) in an EFFORT Porsche.
Now, Long, who started the season with EFFORT, will look to win for the first time since his Canadian Tire Motorsport Park weekend sweep in May. Parente last won at Mid-Ohio but a nightmare weekend in Utah has dented his title hopes. Coincidentally, Estre will fill in for Long at Circuit of The Americas this weekend.
The Cadillac Racing Cadillac ATS-V.R pairing of GT rookie, but past GTS and TC champion Michael Cooper and four-time defending GT champion Johnny O'Connell, are also in with a shout and could play themselves back into title contention with a strong weekend here (1328 and 1231 points, third and fourth).
Fresno's Bryan Heitkotter heads for the first of his two home races (Sonoma and Monterey) in his No. 05 Always Evolving Nissan GT-R NISMO GT3 after sweeping the Utah weekend, and James Davison returns to the No. 33 Nissan after a mix of a one-race suspension and additional driver coaching at Utah. Davison traditionally does well at Sonoma so could surprise this weekend and bag his first 2016 win.
Others from the Acura, Porsche, McLaren and Bentley camps will look for a podium presence – particularly Parente's two young teammates at K-PAX, Austin Cindric and Colin Thompson, in K-PAX technical partner Flying Lizard Motorsports' home race.
GTA sees Martin Fuentes still leading Michael Schein and Frankie Montecalvo, but the story in this class comes with the surprise arrival of the WeatherTech-backed Porsche of Cooper MacNeil. MacNeil and Gunnar Jeannette, who runs in GT, make it two extra Porsches who will have a lot of eyeballs on them.
The Alec Udell/Sloan Urry battle in GT Cup also figures to roll on, with California native and Sonoma veteran Mike Hedlund set to play spoiler in a one-off appearance.
In GTS, Brett Sandberg (ANSA Motorsports KTM) and Lawson Aschenbach (Blackdog Speed Shop Chevrolet) are fighting for the top spot, Sandberg leading by 66 (1280-1214) points, but Aschenbach faces a tough weekend ahead.
The Florida native will be competing at both Circuit of The Americas for the IMSA race in GT Daytona in a Stevenson Motorsports Audi, while then commuting back to Sonoma for the pair of GTS races.