A year ago, SONIC Tools made its debut in North America at Circuit of The Americas, as a subsidiary of the Netherlands-based SONIC Equipment, to become Official Hand Tool Supplier of the TUDOR United SportsCar Championship.
What's now the IMSA WeatherTech SportsCar Championship owing to a name change has witnessed a big increase in SONIC Tools' presence in the year since, along with other IMSA series.
Thanks to being at track with a transporter, there's been a couple dozen teams throughout the paddock that have already shifted to SONIC Tools for their business.
We caught up with Colby McConnell, chief marketing officer for SONIC Tools USA (Stephen Hooks is the company's CEO), going into COTA this week for a catch-up on what a crazy year it's been for the Auburn, Ala.-based company since its launch.
—
MotorSportsTalk: When you reflect back on the launch last year at COTA, how important was that debut to showcase the company's product line and potential?
Colby McConnell: "When we started this venture, we were looking to make a big splash. We're a European company that at that moment, was not currently available in the U.S. So, that presented different ideas versus U.S. companies currently. We'd have to show that we're different and show an exact focus towards a genre, specifically being sports car racing. Based on the roots of the company and product line, it's all designed to be efficient. That coming along with racing made it easy… and racing became our key marketplace to come in and make an impact.
"We launched at COTA with the intention to show the race teams, dealerships and manufacturer facilities… we're here to support racing, the venture and the organizations behind them.
"Between then and now, a lot of partnerships have been formed. It was a huge impact. Teams had never seen the organization like we offered and to be able to have the product like that on site."
MST: What was the goal to get teams on board using the product? 
CM: "Our goal starting at COTA was to get a team partner at every level … CJ Wilson Racing was (Continental Tire SportsCar Challenge) ST then, and is GS now. So we could get a push through the paddock, that we could be afforded at every level, from top level programs to GS/ST to invest into it."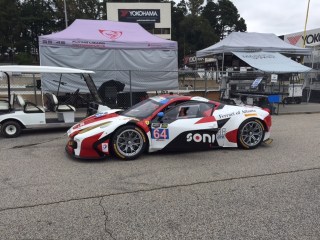 MST: What were the teams looking for (Scuderia Corsa, Wayne Taylor Racing, CJ Wilson Racing are three of the teams using SONIC Tools) when they switched?
CM: "Organization is what we they're looking for. Scuderia Corsa and CJ's teams are younger… but they're doing it well. They're all asking for same level of organization. Prototypes vs. GS cars are running 6-12 technicians… so that could be 2-4 toolboxes. The response was the same to offer the key organizational pieces."
MST: How much has the tool truck and trailer being on site helped matters?
CM: "As it started… teams really comprehended that there was a tool truck on site. If I didn't have to need or buy it… I could show up for Wednesday load-in, and get the tools for the weekend. People started out hesitant… but now we go to the track and they can't wait for the truck to open. Technicians need tools and they know they need them for the weekend.
"I would say the number of race teams… between IMSA (all its series) and some others in (Pirelli World Challenge), there's about 24 teams operating with our tools.
"Our venture with IMSA was for three years, so through the end of 2018. My goal, by end of 2018, was to have at least 50 percent of paddock using our tools.
"Having the at-track presence is key because we're a tool company. Thousands of us exist. You don't touch it, until you see it. But when you can see it, now it's like, 'We can grasp this and understand it, and that's where the light bulb goes off.' They see this; this is awesome."
MST: SONIC Tools made it to Le Mans this year with Risi Competizione. How different is the prep work going into a big international race versus a domestic race?
CM: "The basic piece that we've learned through organization with Le Mans and WEC is that you have to arrive and drive. You don't get there and say, 'Oh, I missed this.' It's completely different than U.S., where you'd go to store and get what you need.
"With Risi… what that allowed them to do was arrive and drive. We got with their crew chief… put together a parts list… so it's a case where if pliers need to be in box number four, drawer number 2, they're there. Same with a screwdriver in box number 1, drawer number 3. We worked through into their garage with a line-by-line item list. Once they arrived, the boxes were already setup, and the team knew where everything was based on internal preparation."
MST: How different is a CJ Wilson Racing proposition since they have more than just a race team?
CM: "The dynamic there… is that you have the trackside presence, the shop operation in Texas and the dealerships. You link those three and with him growing an automotive group, he's buying or building them. So he's taking everything into racing and putting it into dealerships… and he's working to become number one in the dealership network world, and for all his employees to strive to be number one, just like they have been trackside."
MST: How much do you interact with your European colleagues and co-workers?
CM: "We have constant communication about what's going on in the U.S. The U.S. as a whole is bigger than Europe, but that's on the top of our minds every day. I make at least five to six trips per year going there, strategizing, making sure we're hitting our goals, and going along the same path."
MST: The launch of the new S15 seems to have generated a lot of interest…
CM: "Yeah it launched in U.S. two months ago. This was a box we developed along with our partners in Europe in response to the "American toolbox" – your large Snap-On or Matco toolbox. This was our response, to develop a toolbox to get some hesitant buyers over to us because it'd have a similar look.
"The launch of that turned more heads towards us from a marketplace that currently doesn't focus on European cars… to more on European car guys vs American car guys. It's turned their heads to start looking at us.
"Since that release… the amount of phone calls and releases has been staggering, and we've got more inquiries from that release than we could have imagined. It's stunning actually. All the releases, all we've done… and then one new product and boom, it's 500 phone calls in a week."