The fourth season of the MotorSportsTalk original series "Ten with Townsend" – a 10-question Q&A with NBCSN IndyCar analyst Townsend Bell – is back this week following a trio of exciting races in Pocono, Texas and Watkins Glen. Pocono was rain-delayed until Monday, August 22, Texas rain-delayed from June until August 27, and Watkins Glen a replacement for the canceled Boston round.
A full archive of past posts is linked here and we thank Townsend for his time and insights.
Here's the breakdown going into Sunday's Verizon IndyCar Series season finale, the GoPro Grand Prix of Sonoma (6:30 p.m. ET, NBCSN), where the championship is set to be decided between Team Penske teammates Simon Pagenaud and Will Power.
—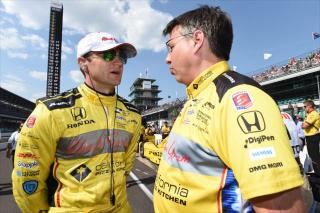 Heading into the finale, what have been some of your favorite moments of the year?
Leading the Indy 500 with a car to win the race was pretty cool. The sting still burns bright! (right)
Josef Newgarden's steely resilience after Texas was a standout moment. For him to pull off what he did at Iowa was simply breathtaking.
Rain-delayed races in Pocono and Texas and a race added in Watkins Glen have made for three fascinating races to close the year before Sonoma. What's been your biggest takeaway from these last three events?
I see two terrific parallel plots. The two championship point leaders will continue to provide great moments while the rest of the field is engaged in hand-to-hand combat for one big result. And they don't care who's in the championship hunt. Many drivers have one last chance to save their rides, careers, etc. The stakes will be very high at Sonoma.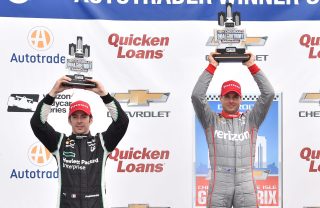 Heading into Sonoma, how does Simon Pagenaud handle the pressure of leading the points knowing how close he is to his first title?
You could hear it play out on NBC at the last race in Watkins Glen. Ben Bretzman, Pagenaud's engineer, coaching his anxious driver through the strategy required to achieve the best points day.
How different to you is 2016 Will Power vs. 2014 Will Power as now he has a title when trying to get a second this year?
Not much different. Just more confident and more relaxed having the experience of winning a championship already and understanding the dynamics in play.
Scott Dixon's Watkins Glen weekend… we never need to be reminded of his greatness but after a tough year, how much did he need that weekend?
It likely helps him sleep a little better without having to think about what 'might have been'. He's certainly had the speed at many races this season where things slipped away. If you look at the pace and mileage he achieved on the final stint, that will go down as one of the biggest smackdowns in IndyCar history in the spec car era. Right up there with Newgarden at Iowa this year!
Having been at Watkins Glen for sports car weekends in the past, how cool was it to see IndyCar back, plus going the speeds they were?
Impressive. I'm torn though on track repaving, because it eliminates a lot of the character of the patches and seams. Kind of like when they repaved Daytona a few years back. I really enjoyed watching the Cup cars bob and weave through the corners on the old surface. But I suppose, in time, both tracks will get back to the same distinctive irregularities that come with weather and age.
We've seen roughly five or six rookies (Daly, Rossi, Chilton, Pigot, Brabham) this year and now RC Enerson's had two races to debut himself. What do you make of his entry into the series thus far?
RC seems just completely unfazed by the challenge. No mistakes so far which is really hard to fathom given his circumstances. He would be a good gamble for a team looking to take the road less traveled. Worked for the Oakland Raiders on Sunday!
Who has something to prove the final race of the year at Sonoma?
Hawksworth, Sato, Montoya, Kimball, Rossi, Marco and Chilton.
The silly season chatter kicked into overdrive at Watkins Glen. How much potential movement do you think we'll get?
More than we've seen the last couple of years. I know Honda would like to see a big change in results outside of Indy. So when they get active (as Robin Miller leads us to believe) in team and driver movement….look out!
Kevin Lee's joined the booth for a couple races while Leigh Diffey will be back at Sonoma. Since you've done the pits to booth transition, how much of a challenge is that to do, and how do you think Kevin did in his first two calls?
Kevin was great. I'm not sure that Indycar fans realize that he does NFL and NCAA Basketball work outside of racing. That mainstream sports exposure is really helpful for introducing new ideas and keeping us relevant with other big sports. Stepping back and letting him fly with the play-by-play at Texas over the final 2 laps was fun- he was on the limiter! It's almost like I was right there… Oh wait..I was.
Having Leigh back at Sonoma will be exciting as well. He has such a passion for our sport along with tremendous knowledge of the drivers and their career paths.