When Charlie Kimball made his debut in the Verizon IndyCar Series in 2011, he was part of a strong rookie class that also featured James Hinchcliffe, JR Hildebrand, Ana Beatriz, Sebastian Saavedra and James Jakes.
Six years later, heading into this weekend's GoPro Grand Prix of Sonoma, Kimball is the first of that six-pack of first-timers to hit the century mark in career starts; he'll do so this weekend.
It wouldn't have been possible for Kimball to last this long – and grow the way he has over six years – if not for the combined relationship with his team, Chip Ganassi Racing, and his primary sponsor Novo Nordisk, which has become not just a sponsor but a partner for Kimball.
And over all 100 starts, Kimball has had Novo Nordisk directly or one of its highlighted brands – Tresiba has been on his No. 83 Chevrolet this year – on board the car, marking a first in North American open-wheel history where a driver has had the same sponsor with the same team for all 100 starts.
His fellow American Josef Newgarden is used as the recent poster child of what can be achieved if the combination of driver and team can stay and grow together, and no doubt Newgarden has morphed into a championship contender.
Yet Kimball's sixth season has probably been his best on the whole. Yes, he finished ninth in 2013 and won his first and thus far only race, but he was less consistent and had more peaks and valleys. This year, his qualifying is on course to be the best of his career, and with finishes between fifth and 12th in all but two of the 15 races so far, he currently sits ninth in points.
More than just a driver, Kimball has grown into a brand ambassador with Novo Nordisk, and as Kimball explained, he's grown more comfortable with time understanding his place within the greater Novo ecosystem. The narrative has shifted over six years from the Type 1 diabetic being a diabetic race driver, to Charlie Kimball, the IndyCar veteran and race winner, who happens to have diabetes.
"I don't know if the diabetes community, as the loyal fans, with their global perspectives, really understands how much they do for me," Kimball told NBC Sports. "It's a significant piece. It's pretty special."
Initially, the Novo Nordisk commitment to Kimball was just a year-to-year deal but grew into a multi-year extension as the comfort level on both fronts grew.
"The first year was hard. It was year-on-year," Kimball said. "Once there was more stability, when Novo and Chip Ganassi Racing were comfortable with running more than two cars, there became that stability, and I could take Chip's advice to learn as much as I could early on to heart.
"Getting close to 100 starts, would I like to have won more races? Yes, of course – I know I have the ability to go out and win races.
"The future for the No. 83 Tresiba Chevrolet team, especially these days with limited testing, is that it takes longer before drivers start winning consistently. There are anomalies… Josef and James, for instance… and James' comeback story was the most incredible story this year.
"But there's something to be said about age and maturity. Being 31, hitting the start mark, there's a lot I still want to achieve. And you have the tools to go out and get it."
Kimball recalled last year at Mid-Ohio when he'd finished 21st and was downcast, yet turned upbeat thanks to a young fan's curiosity.
"Last year Will (Power) comes off, ruins my race at Mid-Ohio. A couple people run into me. We end up two laps down in 21st. And I got out of the car, and was despondent is probably the only appropriate word for how I felt," Kimball said.
"I was miserable. The day started with so much promise and ended with so much disappointment.
"Then an IndyCar fan, I think named Zac, comes up to me and says, 'Too bad about Will running into me. But how's your blood sugar?' It inevitably put a smile on my face. Zac didn't care I had bad luck. I'd had a bad race. And he was more interested in how I managed my diabetes and expressed what he wanted to do in life.
"That's not something I had earlier in my career. Until the relationship with the diabetes community started, that was not something I could enjoy.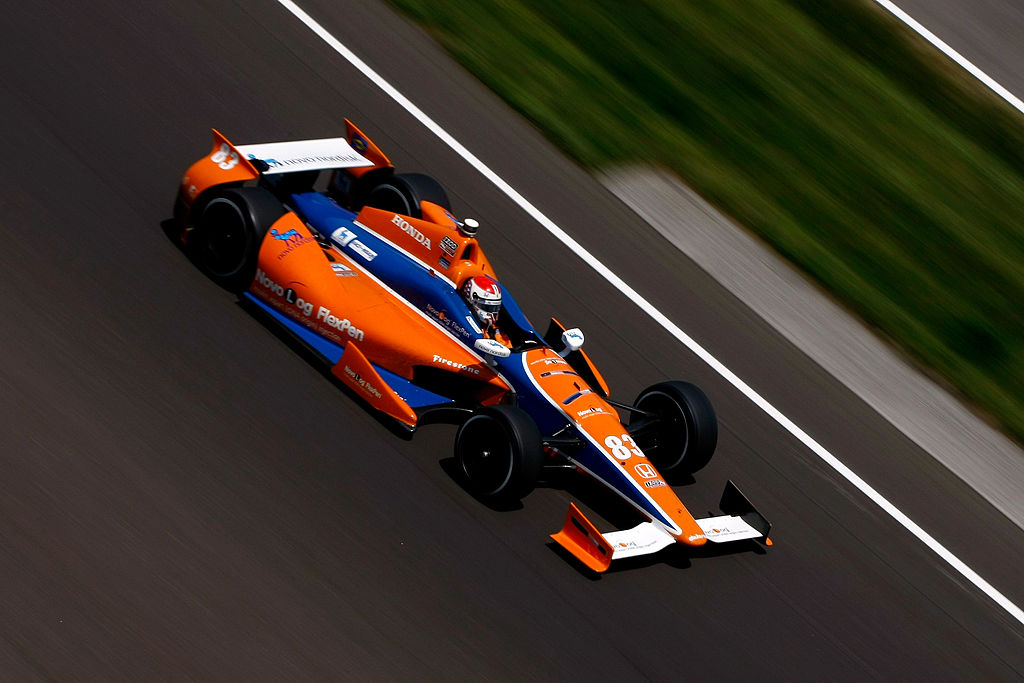 "Racing is inherently very selfish, but it remains a team sport. You can't do what you do without a team. There's only driver, one winner, one milk drinker at the (Indianapolis Motor) Speedway.
"And yet for me, good day or bad day, hero or zero – or this week, a villain – the balance the diabetes community gives me I feel throughout the year, race season or not, has strengthened me as a driver because that of balance and support."
Kimball's offseason when he isn't driving is spent doing appearances – upwards of a couple dozen over the course of the year. That makes it a busy schedule year-round, not just during the race season.
"At the moment I'm doing, for Novo Nordisk, between 25 and 40 events per year… and that's not at race weekends. That's separate standalone events. They see a lot of value in that," Kimball said.
"It really gives them a first-hand anecdote, and for me to talk directly to patients and compatriots within the community to share my story.
"Sure, there are times when you don't want to fly at 5 am to go talk and give a speech, especially in October and November when I do so many events, and I'm catching up from the season. You want to sleep or go to the gym; that's an ideal offseason day.
"But I also understand how important it is for me to go those events, share my story and help that next generation. There's experiences I've had from these moments that I never expected, considering I wear a helmet on the job."
Does Kimball feel an inspiration? That's a tougher question for him to answer, and probably something he doesn't feel as comfortable with.
"Most of the time, I'm very uncomfortable with that feeling," he admits. "Usually it happens when say a mother of someone with diabetes, their kid has it, and discovers me as a fellow Type 1 and member of the community, and what it means.
"They say how much of a better job they manage because of how I do it, and how they can live their dream because of what I do. And that is not a feeling I'm particularly comfortable with. I'm lucky to do what I love and do race cars."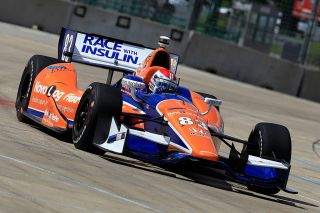 Kimball's had the stability with Novo Nordisk and Ganassi for this time period but he also understands it could all go away one day in the blink of an eye – through no fault of anyone's but perhaps with regulatory changes arising.
"It's all solid as long as I keep providing value in the relationship with me," Kimball said. "And it may not always be that way – the FDA could change marketing rules and through no choice of Novo or mine, it could all go away. I'm thankful for the confidence to go out, and to have the job the next week.
"You see it in the long-term success of Chip Ganassi Racing. Target's long tenured relationship had meant that they as a team have year-on-year stability. The mechanics aren't looking for places to go. The engineers aren't taking the first opportunity that comes along. The biggest thing with the relationship is to tell Novo Nordisk, 'Look the team isn't gonna fold up shop and disappear in middle of night.'"
But as Kimball prepares for his 100th start, and knowing Target will depart after Sunday's race, the Novo Nordisk relationship becomes the longest active relationship within the IndyCar portion of Ganassi – and it's not something Kimball takes lightly.
https://www.instagram.com/p/BKV8nJQjW8u/
"To me, it's really special. There's such a big partner, and such a big piece of getting to this point," Kimball said. "That's the insulin I've had since October 16, 2007, the day I was diagnosed. They were a great partner to me long before they knew who I was, what I did, and what I dreamed of doing. I think that's really indicative of who they are as a company.
"They talk about being a diabetes care company… and they really do care. It's impressive that in six year, I've done 100 starts, only missing the one at Mid-Ohio with the broken hand (2012, Giorgio Pantano filled in). To have done them all with Chip Ganassi Racing and Novo Nordisk as the lead partner, is pretty neat.
"The chance to work with both Chip Ganassi as a race team and Novo Nordisk, to bring that together has been really fulfilling. I've found I enjoyed the business side more than I expected to as a driver."