SONOMA, Calif. – There have been partnerships in racing, and then there have been epic, legendary, long-standing partnerships.
The partnership between Target and Chip Ganassi Racing has been just that over a period of 27 years, from 1990 through 2016. The near-inextricable link between the two of them, however, comes to an end this weekend at the GoPro Grand Prix of Sonoma (Sunday, 6:30 p.m. ET, NBCSN), on the IndyCar side once the checkered flag falls, before Target continues with Ganassi's NASCAR Sprint Cup Series program into 2017.
Humble beginnings started in 1990 for Ganassi, who'd branched off to his own team after breaking away from U.E. "Pat" Patrick the year before. Eddie Cheever was the first Target driver for Ganassi that season.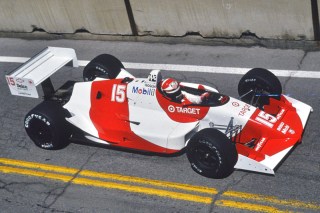 "It started with, if you go back then, that was the time I'd bought Patrick Racing. They were sort of going in one direction, I went for another," Ganassi told a pool of reporters this year at the Mid-Ohio Sports Car Course.
"I've developed some long-standing, lifelong relationships. They were so much more than a sponsor. You've seen that over the year. Arguably, my team's development is squarely on their shoulders, and maybe my own development to some extent. Like I said, my takeaway is, they're greatest sponsor ever."
And Target stuck with Ganassi through some tough early seasons. There were only two wins between 1990 and 1995 with Michael Andretti at Surfers' Paradise and Toronto in 1994, and a rotating driver lineup where Cheever, Andretti, Arie Luyendyk, Robby Gordon, Jimmy Vasser and Bryan Herta all had flashes of brilliance but no sustained success in this period of IndyCar competition.
The floodgates opened for the partnership in 1996, following a team switch to the Reynard/Honda/Firestone package in the PPG IndyCar World Series.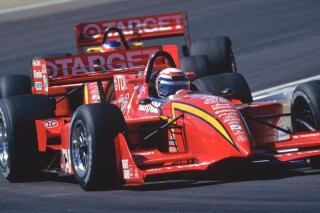 Vasser, in his second year with the team, grew into a championship contender while a then-unheralded Italian named Alex Zanardi won a shootout for the second seat, to replace Herta.
That 1996 season kicked off a period of moves that came to define Target Chip Ganassi Racing as arguably of the team of this era, the last 21 seasons, where the team has won 11 championships and four Indianapolis 500s together. Vasser's title some 20 years ago – the anniversary of which just passed – was the first title, while Zanardi's epic move on Herta at the Corkscrew at Mazda Raceway Laguna Seca came to be known as simply as "The Pass".
All the while, Target was there, and there not just from a sponsorship standpoint – but an activation one as well.
"They did as much for the sport as for the team," Ganassi said. "I think we were lucky to have those at a time when CART at the time was on an upswing. And they were squarely a part of it. They generate a lot of buzz. People still talk about those ads. Racing the motorhomes. Or going through the stores with shopping carts. Running radio control cars. We had a lot of fun with those.
"The other thing you take away from those is look at all the great things that came with them involved as part of the team. Zanardi on 'The Pass' at Laguna, Jimmy the first championship on the same day, and everything that's happened since then.
"You guys have been around a long time. There was Roger [Penske] and Carl Haas and no one else got in that door. You had to go create your own door. Target did that for us."
Tough decisions lay ahead come the turn of the century. Zanardi left for F1 after back-to-back titles in 1998; Juan Pablo Montoya took his place, then won the title a year later.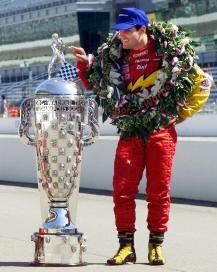 Ganassi – with Target – was first to cross the "picket line" a year later during the height of the IRL/CART split. Montoya promptly dominated the 2000 Indianapolis 500 in a car that was new to the team, while their day jobs – running a new Lola/Toyota/Firestone package in CART – brought more heartaches in terms of mechanical failures while pushing the boundaries of technology.
Where would Ganassi race? In 2002, the team split its strategy by running two – later three – full-time CART entries for Bruno Junqueira, new signing Kenny Brack and a then-21-year-old named Scott Dixon in midseason. Jeff Ward gave the team a foothold in the IRL, which was underrated at the time but important given Team Penske had switched from CART to the IRL fully that year.
Ganassi's team fully switched to the IRL a year later in 2003, and Dixon won the title. More importantly, Target followed – knowing Ganassi had run the Indianapolis 500 each of the three previous seasons but not had it as a centerpiece of their full campaign.
"No question it was hard," Ganassi said. "The time of the split, we had to make some difficult decisions. Whether it was 'breaking away to go to the Speedway in 2000. I'd like to think we were some small part of bringing the thing back together."
The success that followed from 1996 until now comes as a result of Target's dedication in the tough, early years.
Said Ganassi, "The good news was, I think I was honest and said, 'Here's what's going on, and what do we need to do better?' And they said, 'Let's go get one of these,' or whatever else we needed. That's the kind of partner they were. If you needed something, they said go get it."
The lone 'lean years' in the last 20 years came as the Toyota engine program's competitiveness waned in 2004 and 2005. While Dixon stayed, from 2003 to 2005, Ganassi went through Tomas Scheckter, Tony Renna (who never got the chance to race before being killed in testing), Darren Manning, Ryan Briscoe, Jaques Lazier and Giorgio Pantano as teammates, but none were able to provide a similar spark. Only when Dan Wheldon and Honda joined alongside Dixon in 2006 did the fortunes turn back to regular race winners and title contenders – but Target stayed throughout.
Dixon's only had one primary sponsor for Ganassi since joining the team midway through 2002. He'll go into 2017 knowing the sponsor will be different, but he wouldn't have been able to have the steady career he's had without them.
"From my view, Target and Chip worked so well together," Dixon said. "Chip alluded to the business side, but the relationships – for me, the relationships are important. I've spent a great part of my life working with Target. They've been the best sponsor. We've achieved a lot together. Some pretty crazy stats. For me, it's been a blast."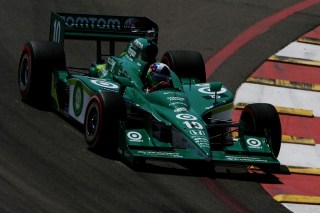 Charlie Kimball never drove a Target car but said that stability they've provided is what has helped make Ganassi the powerhouse team it is.
"You see it in the longterm success of Chip Ganassi Racing," said Kimball, who drives the No. 83 Tresiba Chevrolet. "Target's long-tenured relationship has meant that they as a team have year-on-year stability."
Although the red has been the long-standing primary color – either with white, black, or the yellow lightning bolt as the secondary color – sometimes the Target cars have gone all sorts of different colors.
That's thanks to the business relationship where companies which sold their products at Target are smaller logos on the car, and occasionally, got their own paint job (see a couple examples to the right, that Franchitti ran).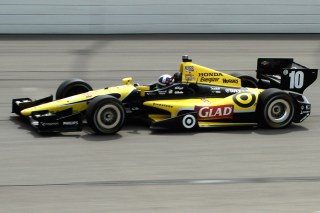 "I'd say there 30 or 40 special ones. What can we do for others? Give 'em a paint job," Ganassi said.
Overall, Ganassi said the decision for Target to leave IndyCar was a company business decision, pure and simple.
"It's a business decision Target made. I don't think there's any secret message or ulterior motive, or hidden agenda. It's not a referendum. There's no sub story here.
"They've been in 27 years, and now they want to do something else."
THE PARTICULAR STATS, 1990-2016

21 drivers (Eddie Cheever, Arie Luyendyk, Robby Gordon, Michael Andretti, Bryan Herta, Jimmy Vasser, Alex Zanardi, Juan Montoya, Bruno Junqueira, Nicolas Minassian, Memo Gidley, Jeff Ward, Kenny Brack, Scott Dixon, Tomas Scheckter, Darren Manning, Ryan Briscoe, Jaques Lazier, Dan Wheldon, Dario Franchitti, Tony Kanaan)
101 wins (2 in 1994, 7 in 1996, 6 in 1997, 10 in 1998, 8 in 1999, 5 in 2000, 1 in 2001, 4 in 2002, 3 in 2003, 1 in 2005, 4 in 2006, 6 in 2007, 8 in 2008, 10 in 2009, 6 in 2010, 6 in 2011, 3 in 2012, 4 in 2013, 3 in 2014, 3 in 2015, 2 in 2016)
11 championships (1996, Jimmy Vasser, 1997-1998, Alex Zanardi, 1999, Juan Pablo Montoya, 2003, 2008, 2013, 2015, Scott Dixon, 2009-2011, Dario Franchitti)
4 Indianapolis 500 wins (2000, Juan Pablo Montoya, 2008, Scott Dixon, 2010, 2012, Dario Franchitti)
AN ASSORTMENT OF ALTERNATE LIVERIES/PRIMARIES
Target has had a variety of alternate liveries the last several years. Here's some of the extra companies/entities that have been on Target cars as a separate, one-off primary paint scheme, via the last four primary Target drivers:
Scott Dixon: Clorox, Coca-Cola, Cottonelle, Degree, Jurassic World, Energizer, Brita, Commit, Coors Light
Tony Kanaan: Huggies, Glad, TNT, Suave for Men, Energizer, Lexar, GE Reveal
Dario Franchitti: T-Mobile, Cessna, GE Reveal, Energizer, Glad, Huggies, Belkin, Suave for Men, Lexar, Banana Boat, Cottonelle, Clorox, Downy, Kellogg's, Nikon, Dixie, Breathe Right, Air Wick, LifeLock, Vaseline MEN Lotion, Polaroid, TomTom, Nicorette
Dan Wheldon: Polaroid, FujiFilm, Nicoderm CQ
Jimmy Vasser ran a Superman livery at Michigan in 1999 but neither he nor Alex Zanardi or Juan Pablo Montoya, or really any of the 2001-2005 drivers that followed, ran too many alternate liveries.
AN ASSORTMENT OF TARGET LIVERIES, 1990-2016 (all photos courtesy Chip Ganassi Racing)