While the Verizon IndyCar Series championship battle between Simon Pagenaud and Will Power is this weekend's big story, there were several other significant storylines in Saturday's third and final practice for Sunday's GoPro Grand Prix of Sonoma at Sonoma Raceway:
* Several drivers that have had very rough seasons tried to make one last hurrah, as Marco Andretti and former series champion Juan Pablo Montoya were quickest and fastest in the 45-minute session. Andretti had a best lap time of 1:16.3052 (at 112.522 mph), while Montoya was close behind at 1:16.3756 (at 112.418 mph).
"I think we got a lot out of it this morning," Andretti told IndyCar Radio. "Hopefully, the team is hitting on something that we can carry on for next year."
* Power, a three-time winner at Sonoma, was fourth on the timing and scoring chart at 1:16.4396 (at 112.324 mph).
* Pagenaud was just a couple ticks behind Power, sixth quickest at 1:16.4557 (at 112.300 mph).
* Rounding out the rest of the top 10, Ryan Hunter-Reay was third quickest (1:16.4339/112.332), Carlos Munoz was fifth quickest (1:16.4418 at 112.321), Indianapolis 500 winner Alexander Rossi was seventh (1:16.4685/112.282), followed by Jack Hawksworth (1:16.4804/112.263), defending series champion Scott Dixon (1:16.6003/112.088) and Charlie Kimball (1:16.6253/112.052).
* With less than three minutes remaining in the session, James Hinchcliffe lost control and slammed his left front end into the wall, sustaining damage to both the front and left rear. Hinchcliffe's best effort of the session was good for 15th: 1:16.7880 at 111.814 mph.
* Just prior, with about eight minutes left in the session, Josef Newgarden in the No. 21 Fuzzy's Vodka Chevrolet lost traction coming off Turn 2 and went into the tire barrier. It appeared he suffered some damage to the left front suspension, as well as broke part of the right front wing. His car was towed away. Prior to the incident, Newgarden had recorded the 16th quickest practice lap (1:16.8624 minutes at 111.706 mph).
"I just got loose and got into the wall," Newgarden said. "I think we'll be okay for qualifying. We've got a task at hand here. This team needs a good sendoff into the off-season."
Qualifying is slated for later today at 6 p.m. ET/3 p.m. PT. This session will air as a precursor at 5 p.m. ET/2 p.m. PT.
The season-ending race will be televised live on Sunday on NBCSN at 6:30 p.m. ET/3:30 p.m. PT.
Times are below: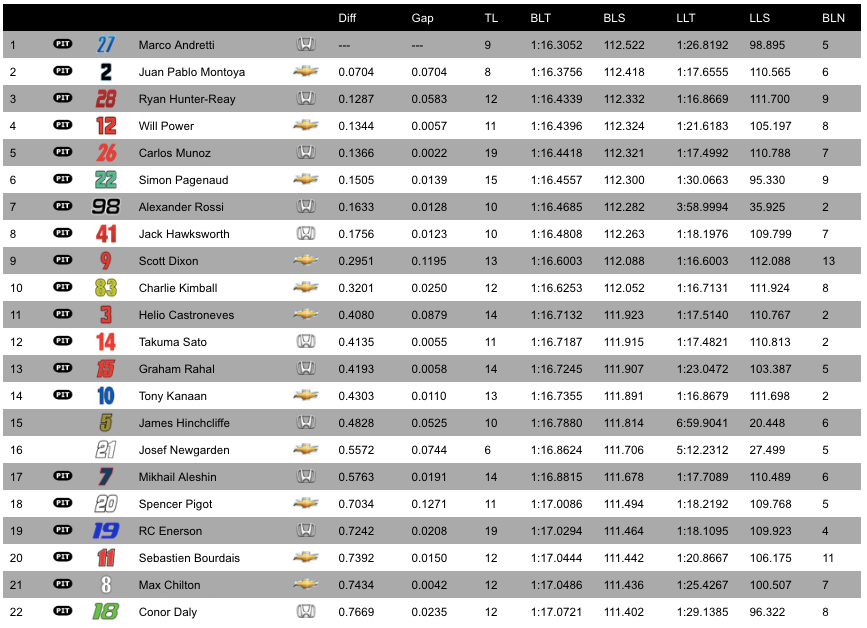 Follow @JerryBonkowski