For Scott Dixon, Saturday was a bittersweet day of sorts at Sonoma Raceway.
It officially marked the end of his one-year reign as 2015 Verizon IndyCar Series champ. A new driver – either Simon Pagenaud or Will Power – will ascend to the IndyCar champion's throne in Sunday's season-ending GoPro Grand Prix of Sonoma (6:30 p.m. ET, NBCSN).
Dixon came into Saturday's qualifying round with high hopes and expectations that he could make the Firestone Fast Six. And things were looking that way until a mechanical issue cost him a top qualifying spot by a mere .003 of a second.
"We had some major vibration," Dixon told NBCSN. "I thought I felt it on the black (tire) run and when we switched to the reds, it was really bad. I was really surprised we managed to scrape through there.
"All in all, I think in Q2 the car felt good, we've just been struggling with our grip all weekend."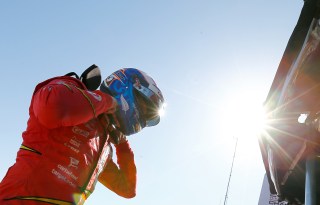 As if the vibration wasn't bad enough, the competition made things worse. Still, Dixon managed to qualify seventh for Sunday's race.
"The times were just so close," he said. "The Verizon IndyCar Series right now, the competition is just so cutthroat. We missed by a little bit: .003 of a second, which would have gotten us into the Fast Six.
"But I think in a lot of ways, I'm fairly happy where we qualified considering where we started the weekend."
Even though disappointed he didn't make it into the top 6, Dixon in a way has history on his side for yet another potential win Sunday: his three previous wins at Sonoma have come from qualifying efforts of third, fifth and ninth (last year).
Plus he also has another bit of significant incentive: Sunday will mark his final day of racing with Target sponsorship. The company announced in late July that it was ending its IndyCar sponsorship, which began in 1990, after 27 seasons.
Follow @JerryBonkowski