"Fast Jack" Beckman came into this weekend's AAA Insurance Midwest Nationals at Gateway Motorsports Park in a big predicament.
He didn't live up to his colorful nickname during last week's Carolina Nationals, the opening race of the six-race Countdown to the Championship.
Beckman was actually more like "Slow Jack," as he failed to advance past the first round at Carolina in last Sunday's eliminations.
He also failed to advance past the first round in the final pre-Countdown qualifying race, the U.S. Nationals, which he won last season.
All those things combined have put even more pressure on Beckman. He left Charlotte eighth in the 10-driver Funny Car Countdown standings.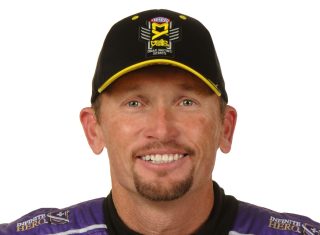 Being scored 110 points behind Funny Car points leader Ron Capps, Beckman had his work cut out for him heading into this weekend's race at Gateway, in Madison, Illinois, just across the Mississippi River from St. Louis.
And as he has done numerous times in his career, when the pressure was on him, Beckman responded, qualifying No. 2 on Saturday for Sunday's eliminations.
Robert Hight earned the No. 1 qualifier position (3.893 seconds at 328.38 mph), but Beckman wasn't far behind (3.907 seconds at 325.22 mph).
That's a big start for Beckman, who won at Gateway in 2012 and ended up second in last year's championship battle that was won by fellow veteran Del Worsham. Beckman will face Dale Creasy Jr. in the first round of eliminations.
Last season, Beckman won seven races in the 24-race NHRA national event schedule. This season has been much different, as he has just one win (Chicago in July).
But that doesn't mean he still can't win each of the five remaining Countdown races – which obviously would go a long way towards earning him his second career Funny Car championship (and in five seasons).
Beckman isn't panicking after Charlotte. He's finished first, third and second in three of the last four seasons. He knows he and his Infinite Hero Dodge Charger have the capability to make a serious championship run.
In addition to hoping he wins Sunday, Beckman is defending champion of next week's Dodge Nationals at Maple Grove (Pa.) Raceway.
"Since you can't control how the leading cars do, really the goal is simple: you just need to win the race," Beckman said in a media release. "At some point we have to win the race if we have a chance.
"There's not any other path to a championship. We lost ground we couldn't afford to lose (at Charlotte) and we can't afford to lose any more ground. I don't see those teams not continuing to perform well and the only way we win the championship is to outperform them. It's imperative we get back to our capabilities."
A major change for Saturday's qualifying effort paid off handsomely with his No. 2 spot for Sunday – although admittedly it was a gamble of sorts for Beckman and crew chief Jimmy Prock.
"We're still running a five-disc clutch and we have one disc on there that when it works it's great and when it doesn't it smokes the tires instantly and becomes too aggressive," Beckman said. "We're going to take that one out and take our chances with a brand new disc. We're taking a calculated risk but I think it's the only choice we have.
"We have to take baby steps but we have to take them quickly or we run out of races. Before we can go quick consistently we have to get back our predictability and we have to do that by the end of (this weekend's race at) St. Louis.
"All we can control right now is our lane. Because we're running out of rounds, every single pass becomes more important. But if you dwell on that, there's a high likelihood you're not going to do as well as you want.
"As the season winds down, the pressure goes up, but if you let it affect you, you're not going to be at your best. The only thing you can do is take a positive mindset every time you go up there."
Follow @JerryBonkowski