There's been a lot of good points of pride for Mazda in its 2016 season across its usual wide range and spectrum of motorsports.
The last month or so has featured that spectrum in motion, whether in open-wheel, in sports cars, with the new Global Mazda MX-5 Cup Invitational at its "spiritual home" of Mazda Raceway Laguna Seca in Monterey, or in club racing as was witnessed this weekend at the SCCA National Championship Runoffs.
It's probably easiest to break it down with John Doonan, director of motorsports, Mazda North American Operations, as the month of September draws to a close and October beckons.
Mazda Road to Indy presented by Cooper Tires done for 2016
Fuller breakouts on each of the three Mazda Road to Indy presented by Cooper Tires series – Indy Lights, Pro Mazda and USF2000 – will follow in the coming days on MotorSportsTalk.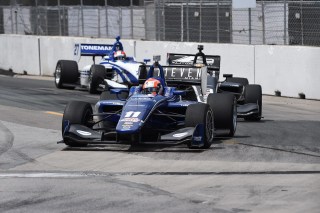 Admittedly there were some challenges peppered throughout the campaign. A number of niggling mechanical woes popped up to various competitors at various times in Indy Lights; the Pro Mazda car count was low as that series prepares for its car transition while USF2000 staged a typically hard fought battle at the front of the field in the final year of running for the venerable Van Diemen chassis with the tried-and-true Elite-built Mazda engine in the back, before the new Tatuus USF-17 chassis comes online in 2017.
Three solid champions were crowned in the form of Ed Jones (Indy Lights), Aaron Telitz (Pro Mazda) and Anthony Martin  (USF2000) and the three take home a combined more than $2 million in the form Mazda Advancement scholarship support.
"Each one takes on its own personality," Doonan told NBC Sports. "Clearly, we saw some challenges in Pro Mazda just based on field size. The competition was outstanding, certainly in the top seven, eight cars. We tried to address those things. With the announcement in July of added incentives for the 2017 prize package, we're hoping to see an increased car count throughout the season.
"For me, that all the championships came down to literally the last race – not the last race weekend, but the last race – what more could you ask for to give all these drivers the opportunities to test their skills and compete, but be under pressure.
"This particular program gives drivers the chance to work and hone their public relations skills, their fitness, their engineering relationship with their team and engineers, and obviously some big events with big crowds. The added pressure is what this is all about, for these races to come down literally to the last race itself and in some cases, the last lap, is pretty incredible. We're thrilled to be part of this. We can't wait for the new USF-17. We can't wait to see what the competition is like in Pro Mazda and see what Pro Mazda drivers from this year jump up to Indy Lights."
The Mazda Road to Indy will also stage the annual Chris Griffis Memorial Mazda Road to Indy test at the Indianapolis Motor Speedway road course from Oct. 7-9, which provides a first glimpse at who could be driving where in 2017.
Sports cars – Going for one IMSA title and in search of elusive first win
The tried-and-true Mazda MX-5 looks poised to capture its second straight Continental Tire SportsCar Challenge championship if Stevan McAleer and Chad McCumbee can bring home the bacon for a second different team in ST. They won last year for CJ Wilson Racing and now look to deliver for Freedom Autosport; they're up by eight points on second place and 10 on third going into the Road Atlanta this week.
How they're even in this position is remarkable itself given at Circuit of The Americas a couple weeks ago, fourth gear and ABS failed on the team's No. 25 car, before teamwork came in the form of support from the team's sister car driven by U.S. Marine Staff Sgt. Liam Dwyer (pictured right) and Andrew Carbonell.
"I was trying to roll as much entry speed as I could, more than anyone would normally use," said McAleer. "I knew I had Andrew to push me out of the corners."
"I was there to push him to get him up to speed," said Carbonell. But it wasn't easy. "It was a fine, fine balance. I also had to keep my car cool. As hot as it was at COTA, we were seeing some extreme temperatures. I was doing everything I could to manage his time loss, our engine heating and the championship points. It would have been bad to have his car lose a gearbox and my car blows a motor!"
You can read the full story here.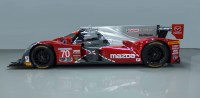 On the team's Prototype side of the program in the IMSA WeatherTech SportsCar Championship, the most promise shown in three years has failed to produce that elusive first win, with particularly strong chances lost at Mazda Raceway, Watkins Glen, Canadian Tire Motorsport Park and Road America. The No. 55 car of Jonathan Bomarito and Tristan Nunez has three poles and one podium; the No. 70 car of Joel Miller and Tom Long has a best finish of fourth on three occasions. A win would be a nice way to finish off the potential the car, and team, have shown all year.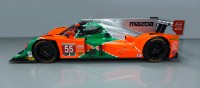 The team celebrated its 25th anniversary of its 1991 overall win at the 24 Hours of Le Mans this year, the first and thus far only Japanese manufacturer to do so (Toyota came tantalizingly close this year to matching that, but Mazda offered nothing but support for them and commiserations thereafter).
The Mazda Prototype Lites presented by Cooper Tires will crown its champion at Road Atlanta next week in the form of one of two JDC Motorsports drivers, Austin Versteeg or Clark Toppe.
There's also titles to be won in the Pirelli World Challenge Touring Car classes; those titles will be decided at, you guessed it, Mazda Raceway the weekend of Oct. 7-9.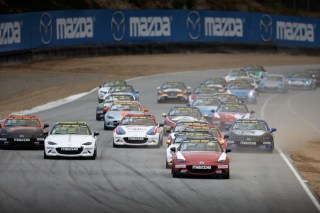 Global Mazda MX-5 Cup Invitational debuts to great acclaim
Part of the "Soul Red Finale" weekend at Mazda Raceway two weeks ago was the debut of the inaugural Global Mazda MX-5 Cup Invitational, which brought a mix of U.S. drivers from the Battery Tender Mazda MX-5 Cup presented by BFGoodrich Tires and international aces from around the world in the new Global MX-5 Cup car, which debuted this year.
Three U.S. drivers ended 1-2-3 with Sick Sideways Racing and MX-5 Cup points leader Nathanial Sparks taking the global championship over teammate John Dean II with Robby Foley in third. Moritz Kranz and Yuui Tsutsumi were the two highest finishing international drivers in fourth and fifth. Foley won the first race under yellow while Sparks took the second.
This was the pinnacle in a huge debut year for the new Global MX-5 Cup car, with over 100 of the new car ordered in the U.S., announced back in June.
Doonan said of the new car's success and the inaugural MX-5 weekend, "Yeah, it's amazing. Fifty cars was what we thought was legitimate, with a $53,000 cost and 50 cars was kind of the target we thought we'd sell. But as of (Monday, Sept. 12), it's been 116 cars in less than 12 months.
"So, we're really excited about that and based upon the Global Invitational, a lot of regions around the world are starting to take notice of that and we're hoping they can establish a series like we've had here in the States for the last 10-15 years, and eventually get to a place where there's a Mazda MX-5 Cup running globally in all these different countries and we do come together for a true global finale. This weekend was an exercise to show all our colleagues around the world that this is what it'd be like when we get a real finale together."
Club racing success in SCCA and NASA
There were five Mazda-powered SCCA National Runoffs Champions this year:
Matt Reynolds, Boerne, Texas – E Production Mazda MX-5 Miata
Justin Hille, Ypsilanti, Michigan – Spec Miata
Matthew Machiko, Wexford, Pennsylvania – Formula Mazda
Ryan Norman, Aurora, Ohio, Formula Atlantic Swift 016a Mazda
Stacy Wilson, Englewood, Tennessee – GT3 Mazda RX-7
And also five Mazda-powered NASA Eastern States Champions:
Tyler Kicera, Mount Gretna, Pennsylvania – Spec Miata
Matt Rivard, Kansas City, Missouri – NP01 Mazda MZR
Dillon Dexter, Central City, Nebraska – PTD Mazda MX-5 Miata
Warren Dexter, Central City, Nebraska – PTE Mazda MX-5 Miata
Mark Burt, Deland, Florida – ST3 Mazda RX-7
One of Mazda's major lines of note is that more Mazdas are road raced anywhere on a given weekend than any other brand and the success for those drivers, among others, is proof of that.
Doonan said, "Thanks to all of our Mazda Motorsports family members who competed at Mid-Ohio and Watkins Glen and congratulations to our latest class of Mazda-powered club racing champions. I can't wait to see if one of these champions moves on in winning the Mazda Road to 24 or Mazda Road to Indy Shootout."
On the whole: Doing a lot with a small family
I'm not entirely sure there's only one John Doonan given the breadth and reach of involvement Mazda Motorsports has throughout the country. But pinning what I think is the lone Doonan down makes it apparent that it is about the team he has in play, to be able to pull all of this off.
"It's not easy. We do have a very small staff," Doonan admitted. "I think the critical element in all this is to stay the course of the strategy, but also to continuously improve. We're constantly meeting and talking about what we can do better and what the industry is doing and what we need to be doing.
"But I think it's staying laser-focused on what our goals are, and that is a solid foundation of grassroots racing, a driver development program both on the open-wheel side both with the Mazda Road To Indy and the closed-wheel side with Mazda Road to 24, with the pinnacle peak of the pyramid being our top global sports car program.
"And as a sports car program, that's where the heart of our entire brand is. And to have drivers who have come through the Mazda Road to Indy or the Mazda Road to 24 are the foundational drivers of that program, or bringing Spencer (Pigot) in for endurance races. I'm pretty certain in that room tonight here at the banquet that there's another endurance driver, as well.
"I'm really proud of where we are – and looking for a nap in the off-season for both myself and my staff."