Some men follow in their father's footsteps.
Hector Arana Jr., however, followed in his father's tire tracks.
That's as a full-time competitor in the NHRA's Pro Stock Motorcycle ranks.
Hector Arana – Junior's father – won the 2009 PSM championship and both have been consistent entrants in the NHRA Countdown to the Championship, as well as racing down dragstrips from New Jersey to California at nearly 200 mph.
The senior Arana is in his eighth straight Countdown, while his son is in his sixth straight playoff. As the NHRA circuit moves into Maple Grove Raceway near Reading, Pa., this weekend for the Dodge Nationals, father and son are both looking to making some significant jump upward in the standings.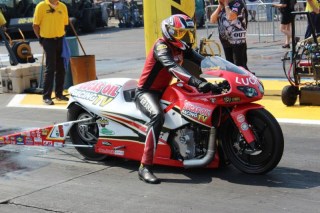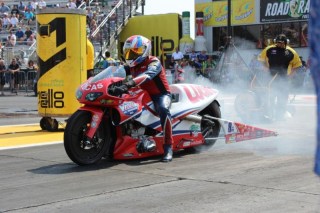 Hector Jr., 27, is seventh in the standings, 145 points behind points leader and defending series champion Andrew Hines. The younger Arana has finished in the top five in each of the last four Countdowns: fourth in both 2012 and 2013, third in 2014 and fifth in 2015.
The elder Arana, who turned 58 on Sept. 17, is right behind his son in the point standings, in eighth place, 153 points behind Hines.
Son leads father in overall wins on the two-wheel circuit, 11 to seven. But they're also each other's biggest cheerleaders and work on each other's bikes to make them as quick and fast as they possibly can be.
Both are big fans of Maple Grove and are looking forward to returning there this weekend.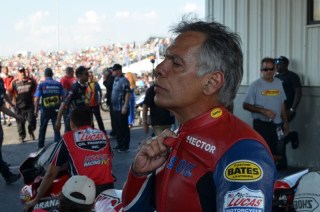 "It's important for both of us to do well in the playoffs," father Hector said in a media release. "I'm liking our chances. Both bikes are running well and we feel like we have the ability to win any of the races we enter.
"I've been around a long time, and I don't think it's ever been tougher than it is right now in this class, but that makes it more challenging and more satisfying when you do well. Hopefully this weekend is a big one for us."
Not only does Hector Jr. get his racing genes from his father, he also shares in the Arana family patriarch's optimism about this weekend.
"If weather conditions are just right, we could see national records this weekend," said the younger Arana, who won at Reading in 2011. "We would really like to be in the mix to run those kinds of numbers. We have the power to do it; we just need to put it all together the right way.
"We've had a decent year and even got to the final round at Indy earlier this month but we want more. Reading would be a great place to win. I know I'd be happy to get it done."
Follow @JerryBonkowski