BRASELTON, Ga. – The man who helped save professional sports car racing in North America, Dr. Don Panoz, then shook it up in an even bigger way in 2012.
The DeltaWing was born of a desire to create a car with half the weight, half the horsepower and half the fuel load, but still be ridiculously efficient in terms of aerodynamics and downforce.
It would premiere to massive media attention and critical acclaim at the 2012 24 Hours of Le Mans as a Garage 56 entrant, and Panoz's vision was achieved with the help of a number of key partners. Dan Gurney's All American Racers, Ben Bowlby, Michelin, Nissan and Highcroft Racing were the five entities most frequently connected with the car when it ran as the experimental entry at both that year's Le Mans and then Petit Le Mans in the fall.
It nearly died on the vine as a project, however, after taking that checkered flag at Road Atlanta in an incredible fifth place overall, having made fewer pit stops than the competition, and thus proving its point.
A tortuous road followed as the difference in future direction was revealed between Panoz and the partners, and throughout the winter there was a question if the DeltaWing would live on.
Indeed it did, as nearly an entirely new team was born over that winter.
There was new tires in the form of Bridgestone – adopted from the molds made when the DeltaWing was an IndyCar idea, then rejected by that series' "ICONIC committee" in 2010 when discussing ideas for a new car. The engine was the 4-cylinder Élan turbo, based off an MZR-R block but with almost no Mazda content in it.
There was a new crew, with staff taken from some other Atlanta-region teams, and veteran team manager David Price brought back for another tour of duty in Braselton. The livery changed; it went from sinister black to chrome and red, and the driver lineup changed once more as well. The team even took a flier on a PR rep that had exactly one race experience in that department… and to this day I don't know why Dr. P thought I was the right person for the job, but I'm eternally grateful he did. Even if it was only a two-race stint.
The DeltaWing didn't fit, but then again, that was the point. The car ran in the American Le Mans Series' LMP1 class in 2013 even though it wasn't homologated for anything, but it was better than LMP2, where it ran closer on lap times to at Le Mans the previous year.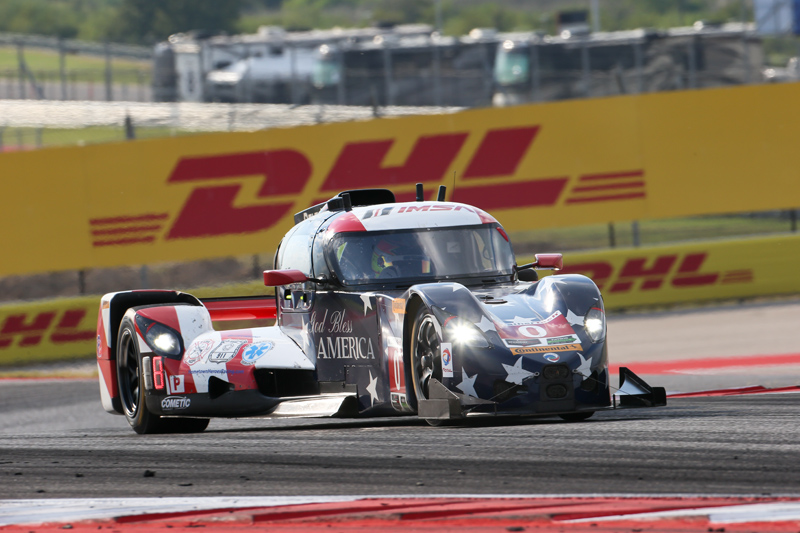 The four years since have proven that while the DeltaWing may not have had the outright pace to contend on an every-week basis, it's had that spirit of innovation that has fueled Panoz throughout his motorsports career, and it's had a fan following that's been fervent at nearly every race it runs. It's polarizing, which is probably its best asset.
Panoz's 20 years in motorsports since the late 1990s have featured a run of abnormal cars, from the first hybrid dubbed "Sparky," the stealthy GTR-1, the Panoz LMP1 Roadster with the engine in front, the successful but still off-beat Esperante GT2 (which won Le Mans 10 years ago), to the stillborn, unclassified Abruzzi that disappeared after just two starts. And for good measure, he founded the American Le Mans Series on its own in 1999… after only several months of planning and preparation.
But the DeltaWing has lived on for four years, scoring a number of podiums and leading a number of laps along the way. More importantly, as a true prototype, it may be the last of its era as regulations further define sports car racing and outside-the-box creations rarely last.
The failed Nissan LMP1 experiment of 2015 – despite its crews' best efforts – shows just how difficult it is to make something completely new "go."
Andy Meyrick and Katherine Legge have served as the primary drivers for the DeltaWing since its 2013 evolution away from the original drivers and crew. Legge has been full-time since her debut at Mazda Raceway Laguna Seca, which was a race the pair and car podiumed for the first time. Meyrick started a race earlier, at the season-opening Mobil 1 Twelve Hours of Sebring, and ran full-time in 2013 and 2014 while running the endurance races last year and this year.
Memo Rojas (2015) and Sean Rayhall (2016) have been the other full-season drivers, and the list of other drivers who've driven it, or were scheduled to, is listed below.
Satoshi Motoyama's exploits to try to fix the car at Le Mans in 2012 after it broke made him a cult hero, and the team's rebuild following an accident in practice with a GT Cup car at the 2012 Petit Le Mans was also a memorable moment from that first year.
Marino Franchitti (2012 24 Hours of Le Mans)
Satoshi Motoyama (2012 24 Hours of Le Mans)
Michael Krumm (2012 24 Hours of Le Mans)
Gunnar Jeannette (2012 Petit Le Mans)
Lucas Ordonez (2012 Petit Le Mans)
Johnny O'Connell (2012 and 2013, both spyder iterations, testing only)
Olivier Pla (2013 12 Hours of Sebring)
Alexander Rossi (2014 24 Hours of Daytona)
Gabby Chaves (2014, 2015, 2016 endurance races)
Andreas Wirth (2016 24 Hours of Daytona)
At an event Wednesday night at the Panoz Museum, Panoz admitted that the last thing he's doing is slowing down.
He just launched a new street car – the Panoz Esperante Avezzano, or Avezzano for short – which has a special connection for Panoz.
Panoz's grandfather's wife was killed in the 1915 Avezzano earthquake, which killed more than 30,000 people. A new woman that met Panoz's grandfather to take care of the two children at the time got married to his grandfather, and the rest, as they say, is history. Because that's Panoz's grandmother.
"Without that earthquake… without that woman to take care of the kids, I would not be here, you would not be here, and the Panoz name would not be here," Dr. P said last night.
And, true to form, Panoz had another surprise up his sleeve.
A surprise announcement occurred Wednesday night when Panoz caught many in the room off guard by announcing the DeltaWing will run at the Rolex 24 at Daytona next year.
The car doesn't comply with the upcoming 2017 Daytona Prototype international (DPi) regulations, but that hasn't stopped the car before, and its outright speed at Daytona has been on display early each of the last two years before retirements.
It makes that race a one-race extra signoff, for the visionary who continues to amaze depending on the day or situation.