Formula 1 has a rich history of 'like father, like son' stories. Whether it be Graham and Damon Hill, Gilles and Jacques Villeneuve, Mario and Michael Andretti, Keke and Nico Rosberg, Jan and Kevin Magnussen or – most recently – Jos and Max Verstappen, many a young racer has gone on to emulate his father by competing at the pinnacle of motorsport.
One of F1's future second-generation stars would be following his father's footsteps in a slightly different fashion, though.
Adrian Newey has been one of the sport's most influential figures as an aerodynamicist and engineer over the past 30 years, most recently masterminding Red Bull's run of four straight drivers' and constructors' championships between 2010 and 2013.
Now, his son Harrison is aiming to make it to F1, currently racing in F3 as one of Britain's young talents forging a path up the junior ladder.
Newey Jr., 18, followed the normal path for aspiring racers, plying his trade in go-karts before making the step up to single-seaters full-time in 2015. A successful campaign in the British BRDC F4 series that saw him finish second in the championship led to a move into the highly competitive FIA Formula 3 European Championship for 2016, a series that has produced many of F1's recent newcomers including Verstappen, Esteban Ocon and Roberto Merhi, as well as other notable names including Raffaele Marciello, Felix Rosenqvist and current leader Lance Stroll.
Newey scored points on debut at Paul Ricard earlier in the year, and has a best finish of sixth place from Spa to his name so far in his maiden season in the series with Van Amersfoort Racing. The young Briton is back out on-track this weekend at Imola for the penultimate round of the season.
Between his busy schedule, we managed to catch up with Newey to discuss his season and career so far, his hopes for the future and the battle to become a racer in his own right, not just 'Adrian Newey's son'.
—
Harrison, looking back on your season so far and the step up to F3 from F4, how have you found it? Happy with how things have gone so far this season?
Harrison Newey: Yeah. We were reasonably well-prepared coming into the season with testing and everything and working with the team. I knew them from F4 last year so I'd settled in already. Then I think from the first round it kind of went very well, and then it kind of went downhill a bit, and then started to get better again. So it's just been a bit of an up-down season so far. But I've been reasonably happy with how it's gone. Would like for it to have gone slightly better in the middle of the season, but Spa was quite good. Nice to get back up there, so relatively happy again.
So is this season mainly about adjusting to F3 after stepping up from F4?
HN: Yes for sure. I think not only is it the car getting faster and stepping up there, but it's a huge step up in the competitiveness and the drivers that you're racing against.
Looking through the rest of the season, what hopes do you have? I'm guessing more points finishes, a top five, a podium if possible?
HN: I'd just like to get some solid points, solid top 10s, and be quite consistent with that to be honest.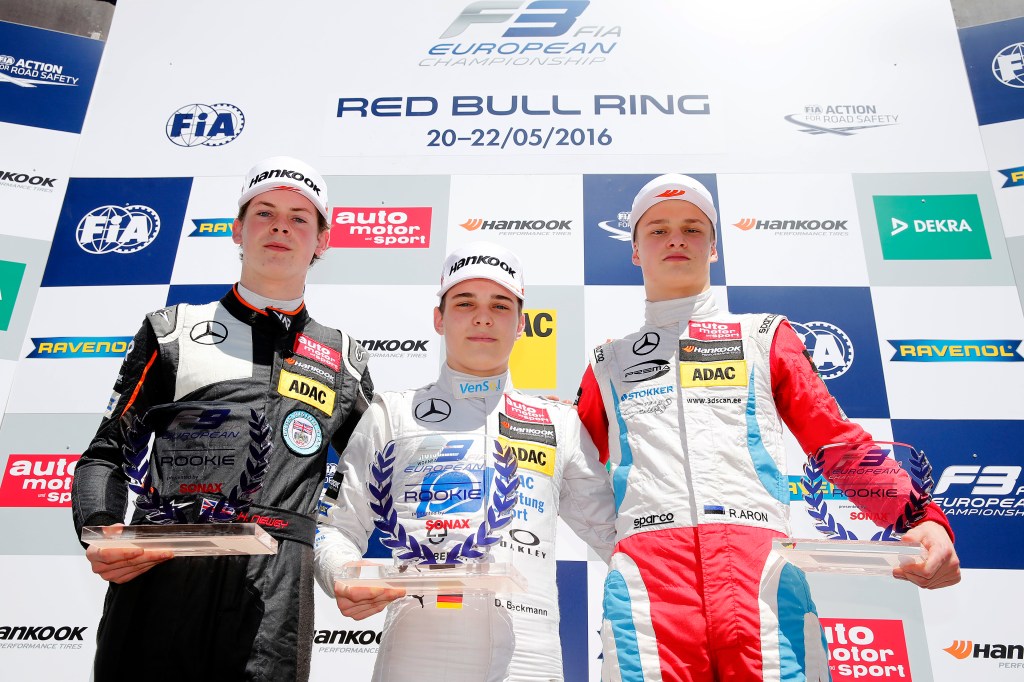 Has the step up from F4 to F3 gone as you expected? We know the FIA has done a lot to re-rung the junior ladder and get young drivers on this path towards F1. Is it working for you? Have you noticed a natural progression and a comfortable step up?
HN: I'd say it was a very big step. I think that F4 to F3 is a very big step. I think that's why a lot of people go and do Formula Renault 2.0, because it's more of a sensible step to go to Renault and from Renault to F3, not only in the cars but also the competitiveness of the drivers because some of the people have done F3 for three years, and I'm only in my second season of racing overall. So if you go into your first season and do well in F4, which thankfully I did and finished my first championship in BRDC F4, then for me the logical option was to go to F3 because we've done very well here. We're not going to do another year of F4 and I've never really wanted to do Renault, I was never that interested in doing Renault, so from that point of view, I thought I've got to do F3. But in some cases I think I was underprepared coming into the season, and it was a big step. But at the same time I think the big step meant that I've learned a huge amount and if you can get over the fact that the performance hasn't been amazing but hasn't been bad, then the amount I've learned has been huge compared to if I did Renault or another season of F4.
So do you think you'll feel ready to fight for race wins, maybe even a championship next season?
HN: Yeah I think so. I think I'll be fighting for podiums or race wins next year.
Will you be looking to remain in F3 next year or maybe make a move into GP3?
HN: No, I think I'll remain in F3.
And then presuming that the FIA does get F2 sorted in the next two-to-three years, would you maybe look at that as being the natural progression, and then hopefully F1?
HN: Yeah I think I would do it. Obviously it depends on how I perform in the next couple of years and next year in F3, and then looking at where to go from there. But I think yeah, if the performances are good and F2 gets running well and the grid is strong, then it's definitely an option.
Are superlicense points something that is already on your mind? The FIA changed the system a couple of years ago, but is it something you consider even at an early stage when picking which championship to race in?
HN: I don't really think so to be honest, it hasn't really come into it that much. I think the top three in the GP2 championship, you get enough points for a superlicense. At that stage if you're outside of the top three in GP2, the chances of getting a Formula 1 drive anyway are so slim, so you don't really have to be concerned about it. Then because of that it hasn't really come into my mind. The chances are tiny if you win the championship.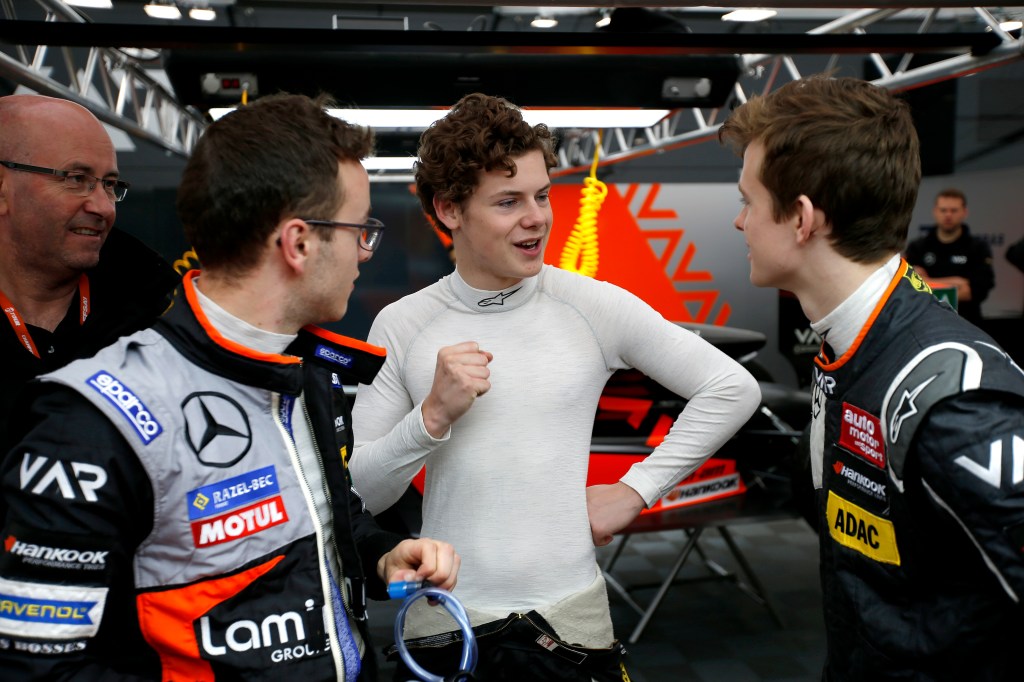 So would a championship like Formula E be made attractive by the extra superlicense points on offer? It's now equivalent in weighting to IndyCar and WEC.
HN: I don't really think so. I don't think it comes in that much. If you've gone down that route of doing Formula E and you win the championship, if you look at the age of most of the drivers, at that stage, I don't think it's going to make so much difference because the difference between a Formula E car and a Formula 1 car are unbelievable. A Formula E car is about as slow as an F4 car, so winning that championship doesn't then boost you into Formula 1 I don't think. It doesn't make it more attractive. I think what's attractive about Formula E is the new technology, they're quite interesting cars to drive. That's more the future. I think some people who are interested in the future are interested in driving in Formula E.
Is it something that might interest you down the line?
HN: Yeah it could do I think. If I got an interesting proposal, then obviously I'd be open to anything. At the moment I think Formula 1 is still my focus, so I'll focus on that, but I wouldn't discount Formula E.
You said how F1 is the focus and where you want to end up, but what other career goals do you have? Would doing sportscars and Le Mans something you want to do one day?
HN: Yeah Le Mans is something I would definitely like to do someday, for sure. No matter where I am, I think it's such a good race. From my point of view it's just one of those things that is part of racing.
Going back to working your way up the ladder: do you think there is any extra pressure now on young drivers after how Max Verstappen made this huge step up from F3 to F1?
HN: From my point of view, I don't think there is. I think some people do view it as huge pressure that they've got to get to Formula 1 very young. I think he's just obviously hugely talented and worked very hard at it. He's been doing so much testing that although he jumped straight up, he was so well prepared compared to 99% of the other drivers. I think for me it's not applied extra pressure, but I think some people do feel that it's extra pressure.
Obviously your dad has played such a huge role in the past 30 years of Formula 1. What kind of influence has that had on you and getting involved in racing? I'm guessing you've grown up being surrounded by racing and in this world already.
HN: I was always in the world, and I think if you look at people watching football, they always want to be footballers when they're younger. From my point of view it was always watching Formula 1. In my mind I always wanted to be a Formula 1 driver. And then it kind of went from there. My dad knew what to do with that, and if I really wanted to do it then he would help me. It came to a point where I really wanted to do it and he stepped forward and helped me. But beyond that, I don't think it's been too much of an influence because it's very different. Although it's in the same sport, it's a very different discipline: he's an engineer and an aerodynamicist, not a driver.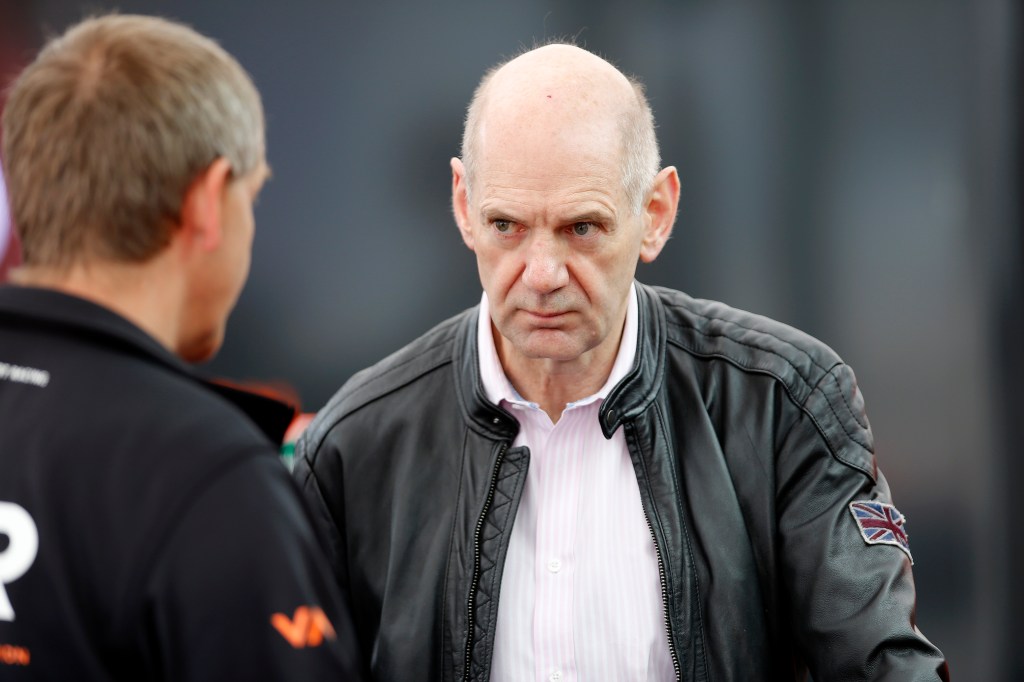 Was racing something your dad encouraged, or did he leave the decisions down to you?
HN: He's always been supportive in whatever I've wanted to do, and I just said 'I want to be a racing driver'. He's never pushed me at all. It's always been what I've wanted to do and not at all what he wanted to do.
How much has he been able to help you making the step up to single-seaters? He's done a little bit of racing here and there alongside his technical work, so has he been able to give you any tips?
HN: He's only helped in the state of I think looking in and saying 'this looks like quite a good series', but no different to how any other dad would have helped to be honest. In terms of driving, he doesn't really put much in because although yeah he has done a bit of racing himself, for me to be able to do my thing, it's not him – he just leaves me to it. If I'm good enough, then I'm good enough. If I'm not, I'm not. He'll help me like any other dad would, but nothing extraordinary.
Has having a dad so involved in racing helped in terms of getting sponsors and backers on board?
HN: It has its disadvantages and its advantages. I think straight away it puts a target on your back as people know your name straight away, which is not always a good thing. But yeah, in other areas having someone who is well-known and having a name that is well-known can help with sponsors. But it's one of those things, it's got advantages and disadvantages.
With the target on your back, is there then a battle to prove to people that you're not just Adrian Newey's son, you're a racer in your own right?
HN: Yeah that's exactly it. Straight away, people say, even the commentary still says 'Harri Newey, son of F1 designer Adrian Newey' or whatever. Trying to break away from just being his son and be your own person is definitely hard, and it's something I definitely want to do.
Track limits have been a huge, huge talking point in F3 for the past couple of years. What's your view on track limits and their policing this year?
HN: I just think the root of the problem has come from the FIA to be honest. Now they're just being very strict on a problem that they've created and I think that's a bit ridiculous, personally. They've put in all these safe tarmac run-off areas, and they say don't run off track limits. I don't understand. They had astro which worked quite well, and then they took that away and put these big curbs in that were breaking suspensions all over the place like at the Red Bull Ring. That's obviously not working, but they insist that's going to work despite the fact we said when we had a DTM round that this wasn't working. The fact they put those curbs over a car-width over so you can run off with four wheels and not touch the curbs, and then you get to them and clip them and you break your suspension, it hasn't actually helped anything because you can still go past track limits even with them there. What's the point of them being there? The width of an F1 car and F3 car is the same, and the width between the white line and the big sausage curbs is over the width of an F3 car and F1 car. We constantly see people going over white lines, but there is no indicator. Going over a white line when you're sitting as low as you are in a single-seater, you can't see that well. You can't see the bottom of the wheel. You can only see 20-30 metres in front of the wheel. So to then be able to judge whether you're over the white line or not while still being on the edge of what the car can do and using all the track is hard. They could have sections of grass, stop people from running over, just a little bit that's not quite a car's width. At the end of the curb, they could fill it in with grass, and then have the tarmac afterwards. No-one's going to use the grass because it's clearly going to be slower. The problem with the astroturf is that there was an element of 'oh it can be quicker'. The grass, it's definitely not going to be quicker, and no-one's going to run over it. I think they have got ways they could cover themselves but they're just not using their options properly, and I think they've kind of shot themselves in the foot to be honest.
Do you think the way it has been handled in F1 doesn't set a good example down to you guys? We saw in Hungary they had the electronic system and the stewards said they were going to be strict, only to relax things after qualifying. The Strategy Group is talking about getting rid of track limits altogether. That really doesn't set a good example for you guys, does it?
HN: No it doesn't. At the end of the day, us in F3, we're junior drivers who are trying to learn. We're all still learning and we're learning where to push the limit. To then set an example of 'actually you can't even make a mistake', we all know you can make a mistake, get a bit of oversteer and get off the track slightly. They put these tarmacked areas in so you don't lose time, and then you saw it all the time where people drop wheels off on the grass where they didn't have these tarmacked areas when I was karting. They would come back on but had lost time, clearly. We've now got tarmacked areas, we make a mistake and we get punished with a time penalty or a drive-through. Now a drive-through is so severe for just a small mistake when before you'd just run off, two wheels on the grass, come back on and lose a bit of time but not that much. Even if you backed off at the Red Bull Ring. They were saying it was a zero-tolerance argument. They weren't looking if you backed off or not, it was a clear-cut 'did you go off or didn't you?' Sometimes you did go off, but you didn't actually gain time. So it's unfair to then punish because you haven't gained time, and it's also saying to young drivers that you can't push and you've got to drive under the limit. You can't learn at that speed. I think the way they're handling it is just ridiculous.
How have you found working with a team like Van Amersfoort? They've got a really good track record in recent years of getting drivers up the junior ladder and have drivers in contention for the championship. Has it been good working with them?
HN: Yeah, they've been really good to work with to be honest, a really good team. They're obviously set up slightly different this year and have advanced everything forwards, but at the end of the day it's still the same team that it was when Verstappen and [Charles] Leclerc drove for them. They've been really good to work with. The engineers have been really good, the car has been very good. Just as a whole team, it's been excellent.
Are you looking at doing Macau later in the year?
HN: I'm not sure whether we're going to do Macau or not at the moment.
How do you find having a life outside of racing? You're 18 years old, you've got your racing commitments but you'll want to have parts of life typical of any teenager I guess. How do you strike a balance between them?
HN: Obviously you have to make a sacrifice if racing's what you want to do. I'm still at school, go to school as much as I can, pretty much every day of the week apart from when I'm racing. All that's still a normal life. I've got friends who I see outside of school, but I'm either at school or racing most of the time. 'Normal weekends' don't happen quite often but I'm not bothered by that. Focusing on racing for me is much more fun and much more important.
Where do you see yourself in say 10 years' time? Where do you want to be?
HN: I'd like to be in Formula 1. That's a tough question and 10 years' time is a long way down the line, but I've never thought that far ahead too much.