Drag racing is like riding a bike: once you learn what to do, you never forget.
You strap in behind the wheel, roll to the starting line, wait for the green "go" light, mash the gas pedal to the floor – and then hold on for one heck of a thrill ride most times.
That's why it's not surprising to see what three-time NHRA Top Fuel champ Larry Dixon did this past weekend at the Dodge NHRA Nationals at Maple Grove Raceway near Reading, Pa.
Dixon made his season debut and showed that as he closes in on 50 years old on Oct. 23 – I still remember meeting him when he was in his early 20s, working for legendary drag racer Don "Snake" Prudhomme – he still knows how to wheel a dragster down a dragstrip.
For a guy who hasn't raced on the NHRA circuit for nearly a year, it was very clear this weekend that Dixon hadn't lost anything or missed a beat.
Dixon and his Rapisarda Autosport-sponsored dragster qualified an impressive No. 5 in the one and only qualifying effort on Saturday (the other three weekend qualifying rounds were cancelled due to rain).
Dixon's qualifying run was stout indeed: 3.791 seconds at 325.77 mph.
But then, would you expect anything less from the second-winningest driver in Top Fuel history (62 wins and 679 round wins)?
I'd love to say Dixon then went on to win Sunday's race, but alas, he fell a bit short, falling to Brittany Force in the first round of eliminations.
Like just five feet short, as Force's margin of victory was a nearly blink-of-the-eye 0.0094 seconds.
Dixon had a better reaction time (0.052 to Force's 0.075) and was faster (326.71 mph to Force's 324.20 mph), but Force's dragster was just a little quicker (3.728 seconds to Dixon's 3.760 seconds) as they reached the finish line.
But if you're a long-time drag racing fan, particularly a Dixon fan, what he did Sunday was a win even if he didn't advance to the second round.
Especially after what he endured to get there.
The California native, who has since resettled in Indiana, raced full-time in 2015 for Bob Vandergriff Racing, his first full-time NHRA Top Fuel season since 2011.
Unfortunately, Dixon lost his ride after that one-year stint, replaced by Leah Pritchett, who brought along a full sponsorship from Quaker State for the 2016 season (which eventually ended earlier this season when Vandergriff closed his organization).
That Dixon finished fourth last season – his best showing since winning his third Top Fuel championship in 2010 – was not surprising.
This was, after all, Larry Dixon – one of the greatest drivers to ever race down a 1,000-foot dragstrip.
But few people also knew last season, until the word leaked out eventually, that Dixon raced for much of the season not only fighting throat cancer (which he has since beaten), he also continued to race after breaking his T-4 and T-5 vertebrae in a wreck early on at Gainesville, Florida.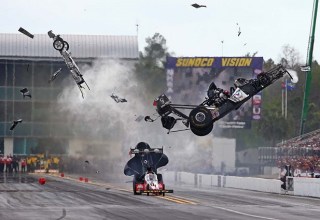 Dixon hit the wall at an impact of 109g. He should have been sidelined for much, if not the entire remainder of the season, but there he was the following race, ready to go despite being in tremendous pain that he'd endure for the remainder of 2015.
In a way, not racing this season until this past weekend may have been difficult for the ultra-competitive Dixon – but it also was a blessing in disguise.
It allowed him to get fully healed from both his cancer and back battles. And if there was any doubt that how Dixon would perform once he returned to the dragstrip – when, not if – he more than answered that this past weekend.
In addition to getting fully healthy, Dixon has spent much of 2016 dreaming – but in a good way. He's dreamed of putting together a new team for 2017, to return full-time to the Top Fuel circuit under the Larry Dixon Racing banner.
And this past weekend was one heck of a great dress rehearsal that he hopefully will see that dream realized starting next February in the season-opening race at Pomona, Calif.
While this past weekend was his 2016 NHRA debut, Dixon decided to take a trip down under this past June to Australia.
But instead of bringing his swimsuit and sunscreen, he packed his dragster and took Australia by storm, not as a tourist but as a driver.
And in the typical fashion of a three-time NHRA champ and winner of 62 NHRA national events, Dixon didn't just go over to the land of koala bears and shrimp on the Barbie to compete, he went there to win.
And that's exactly what he did, flat out dominating the Ipswich Australian Winternationals near Brisbane – and setting the Australian National Elapsed Time Record for good measure.
That new ET mark goes along quite nicely with the Australian National Speed Record he earned (and continues to own) in a previous trip there.
I wrote a story about Dixon for MotorSportsTalk on August 18, detailing his plans to come back and race next season.
One of the things he said was rather poignant:
"For the last year of my life, with cancer, a broken back and then losing my ride; everything that's happened, winning races like we did in Australia makes all that pain go away," Dixon said.
He then added, "I'm finally 100 percent healthy now and I'm excited to go racing again. I'm so anxious to get in a car and get after it!"
He did just that this past weekend, like he had never left. And the sport is so much better for what happened Saturday and Sunday – and what will happen even more when he hopefully comes back full-time in 2017.
What he said in that story nearly two months ago was only further enhanced this past weekend.
"I've spent my entire life in this sport and I'm not ready to walk away just yet," Dixon said. "I feel like I'm just getting started!"
And I for one can't wait to see that. The NHRA is a better, more competitive and more popular sport with Larry Dixon back behind the wheel. Will his 63rd win be not too far behind?
Follow @JerryBonkowski