In 2007, Dane Cameron was one of those can't-miss American open-wheel racing talents who had ability in spades, but not dollars.
That same year, Eric Curran began a long and fruitful relationship with Sonny Whelen, when he drove a Whelen Engineering Corvette C6 in World Challenge GT.
And for good measure, a then-23-year-old Frenchman Simon Pagenaud was a rookie in Champ Car after winning the Formula Atlantic title a year earlier.
Their respective paths and journeys converged Saturday at Petit Le Mans, with Cameron and Curran combining to win Action Express Racing's third consecutive Prototype championship in the IMSA WeatherTech SportsCar Championship, but the first for the No. 31 Whelen Corvette DP since it came under the AXR banner at the start of 2015.
Pagenaud, as the team's third driver, helped contribute to a second championship run in three weeks, having captured the Verizon IndyCar Series title at Sonoma Raceway on Sept. 18 for Team Penske.
The road to the top for all three have been tortuous. Cameron practically needed to win that year's Star Mazda title in 2007 to keep his career going and advance into Atlantic – a series Pagenaud needed to win, and did, in 2006. Curran drove a variety of privateer Corvette efforts with Whelen, and while success was had with a number of wins and podiums along the way – many with Boris Said as a co-driver – there weren't championships. Pagenaud's road we've covered in great detail.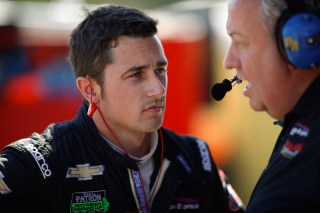 In looking at Cameron first, at age 27 he has become already one of sports car racing's most versatile drivers. But this year, seemingly for the first time, he wasn't bouncing around different things.
Cameron entered into the sports car world primarily driving the screaming Mazda RX-8. He delivered that car's last professional win at Mazda's spiritual home track of Mazda Raceway Laguna Seca in 2012.
But he's also driven Prototype Challenge cars for multiple teams, including winning the Mobil 1 Twelve Hours of Sebring with Genoa Racing in 2011. He drove an LMP2-spec car for Dempsey Racing, a Lola Judd.
He then moved to a Daytona Prototype in 2013 with Team Sahlen, in a Riley-BMW where he came so close to victories but was unable to tick that box. A lost win at Road America proved particularly cruel.
Once in the merged IMSA WeatherTech SportsCar Championship, Cameron has flourished as he's won races in two categories and started races in three. He co-drove with Markus Palttala to win the 2014 GT Daytona title in Turner Motorsport's No. 94 BMW Z4 GT3; Palttala missed a race and wasn't able to share in the accomplishment. The same year, Cameron made his GT Le Mans class debut for Risi Competizione at Long Beach in a Ferrari F458 Italia, to enter as a rare non-factory driver in the primarily factory driver class, which speaks volumes of his talent.
With a move to Action Express Racing full-time in 2015, Cameron finally had the top-flight seat at a top-flight team his talent deserves. Combined with Curran, who was also in the best situation of his career after plugging away with Whelen years previous, the two overachieved and won multiple races – but came up just short of the title. For good measure, Cameron also won in a one-off GTD start back for Turner, ironically filling in for Palttala, at Lime Rock Park after an incredible fuel saving run.
The consistency of Cameron, Curran, the venerable Corvette DP and Action Express Racing paid dividends for "DC" this year, who for the first time in his career had the professional stability that wasn't able to match his personal stability (he's now married and a dad). This is a driver and past Team USA Scholarship winner whose talent has never been in question, but for whatever reason the struggle to stay in one spot for more than one year at a time was real.
"I've raced everything – PC, GTLM, GTD and Prototype, and won in all those levels except GTLM. So that's a box I wouldn't mind ticking in the future," Cameron relayed Saturday to NBC Sports.
"It's special to have an overall championship. And it's neat to have one with DPs… a lot of people have made a big impact on this program.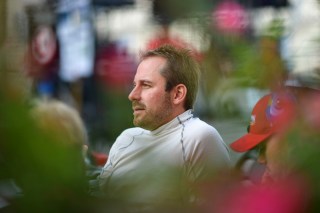 "For Eric and I, for me anyway, this is the first time I've done a program 2 years running, with no changes. So we can build on the relationships, and the co-driver partnership, and push each other on driver changes. The first year was helping Eric understand the downforce cars. But he's done such a great job. He was fantastic in the rain last year here. And Simon and I have driven together a couple times now. He brings such a good attitude and he's such a rocketship. I wanted him part of this program this year, so I was happy to bring him on board."
Cameron and Curran won twice this year – back-to-back at Canadian Tire Motorsport Park and Road America – and Cameron noted the pair's run to the title by three points over teammates Joao Barbosa and Christian Fittipaldi owed more to execution and strategy than outright pace. Eight finishes of fourth or better in 10 starts, including seven podiums, were enough to do the trick.
"The P2s haven't put the races together; our wins were almost given to us," Cameron admitted. "I think the better teams have had DPs. The future is now and it's a cool feeling to have the last DP championship as we look forward to the future."
For Curran, the title was about delivering for Whelen, who has been an ardent supporter of sports car racing for more than a decade.
"Thinking back to years past, driving for Sonny Whelen where we were a few years ago to now winning a championship. It's been unbelievable," Curran said. "Working with Dane Cameron is so top notch. It was down to the wire today… as we entered one point ahead. We brought in our buddy Simon Pagenaud to help driving. It felt really good though, this is our time, this is our day. For Sonny Whelen and Whelen Engineering… this such a good deal for him."
Pagenaud, the third member of the trio who raced at Daytona and Petit Le Mans, praised Cameron's ability level.
"I've always loved worked with Dane. My first drive in Daytona was with him. He's a tremendous driver," Pagenaud said. "I've told so many people how good he is. Some day I could see him in an LMP1 car at Le Mans… he deserves it."
And it's with that tie-in we go back to Cameron, noting how like Pagenaud, he had to win earlier in his career to even have this opportunity on Saturday.
"Star Mazda was so, so important. My career hung in the balance. If I didn't win that championship, I had no money to go anywhere else," Cameron reflected. "I wasn't going to move to Formula Atlantics – I couldn't afford it! So that was the most personal pressure on me… I had to win to keep the dream of being a professional race car driver alive.
"The GTD title was a bit of a surprise after a topsy turvy year. But that cemented myself a bit more in sports cars. It was the first one I could get. I wedged my feet in pretty good.
"This completes the set nicely. After my 'rookie year' with Sahlen DP in GRAND-AM, we were just coming on song at the end of year. We had poles, we led laps, but wins slipped through our fingers.
"So coming back to Prototype, I had to finish what I thought was unfinished business."