After 16 races, thousands of miles of competition on-track and many more thousands traveling between events from St. Petersburg to Sonoma, Simon Pagenaud put a bow on his 2016 Verizon IndyCar Series championship Tuesday night.
In a ceremony at the Hilbert Circle Theatre in downtown Indianapolis, Pagenaud officially claimed the $1 million prize for winning the IndyCar championship, as well as the Astor Cup trophy.
It was a phenomenal year for the 32-year-old native of France, earning a career- and series-high five wins and seven Verizon P1 Award pole positions – which was marked by his accepting the Sunoco Diamond Performance Award – in his sixth full-time season and seventh overall on the American-based open-wheel circuit.
Driver of the No. 22 Team Penske Chevrolet, Pagenaud accepted his champion's prize, trophy and ceremonial ring from Mark Miles, CEO of Hulman & Co., the parent of INDYCAR and Indianapolis Motor Speedway, before a full house.
"It's obviously a milestone in my career, my lifetime dream come true," Pagenaud said. "There's obviously more in the future, other goals to reach, but I've reached one of the biggest ones I wanted."
Pagenaud marked another milestone by winning the championship in Team Penske's 50th anniversary.
"Obviously Team Penske is one of the most historic race teams in the world," Pagenaud said. "I'm so proud to be part of this team, so proud that I could bring this championship to Roger.
"The 50-year anniversary is huge and this is going to go into history. I'm very glad that I could leave a little bit of my legacy, but I'm a very small part in a very big thing."
The 16-race season also saw IndyCar's return to Phoenix International Raceway, Road America and Watkins Glen International.
"This has been a phenomenal season," Miles said in a statement. "Historic in a very real sense with the epic 100th Running of the Indy 500 – which I think exceeded everybody's expectations as a monumental event.
"But then the whole year was great. I think back to all the races, every one of them was a dynamite event – great racing, great crowds."
Miles also gave a big pat on the back to the series itself.
"All of our fan metrics are up meaningfully this year," Miles said. "In fact, we're at like a 55 percent increase in our television audience over the last three years, which very few sports can claim, and all of our other metrics are great.
"IndyCar is on a roll, we've got the schedule out for next year and people are looking forward to 2017."
While Pagenaud was the star of Tuesday's event, there were a number of other individuals recognized in one of IndyCar's biggest seasons ever, including the 100th running of the Indianapolis 500 on May 29.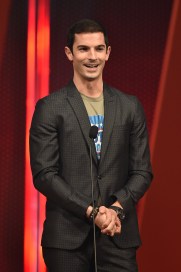 Rookie driver Alexander Rossi won the historic and milestone race and on Tuesday was officially named the series' Sunoco Rookie of the Year.
Among others that were honored Tuesday night:
* Billy Vincent, Pagenaud's chief mechanic, earned the Verizon IndyCar Series Chief Mechanic of the Year Award.
* Team Penske's Jon Bouslog was honored as Team Manager of the Year.
* Another rookie driver, Conor Daly, earned the TAG Heuer "Don't Crack Under Pressure" Award for advancing the most cumulative places from the start of races to their finish during the season.
* Charlie Kimball earned the Firestone "Drive to the Finish" award for completing the most laps of any driver this season (2,066 of a possible 2,070, 99.8 percent). Mike Hull, managing director of Chip Ganassi Racing accepted the award on Kimball's behalf.
* The family of Bryan Clauson, who was voted IndyCar Nation Fan Favorite Driver, accepted the award for the three-time Indianapolis 500 starter that tragically perished in a racing accident in August.
* Chevrolet earned the Manufacturers Award for winning 14 of 16 races this season, as well as 13 poles and led 71 percent of the laps (1,467 of 2,070). Chevrolet vice president of performance vehicles and motorsports Jim Campbell accepted the award. It was the fifth straight year Chevrolet has won the award, beginning in 2012 when the company returned as an engine supplier to the IndyCar series.
Here's a full list of Verizon IndyCar Series award winners and honorees:

* Championship driver (Astor Challenge Cup): Simon Pagenaud
* Jostens Championship Driver Award (ring): Simon Pagenaud
* Championship team (Astor Challenge Cup): Team Penske
* Championship team sponsors: Menards, PPG Automotive Refinish, Hewlett Packard Enterprise
* Championship team manager: Jon Bouslog
* Chief Mechanic of the Year Award: Billy Vincent
* Sunoco Diamond Performance Award: Simon Pagenaud
* Sunoco Rookie of the Year Award: Alexander Rossi
* TAG Heuer "Don't Crack Under Pressure" Award: Conor Daly
* Firestone "Drive to the Finish" Award: Charlie Kimball
* Verizon P1 Award: Simon Pagenaud
* Second-place championship driver: Will Power
* Second-place championship team: Team Penske
* Third-place championship driver: Helio Castroneves
* Third-place championship team: Team Penske
* Manufacturers Championship: Chevrolet
* IndyCar Nation Fan Favorite Driver: Bryan Clauson
Follow @JerryBonkowski