LOS ANGELES – Red Bull GRC Los Angeles presented by Honda is upon us this weekend, to mark the end of Red Bull Global Rallycross' 2016 season from the Port of LA.
There's quite a bit to get to, so we'll package it all in this post:
—
Speed wins pole for first race
Scott Speed has won the pole for the first leg of the two races that make up this weekend's season finale, driving the No. 41 Volkswagen Beetle GRC for Volkswagen Andretti Rallycross, in qualifying that was just concluded.
These six drivers made it in:
Speed then laid down a fastest time of 43.816 seconds. The rest of the top six: Joni Wiman (44.022), Brian Deegan (44.099), Tanner Foust (44.190), Sebastian Eriksson (44.321) and Patrik Sandell (44.562).
Dreyer & Reinbold Racing teammates Alex Keyes and Cabot Bigham, who turned 20 today, paced the way in GRC Lites qualifying, with Bigham among those in GRC Lites title contention.
—
PREVIEW: It's Volkswagen Andretti Rallycross' pair's title to lose
Separate breakouts are linked here on Tanner Foust and Scott Speed, with the pair of Volkswagen Andretti Rallycross teammates separated by only 13 points (465-452) for the championship going into this weekend's pair of races.
Still, five drivers are mathematically eligible this weekend. The pair of Chip Ganassi Rallycross Ford teammates, Steve Arpin and Brian Deegan, and Bryan Herta Rallysport's Patrik Sandell are also alive with 399, 373 and 357 points, respectively.
It's going to take the pair of Beetle GRCs – both of which are adorned in separate #PinkBeetle liveries this weekend – having some trouble to open it up to the rest of the pack. But it remains a possibility.
In terms of the rest of the 13-car Supercars field, the full-season pair of Honda Red Bull Olsbergs MSE drivers, Sebastian Eriksson and Joni Wiman, look to be the first to deliver the new Honda Civic Coupe its first final round win. The two drivers both finished on the podium last time out in Seattle. Austin Dyne is the last of the eight drivers entered this weekend who's been in every race, and he'll look to better a best finish of fifth in either of the two races.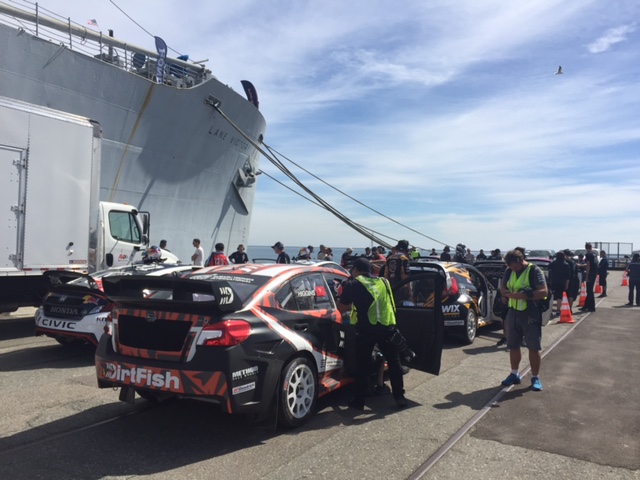 The five remaining drivers in Supercars have intriguing subplots heading into the weekend. Subaru Rally Team USA fields a three-car lineup for the second time in three races, now with Chris Atkinson and David Higgins installed in the two primary entries with a third car added for Japanese rally ace Toshihiro Arai.
Two youngsters making their series debut round out the field, in the form of GRC Lites graduates Mitchell DeJong and Tanner Whitten with Honda Red Bull OMSE and SH Rallycross/DRR, respectively. DeJong waltzed to the 2014 GRC Lites title having won all but two races; Whitten has been a regular winner in GRC Lites competition and this year split time with Alex Keyes in one of Dreyer & Reinbold Racing's Lites cars.
—
On The Debutantes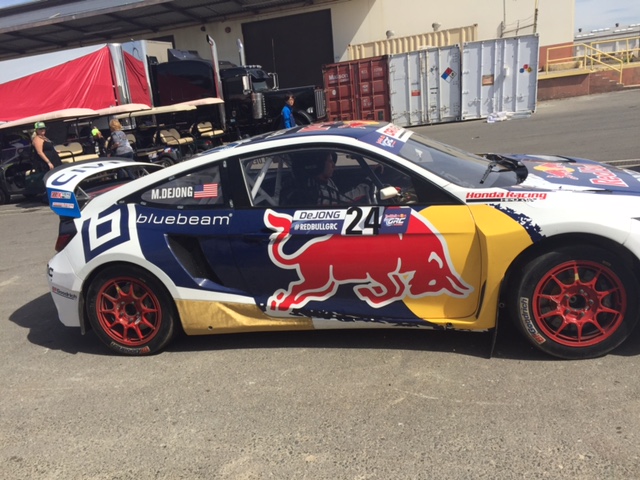 Owing to the limited number of spaces on the grid and the deep talent pool that fills them, there haven't been many opportunities for GRC Lites drivers to step up into Supercars. So getting two in one weekend isn't just rare, but also matches how many have done so in the last two years combined!
Both Honda drivers, Wiman and Eriksson, debuted in 2014 and 2015, respectively. Wiman promptly won the Supercars title as a rookie even without winning a race, while Eriksson won a race and came second in points last year. Eriksson, incidentally, took over in the second then-Ford for OMSE in 2015 after DeJong had been announced first.
With the thinking it's better late than never, and with DeJong still only 19 years old and Whitten 23, both drivers get their shot this weekend after successful tests in the last couple weeks. If both drivers can make the main event final in either or both races, it'll have been a good first weekend for them in the Supercars division.
"I'm really excited being able to finally make my first Supercar start!" DeJong said. "This is kind of a home race for me, there's nice weather, and I have a lot of friends and family coming out, so it'll be a nice hometown crowd. It'll be nice to finally race a Supercar—it's been a long time, and I'm really looking forward to it. I'm just going to take it as a learning experience, do the best I can, not put too much pressure on myself, and see what we can do with it."
"This is extremely special," Whitten added. "It's one of the moments that I've been looking forward to and praying about. I've been working for it ever since I had the opportunity to drive the Lites car back in 2012. It's been great to have the opportunity—it's the last event of the year and it's been a big deal for the last couple days to get this program put together. I'm really excited for the finale in LA."
—
GRC LITES: Four drivers with realistic title hopes
Five drivers have mathematical title hopes in Supercars, while in GRC Lites, the title battle is much closer.
Oliver Eriksson (Olsbergs MSE X Forces) is in search of his second straight title, and enters with a 25-point lead 378-353 over Cabot Bigham of Dreyer & Reinbold Racing. Eriksson's teammate Miki Weckstrom and DirtFish Motorsports' Conner Martell sit third and fourth at 349 and 327 points, respectively.
The rest of this division's 13-car field is fairly similar, with Alex Keyes back in DRR's No. 24 car and Colin Braun back in CORE autosport's No. 54 car, rather than team principal Jon Bennett, who is on site this weekend but not driving. Scott Anderson continues in CORE's No. 56 car for a second straight weekend.
—
K1 Karting Event Kicks Off The Weekend
Prior to the weekend kicking off in earnest, most of Red Bull GRC's 2016 competitors gathered at K1 Speed in Gardena for a go-kart race. Despite local driver Tony Chen setting the fastest time in preliminary runs – the inside joke being that my presence has affected things – Wiman upheld the glory for Red Bull GRC's drivers in the race itself with a dominant victory.
A few pics from the evening, via @RedBullGRC's Twitter, are below.
—
The Port Of LA Event Site Itself Rocks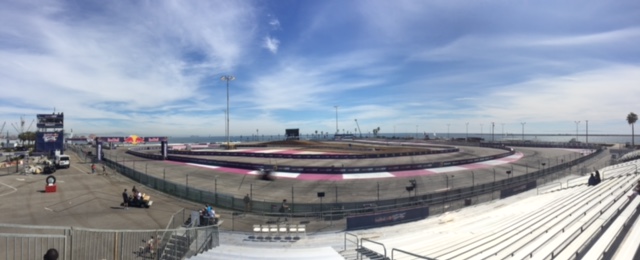 As a sidebar, having been at the Toyota Grand Prix of Long Beach more than 10 times, it's weird being in Long Beach/Los Angeles in October since the Grand Prix runs in April. But nonetheless, it's quickly apparent even from just the first day how much this event means to Red Bull GRC.
The views are majestic, with the backdrop of water at the Port of LA sun-drenched and without any chance of rain – a welcome deviation from a number of Red Bull GRC events this year. For those fans who will be in attendance this weekend, you can see the entirety of the 0.699-mile track from either the preferred or GA grandstands and it will look festive.
—
Honda Presence is Profound
Hopefully we'll have more on this to come later this weekend, but with this race being a race featuring a presenting sponsor in Honda, there's increased Honda signage and presence than normal. From a display tent on the way into the event site through to the Joker Lap being called the Honda Joker Lap, there's a good amount of Honda presence.
—
And The Hot Lap, Courtesy of Mr. Speed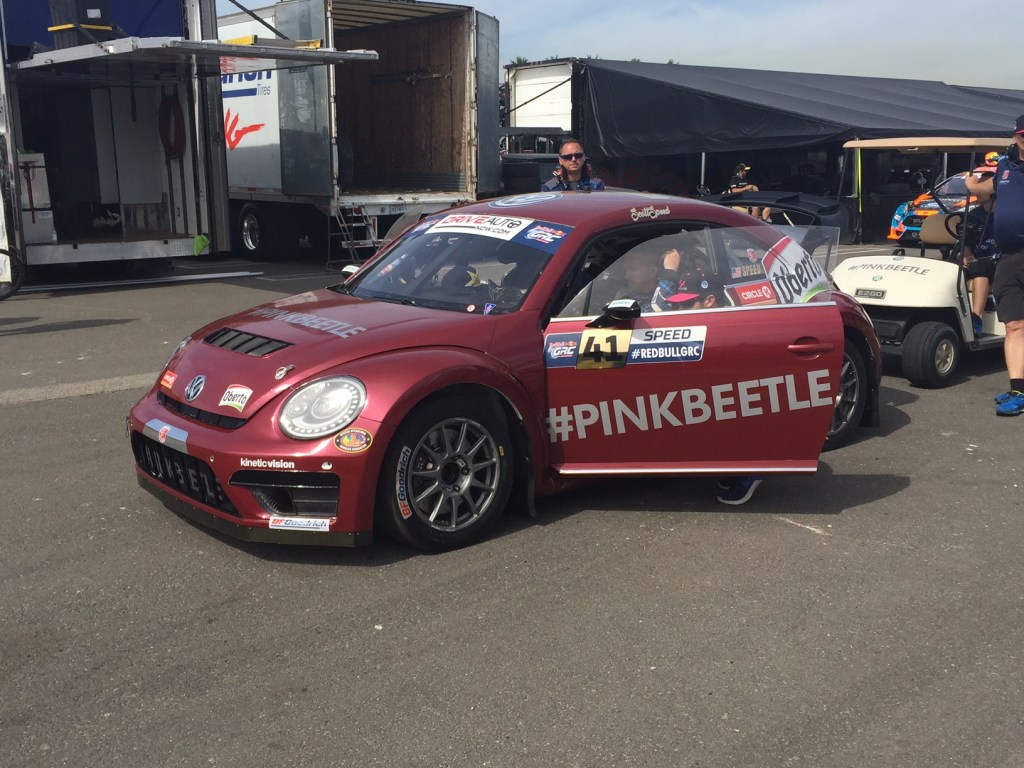 I've written before about hot laps in Red Bull GRC and how they're generally unlike anything else in racing, and so was fortunate enough to be treated to another one today with Scott Speed in the No. 41 Oberto #PinkBeetle for Volkswagen Andretti Rallycross. Not bad when you can say you've taken a couple laps with the reigning and still defending champion.
The track here is such where straightline speed isn't so much a thing as cornering ability. From the launch point, where again, you get thrown back in the seat of the Beetle GRC, you're immediately concerned with how the BFGoodrich tires will grip as you go uphill, then down the road, leaning on both right sides as you're sliding through the first couple turns and into the left-hander.
There's a slight kick on the throttle before going into another left-hand hairpin, of which the Honda Joker Lap is on the inside. You accelerate out, briefly, into the right-hander and then still on the pavement before another right-hand hairpin leads into the dirt, and a left-hand hairpin before the jump. All the while, you have a fantastic view of the port and water, so it's impressive these guys don't get distracted.
Once over the jump, it's back to another left, hard on the power before launching back and into the front straight – straight is used loosely here because it's all a left-hand turn – and that's a quick lap of the circuit. Speed spent most of it between 2nd and 3rd gear – there's not a ton of high-gear areas and laps will click off fairly quickly.
—
More to come tomorrow, including a note on the IndyCar presence – seemingly – that always seems to pop up around Red Bull GRC races.