Will Power is looking forward to establishing a close working relationship with new Team Penske teammate Josef Newgarden.
At a Team Penske event Friday in Charlotte, Power offered high praise for his new teammate.
"To me, it was an obvious signing," Power said. "If I put myself in the position of a team owner and you were going to sign someone, that would be the guy. If I were a team owner, I would sign that guy.
"He's experienced now, he's fast and he's young, so he's going to be around for quite a while. And he's good on all disciplines. I couldn't pick anyone else out in the field that you would put, he would be at the very top of the list and that's why he ended up there."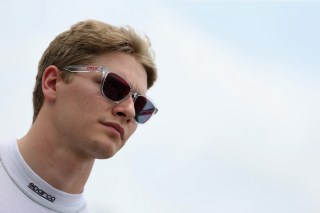 Newgarden joins Power, 2016 Verizon IndyCar Series champion Simon Pagenaud and Helio Castroneves as the 2017 Team Penske IndyCar lineup.
"I've been spending a bit of time with him and they were asking him how many suits (fire suits) he wants for the weekend," Power said of Newgarden. "He was really blown away by the fact that he can have however many suits he wants to use over a race weekend and how many gloves and shoes."
Power already has some advice for his new teammate.
"Obviously, I want to say to him, if there's anything you want to develop or have an idea, push it with your engineer because these guys have the resources to do anything," he said. "I think that's what's going to be eye-opening for him, the attention to detail and what they can do."
Having signed with Team Penske earlier this week, Newgarden will be put to work right away. He tests Monday at Road America and then Thursday, Oct. 13, at Gateway Motorsports Park.
"I think (with Newgarden) joining the team, it's always great to get straight in the car," Power said. "He's getting in the car at Elkhart (Lake), he'll get accustomed to his guys, new crew chief and new engineer.
"It's actually very restrictive testing, so it'll be great for him to get to know these guys. It's important. And from a team perspective, it's really the only tests you get to go to until February or so, just before the first race. It's very important."
Power said one of the biggest plusses Newgarden brings to Team Penske is his technical knowledge and expertise.
"He's a fast driver, it just gives you immediate data to look at," Power said. "Like if he's quicker than you in a sector, he always has good ideas and different ideas because he came from another team, a single car team. He knows in his head what worked and what didn't work.
"And sometimes bringing fresh ideas into a team helps, too. I just think it'll be another guy in there that's very efficient with the way he does things, and he's very quick which always pushes everybody else and lifts the level of the game."
Power was also asked about Juan Pablo Montoya, whose role on Team Penske is being taken by Newgarden.
There have been several reports that Montoya may remain with Team Penske but shift to racing sports cars full-time on the IMSA circuit.
Other reports have Montoya wanting to stay in IndyCar, but likely moving to another team. One of the most mentioned rumors is a potential "trade": Montoya could potentially replace Newgarden at the latter's now former team, Ed Carpenter Racing.
"I don't know what Juan is doing, honestly I'm not sure," Power said. "Obviously, Juan had his strengths and what he brought to the team.
"I don't know how much it's going to change when your taking someone out and putting someone in.
"Juan was obviously a really good driver and I think if he ends up somewhere else, he'll wind up being strong competition for the team."
Follow @JerryBonkowski