The Pirelli World Challenge GT championship at Mazda Raceway Laguna Seca came down to the final lap, and even further than that a several-hour review of the finish, to determine both a race winner and a champion.
Ultimately, Alvaro Parente emerged with both at the end of a crazy day in Monterey.
The Portuguese driver of the No. 9 K-PAX Racing McLaren 650S GT3 headed into the weekend with a nine-point lead over Patrick Long, Porsche's lone American factory driver in the No. 58 Wright Motorsports Porsche 911 GT3 R.
But that was reduced to two points mere hours before the race began, owing to a points audit that saw Parente having been incorrectly awarded seven points for pole back at Lime Rock race two, points which should have gone to Andrew Palmer. Palmer did not start the race on account of a serious accident in morning warmup that left him critically injured; alas, Parente moved up to P1 there for the race that occurred all the way back in May, but the points note was only caught this weekend.
Sunday's race was littered with cautions for accidents and it looked as though it would end under yellow following a heavy accident for Drew Regitz in his No. 19 Stephen Cameron Racing Audi R8 LMS ultra at Turn 2. All of it built to a crescendo on the final lap, a one-lap green and white flag showdown for both the race and the title.
Johnny O'Connell, who'd led the entire race from pole in the No. 3 Cadillac Racing Cadillac ATS-V.R, restarted first with Long in second and Parente third. As it stood, Long held the championship lead.
However, O'Connell ran wide off Turn 4 and that opened the door for Long to make a run to the inside off the right-handed Turn 4, which became the outside for the left-handed Turn 5.
O'Connell contacted Long, which sent Long off course on corner exit and down the order into fifth. It promoted Parente into second, which was enough to give him the championship on the road. Meanwhile O'Connell won on the road.
Or so he thought, as for the second time this year in California (Long Beach), O'Connell lost the win hours later when it was determined he had committed avoidable contact. PWC officials assessed a 2.1-second post-race time penalty, enough to drop him behind Long.
"The penalty was accessed to Johnny O'Connell for avoidable contact entering turn five on the final lap of today's GT/GTA/GT Cup Round 20," said Greg Gill, CEO and president of WC Vision, producers of the Pirelli World Challenge. "The stewards looked at various angles of the incident and determined that Johnny had two wheels off the track and came back onto the track, making contact with Patrick. This contact knocked Patrick off the track in turn five. And the penalty was determined this evening after hours of review."
Here were O'Connell and Long's respective takes, via a series release:
"In that final green-white-checkered deal, I got a good start and then going through Turn 4 and I understeered off and dropped two wheels," O'Connell said. "That allowed Patrick (Long) to get around the outside of me but never cleared me. So when we went into the breaking zone, I'm on the inside and he's not clear of me so it's not my job to give stuff. It's my job to win races and was very shocked when he started turning down and we had contact."
"I raced Johnny (O'Connell) at the end of the race and I expected racing room and didn't get it," Long said. "For him not to be in the championship hunt and to be the deciding factor is a difficult situation. In every scenario, there are two drivers that make a decision. There was no intention to try and battle Johnny the entire race. My focus was on the championship and the two times I was alongside or ahead of him, it came down to his mistakes. This is why we all love this sport, it is action packed."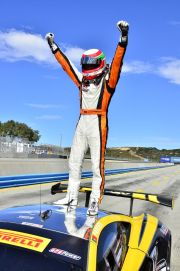 Parente, who'd endured a roller coaster of a day his own but raced both drivers cleanly, reflected on the wild afternoon. He'd started sixth, but launched into third by Turn 2 on the opening lap, which even gave him a shot at the title.
"What a crazy day. I had a fantastic start… managed to jump into third position," Parente said. "Then I was pushing hard; there were two moments I was into Pat (Long) and trying to pass him. He defended well, I didn't risk the contact at the time. I didn't push hard for the move, but I was working on it. Then I realized halfway after the second safety car that it was going to be hard to pass him since he had good pace.
"And then came that crazy last lap; I can't describe what went on there. I think there was a little bit of dirt into turn four, Johnny (O'Connell) had a bit of a moment, Pat (Long) tried to pass him on the outside and fought hard for the position in the braking zone and Johnny obviously wasn't going to back down. I was looking to see and thought, 'He's going to go for it,' and Johnny defended his position, Pat went wide, and I went by. It was a great year. What a fantastic year for Pirelli World Challenge. It's a great and unique thing going on here in the GT racing world."
Cooper MacNeil (GTA) and Corey Fergus (GT Cup) took the other two class wins, MacNeil perhaps a bit fortunate after Acura driver Ryan Eversley had a rare contact instance and knocked Long's Wright Motorsports teammate Michael Schein off the road.
"It ended up helping me because he dropped two wheels exiting Turn 9 and basically lost it into Turn 10 and basically collected Schein who was in the lead and I was right there to capitalize. Sometimes things just go your way like that," MacNeil admitted.
Fergus took an overdue first GT Cup win this year after class champion Alec Udell and Sloan Urry had swept the season to date.